NEW! More Ways to Stay Secure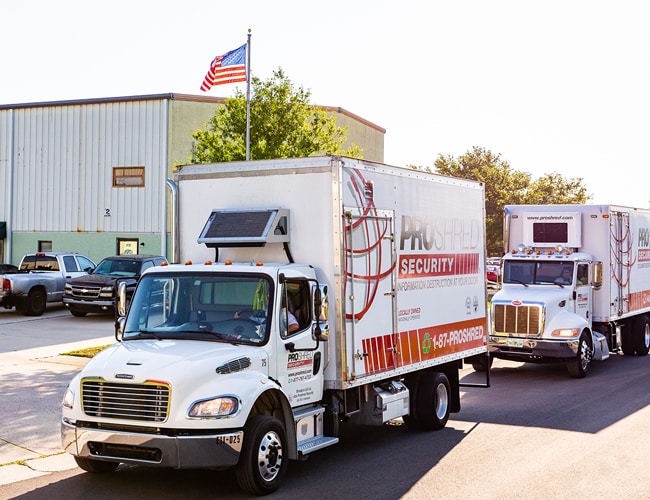 Total Discount Tuesdays
Get 10% OFF residential services with
OFFSITE shredding*
Same secure service, same Certificate of Destruction –
quicker and quieter service than onsite shredding
Flexible, early start times available if needed:
in and out before you start your day**
*Pickup location must be within 30 miles of Proshred.
**Specific timing requests may require date flexibility.
Early Bird Fridays
 Walk-in services available starting at 7 AM on Fridays!
Drop-off on your way to work, school, or appointment – business AND
personal welcome
No appointment necessary
Secure Saturdays
Join us for weekly Saturday walk-in shred
hours: 10 AM – 1 PM!
Available year-round, no more waiting
for shred events!
NO Appointment necessary*
Now Available: Watch us shred your
documents while you wait
Bring your electronics, too!*
*Electronics are accepted by appointment only.
Witnessed destruction not available for hard drives.
Watch Us Shred
Walk in with your secure documents,
and watch us shred!
Experience the peace-of-mind and
convenience of onsite shredding AND
the cost-savings of walk-in shredding
Watch your documents every step of
the way: don't lose sight of your
information for a second!
Available during Early Bird Fridays by
appointment, and Secure Saturday walk-ins
(NO appointment necessary!)
Turn to PROSHRED® for your HARD DRIVE & MEDIA Destruction and ELECTRONIC Recycling needs. Wiping and erasing hard drives does not ensure your information can't be accessed! Shredding and physical destruction is the ONLY GUARANTEED secure method of information disposal!