Document Management Systems
It can be a challenge for businesses and individuals to keep up with all the paperwork and electronic files that come in constantly throughout the workday. PROSCAN® Solutions offers a comprehensive solution for all your document management needs. Through our world-class document management systems and software, we are able to provide customized access, automated workflows, tailored document version control, and provide a management system with full audit history and reporting to ensure compliance.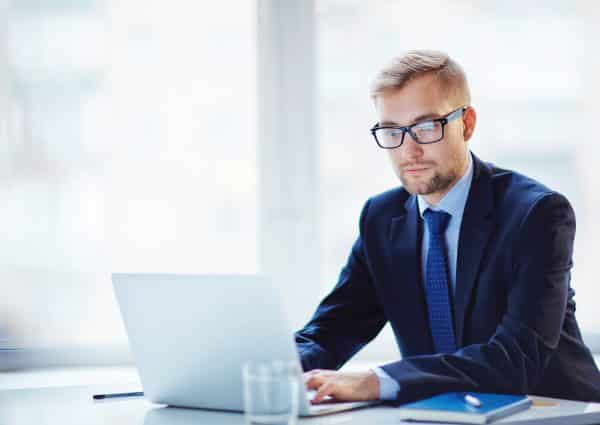 What is Document Management?
Document management is the use of a computer system and specialized software to store, manage, and track electronic documents that have been converted to digital format through document scanning solutions. Document management systems vary based on the organization's operations, industry, size, and security requirements. A smart document management solution lets you consolidate your organization's core documents and information electronically in one location. At PROSCAN® Solutions, our custom document management solutions include software that controls and organizes documents so the information is readily searchable and shareable throughout your organization.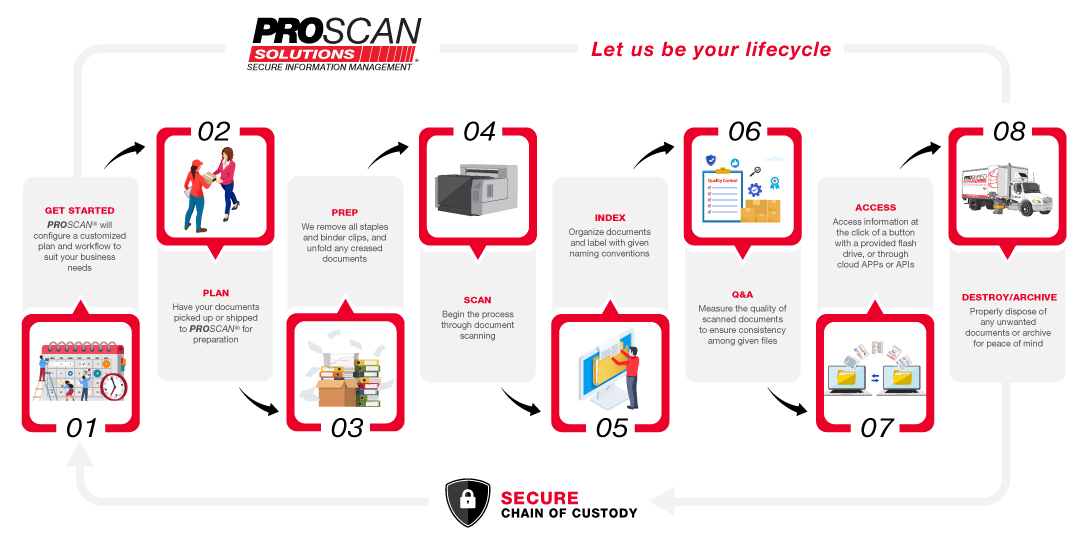 Document Workflow
Create an efficient structure to streamline the processes your organization uses to collect, organize, and access information. Our document workflow solutions enable better document routing and collaboration. Completely customizable, they can empower you to map workflows, create authorizations and protocols, communicate in real-time, gain insights for management decisions, and share progress reports.
Document Capture
Operate your business intelligently with our document capture solutions. Document capture enables you to transform your organization's key files into usable data that you can then use to make smarter business decisions and discover new efficiencies for your essential processes. Our solutions empower you to capture, classify, extract, validate, and route the data from your important documents all in one operation.
Paperless Forms
Paper forms make records management a difficult task. Physical forms are not only time consuming to fill out or correct mistakes on, but after submission, there's also a risk they will get lost in the paper shuffle. Our paperless forms make it easy to capture the information you need as well as track records and requests efficiently. They're easily shareable, and you can add notifications to prevent missing fields or signatures.
Our Document Management Software

SmartSearch Professional Edition (Core Product)
SmartSearch, our core product suite for document management, delivers an intuitive foundation for content management of images and electronic documents. SmartSearch stores, searches, and manages your documents through an included SQL database engine.
Standard features of SmartSearch include:
Web and LAN Access
Image Annotations, Separation, and Enhancement
Bar Code Recognition
KeyFree Indexing
Email Delivery and Notifications
Database Look-Ups
Audit Trail Reporting
Check-In/Check-Out and Version Control
TWAIN-Based Document Scanning.
GlobalForms
GlobalForms is a web form creation software that you can use via a simple browser-based interface. Create customized forms with a drag-and-drop interface or perform commands such as routing forms, sending email notifications, and sharing documents for approval. GlobalForms can also capture data through web forms to populate any PDF document with no Adobe license required.
Work XChange
Work XChange is a workflow extension to SmartSearch that automates your document management processes using a flexible selection of tools that perform activities based on predefined conditions. The capabilities for Work XChange include:
Conditional Routing of Documents
Email Notifications
Status Escalations
Document Checkpoints for Matching or Exceptions
Metadata Updates to Support Event-Based Workflow Triggers
Automated Export of Data for the Direct Feed of Information to Other Lines of Business Applications
With Work XChange, you can define the flow of information based on your business's organizational processes. Execute unattended workflow activities with ease through fully automated or user-initiated workflows.
Automated Extraction
Automated extraction uses OCR to capture data automatically. This advanced data extraction tool employs powerful image enhancement capabilities, corrects paper shifts during the scanning and digitization process, and uses confidence-based reporting to verify for users that they are receiving quality data extraction from their papers and documents.
GlobalSearch
Our GlobalSearch software allows you to search multiple databases from one place. GlobalSearch takes SmartSearch beyond traditional LAN, WAN, or VPN access by letting you also view documents from a browser or mobile device.
This next-generation ECM technology is optimized for all major browsers, including Chrome, Firefox, Safari, and Internet Explorer, and delivers fast speeds for mobile users. Legal, medical, and business documents are easily indexed and labeled for effortless retrieval.
Enterprise Resource Planning (ERP) and Enterprise Content Management (ECM) Integration
Enterprise Resource Planning (ERP) software is a helpful component of data management systems that integrates the processes essential to your business, such as inventory management, accounting, human resources, order management, and business collateral.
ERP software solves administrative and operative transactions in a single system, streamlining your information across your business. Enterprise Content Management (ECM) systems manage different types of documents, records, images, webpages, and more information.
PROSCAN® Solutions offers integrated ERP and ECM systems to create a shared database that supports multiple business divisions (accounting, sales, marketing, etc.) and helps you increase your efficiency and security of personal and sensitive information and comply with industry and government regulations.
Estimated time savings with an electronic management system:
Locating and Retrieving Documents - 75%
Filing - 75%
Copying - 50%
On-Site Storage Costs - 75%
Off-Site Storage Costs - 75%
Shipping Expenses - 50%
Filing Supply Expenses - 50%
Additional benefits of an ECM system:
Meet regulatory compliance needs
Improved communication and collaboration
Use existing information instead of recreating it
Shorter product cycle time
More secure and accessible archive of business assets
Improvements in customer service
More efficient document processes for improved competitive positioning
Better document availability for lower risk factors and errors
More satisfied employees
Industries We Serve
Manufacturing
We help manufacturing companies reduce the costs of paper-based filing systems and instead electronically manage documents such as work orders, operating and equipment service manuals, and vendor profiles for easy access.
Financial
Financial professionals can free up valuable time for banking and customer consultations and speed up administrative tasks by making important files, such as customer, loan, or accounting documents, instantly available electronically.
Education
From student transcripts to financial aid profiles, educational institutions manage a lot of documents. Make these files at your college or university accessible digitally for easy retrieval and reduced off-site storage costs.
Healthcare
Patient confidentiality is critical for operations and compliance in a healthcare setting. We help your doctors, nurses, and staff maintain seamless access to digital patient records while they're working in the field or exam room.
Legal
Legal cases often involve large volumes of records and documents. We help you work your client's case more efficiently and enjoy better collaboration between attorneys by managing legal files electronically.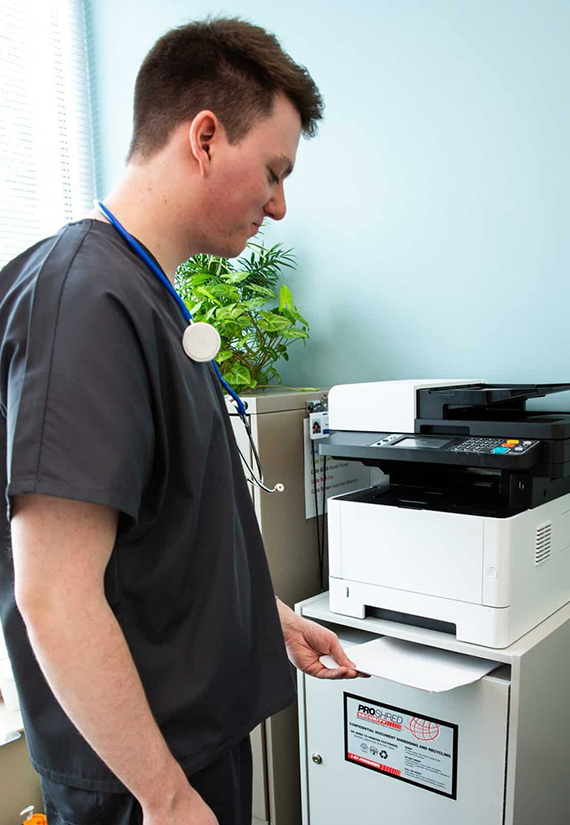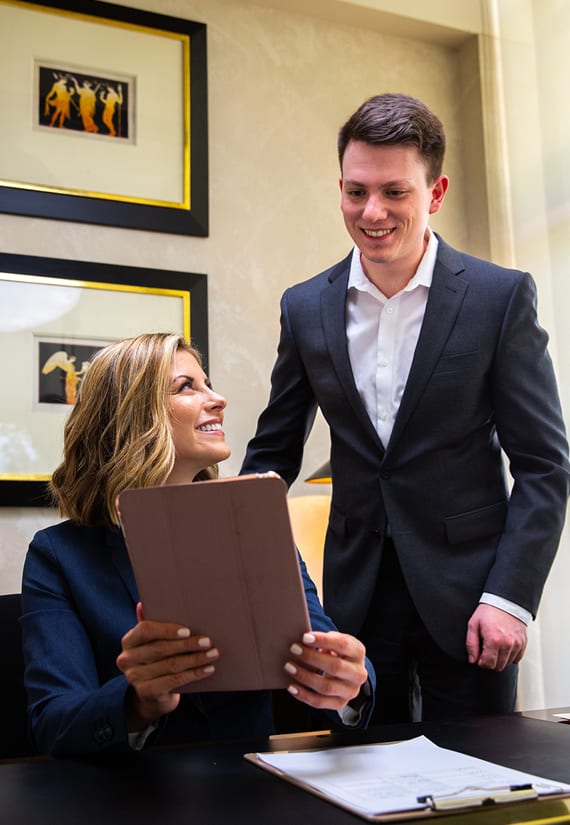 Department Solutions
Accounts Payable and Accounts Receivable
There's no need to waste time searching for invoices or other documents in file cabinets. Our document management systems let you find information electronically based on specific criteria such as invoice number, amount, or date; vendor name or number; company location or division; or check or purchase number or date.
Human Resources
Managing employee records can be time-consuming, from finding the necessary document to refiling it back in its original place. We allow you to manage HR files digitally and search by such criteria as the employee's name, date of birth, social security number, hire date, or contact information or by the type of document or filing date.
Digital Mailrooms
Reduce your mailroom costs by transitioning to a paperless workflow where information can be accessed digitally by relevant members of your organization. A digital mailroom solution from PROSCAN®️ Solutions eliminates the need for mail sorting and distribution and enables more efficient communications and access to information by employees.
Workflow Automation
Workflow automation streamlines administrative tasks to give your employees more time for critical work. The results can be higher-quality and more accurate work delivered more efficiently. Our workflow automation solutions can streamline your back-office work while reducing operating costs and your need for certain IT solutions.
Workflow automation can be used for:
Contract Management
Accounts Payable and Receivable
Human Resources
And More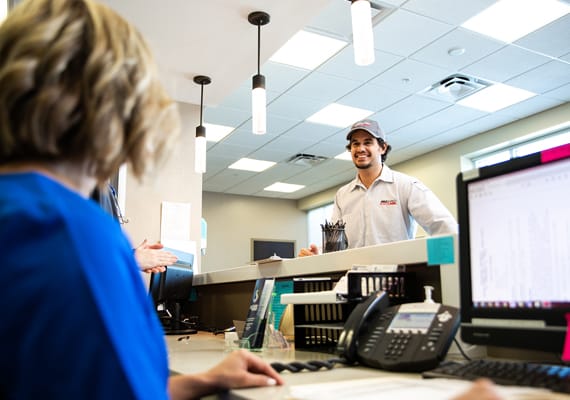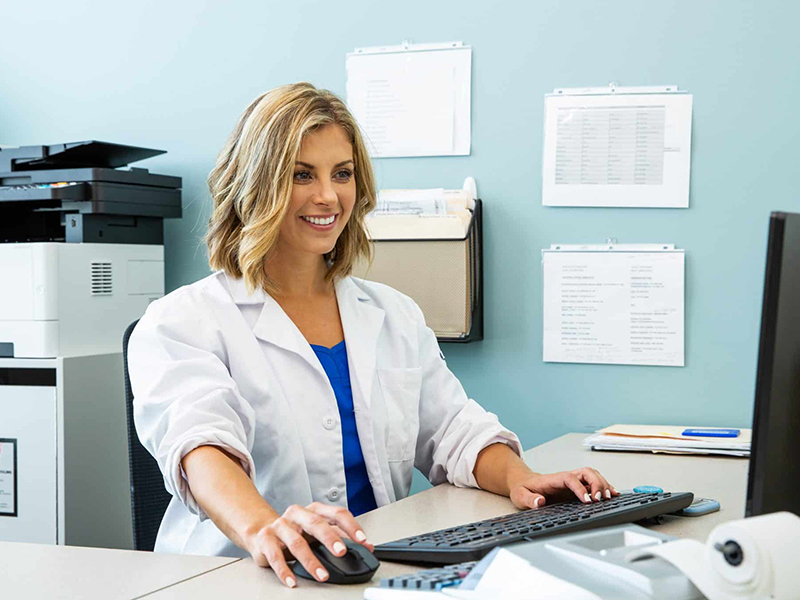 Cloud Data Management
Our cloud data management gives you an accessible, affordable, and secure solution for managing your electronic documents. Enjoy the benefits of electronic file management and information retrieval without having to invest in the equipment or staff required to run an in-house system.
Find Your Document Management Solution
To learn more information about how our document management systems can enhance your business's essential operations, please contact us today.