One-Time Shredding Services
PROSHRED® Watertown's one-time document shredding is a convenient option for businesses or residents who need to dispose of papers but don't have enough volume for recurring shredding services. During our one-time, on-site clean-outs, we'll collect your unwanted documents and shred them on-site in our mobile shredding trucks. We comply with federal privacy regulations and recycle the shredded materials locally. Whether you have a few file boxes in the basement or a warehouse full of old financial reports, prevent identity theft or data breaches by scheduling one-time shredding services to securely discard those sensitive documents.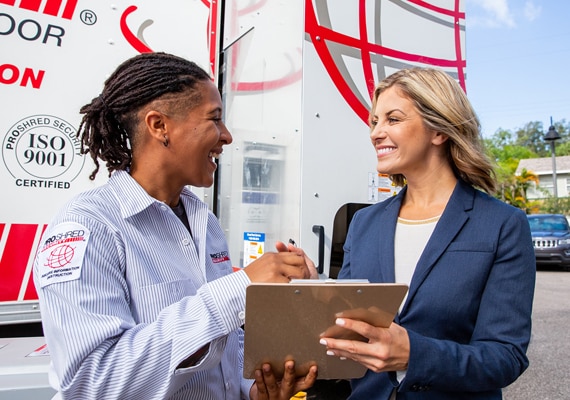 Affordable One-Time Shredding With No Hidden Fees
There are many options for shredding services in Watertown. The reason PROSHRED® Watertown offers the best one-time shredding, however, is our transparent and affordable pricing model. Some other shredding companies strive to make up revenue on one-time shredding by tacking on fuel surcharges or hidden fees or locking customers into contracts they don't need. We don't use any of those tactics. Our one-time document shredding involves no fuel surcharges, no hidden fees, and no contracts. The cost of our one-time shredding services is determined by the amount of paper you need shredded, and that's all.
How Does One-Time Shredding Work?
Everything happens on-site at your home or business. When you call to schedule a one-time shredding service, we'll assess the amount of materials you need shredded—the amount can range from a few boxes to multiple tons of paper. At the time of the appointment, we dispatch our mobile shredding trucks to your location, where our customer service professionals (CSPs) load your unwanted documents into secure shred bins and transport them to the mobile shredder outside. We destroy the papers right then and there and issue you a certificate of destruction. Afterward, we carry the shredded documents to a recycling facility for final processing. Our trucks fit into most commercial lots or residential driveways, and our mobile shredders can process up to two tons of paper per hour for quick results.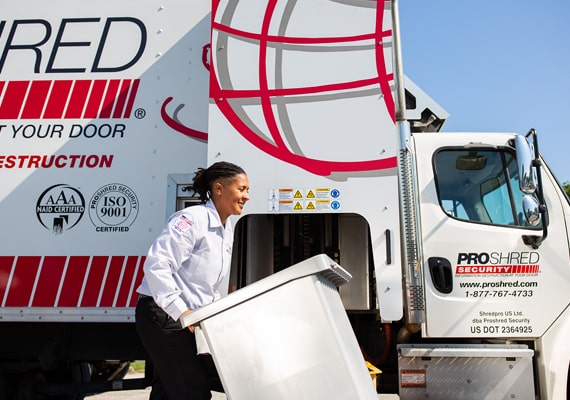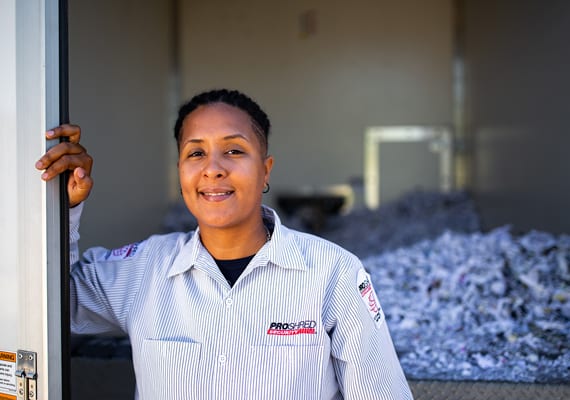 We Recycle 100% of Shredded Materials
We understand that some people would rather recycle their documents at home than shred them. But with PROSHRED® Watertown's one-time shredding service, all of your documents get recycled in an environmentally responsible manner. The downside to standard blue recycling bins is they aren't secure, so any would-be thief could find what they need to commit identity theft or other fraud. The benefit of our one-time document shredding is that it eliminates security risks while also reducing the amount of waste on the planet, just as if you recycled them yourself, only safer.
Get a Quote for One-Time Shredding Services
PROSHRED® Watertown provides industry leading shredding services for homes and businesses. Allow our team to customize a one-time cleanout to fit your budget.