July 24, 2019
Bulk Shredding: The Cost-Effective Solution for Secure Document Disposal
If you manage a business or department, you know that the more productive your employees are, the more successful your business will be.
Unfortunately, there are many distractions that can keep an otherwise productive worker from getting down to business. For example, according to a report by Attentiv, the average worker spends 13 hours a week, or 28% of the work week, dealing with emails, including junk email or spam.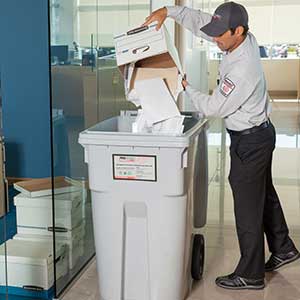 Why add more busywork to employees' list of tasks? When you need to have confidential documents securely destroyed, using a professional shredder means your employees don't have to spend time preparing piles of paper documents by removing staples, binders and paperclips, then feeding them a few pages at a time into the office shredder, emptying the paper, and cleaning all those little bits of paper that inevitably end up all over the floor.
Instead, why not allow employees to focus on their actual jobs and use a professional shredding company like PROSHRED® Denver?
PROSHRED® Denver offers on-going shredding services for businesses, which is not only the most practical and convenient bulk shredding option, it's also the most affordable! In fact, according to our research, professional shredding with PROSHRED actually costs up to 25% less than doing it yourself in the office.
When you do your own shredding, you have to purchase shredders, pay for their repair and replacement, and pay employees to handle the documents and do the shredding. Not only is that a waste of money, it also puts employees in a position to see and handle sensitive company documents, which leaves your business open to security breaches.
When it comes to affordability and security, PROSHRED® has you covered. With our regularly scheduled shredding services, we provide your office with secure shredding consoles at no cost to you. Employees can place any materials designated for shredding in the containers, which do not allow documents to be removed once they are inside.
No need to remove staples, paperclips, or bindings—we'll take care of all that when we come to your office to shred the materials in our high-tech mobile shredding trucks. Once your documents have been securely and completely shredded, we provide you with a Certificate of Destruction to confirm and provide proof of the secure disposal of your materials.
Contact PROSHRED® today to see how we can save you money and time, while increasing the security and productivity of your business.