Frequently Asked Questions
Do you have any questions regarding shredding services? Check our Frequently Asked Questions page below to find an answer to your shredding question.
Have A Question You Don't See Below?
Give Us A Call: 1-87-PROSHRED (1-877-767-4733)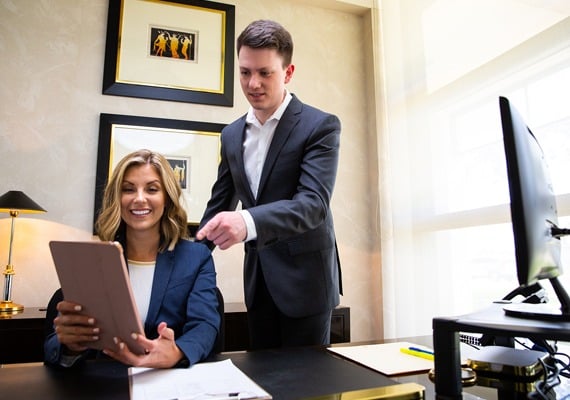 PROSHRED® has a presence in 40 major metropolitan markets in 25 states providing secure on-site mobile shredding services. To find a PROSHRED® near you, click here.
No, you do not need to remove any paper fasteners, like paper clips or staples, from the documents before shredding. Once your documents are shredded, the shredding is then brought to a recycling plant where they remove the metal when making new paper products. We do not shred three-ring binders.
PROSHRED® is committed to safeguarding your security with every shred job we complete for you. Proper destruction of confidential information requires the end-of-service procedure of providing a Certificate of Destruction to the client proving that in fact shredding of specific documents took place at a certain date and time.
Our trained professionals will come to your premises to take care of all your shredding needs. Then, your documents, hard drives and products will be destroyed on-site, in our mobile shredding truck. You can watch the process. Once your information has been securely destroyed, you will receive an official Certificate of Destruction. Finally, all of the destroyed materials will go to a designated recycling facility.
Of course! You can be sure that your documents are being properly destroyed by witnessing the shedding process via the closed-circuit monitor mounted on the truck.
Equipped with large industrial paper shredders, mobile shredding trucks come straight to your business or specific location for the utmost in ease and convenience. Your documents are then destroyed on-site so you can remain confident that your sensitive information will never again risk getting into the wrong hands.
On-site shredding is when PROSHRED®'s mobile shredding trucks come to your location and shred your documents on the spot. Off-site shredding is when your documents are shredded away from your business location.
Protect yourself, your business and your clients from identity theft. Shredding documents is important to ensure that all personal and confidential documents are risk free. Your company has a need for legislative compliance and total security of confidential information. Easily and efficiently clear out any unwanted or outdated sensitive files using one of our many services.
PROSHRED® partners with local organizations for a minimal cost to bring the most secure shredding events in your area. Please, contact your nearest location for more information: PROSHRED® Locations.
PROSHRED® is regularly hosting shredding events around your community. For more information, please check our events calendar or call 1-877-767-4733 (1-87-PROSHRED).
Once the paper shredding is done, 100% of the paper is recycled and eventually made into other paper products.
Absolutely. Hard Drive shredding ensures that all of your confidential and highly sensitive information remains uncompromised.
After the hard drives are completely shredded, PROSHRED® delivers the metal and electronics to recyclers for further processing. We only send electronic waste to certified recycling partners that comply with federal and state regulations.
Breach reporting is notifying authorities when the security or privacy of protected information has been compromised
For more information about breach reporting, click here.
PROSHRED® charges vary depending on the service. Fill out the Get a Quote form for a free estimate.
It all depends on your needs. If you are looking to clear out old documents taking up room, use the one-time paper shredding service. If you need large amounts of paper shredded weekly, use the scheduled shredding service.
At PROSHRED®, all our drivers complete a rigorous training regimen leading to their Customer Service Professional certification. Each PROSHRED® employee is charged with the responsibility to follow the business and document destruction procedures required to maintain ISO 9001 Certified by NSF-ISR and NAID certification.
In-house shredding uses valuable employee time, stealing focus away from core business activities. Leaving "to shred or not to shred" decisions up to staff creates higher potential for employee error or breaches of confidentiality.
PROSHRED® shreds more than just paper. We specialize in paper shredding, hard drive destruction, and product destruction. 
Recycling one ton of paper saves 17 trees. Each time you shred with us, you are presented with a TreeSaver Environmental Certificate indicating the total number of mature trees you saved during the year through our recycling process.
PROSHRED® Security offers services to every industry. However, we have specialized in industries that are regulated by federal and provincial legislation, such as businesses, medical institutions, financial institutions, law firms, educational institutions and manufacturers to name a few. For a full list of all industries we serve, click here.
PROSHRED® Security services 40 metropolitan markets in 25 states providing secure on-site mobile shredding services with a fleet of over 136 trucks. And, with our network of certified shredding partners, we provide shredding services nationwide. Locations we service.
PROSHRED® Security is held to the highest standards of information destruction. For that reason, PROSHRED® Security holds the ISO 9001 Certified by NSF-ISR and NAID AAA certifications.
Other shredding companies charge hidden fees and fuel surcharges. Unlike many of our competitors, PROSHRED® Security doesn't charge fuel surcharges or any other hidden fees.
Yes, document shredding services are considered safe for a number of reasons. For one, they use locked bins and consoles and a secure chain of custody for added security. PROSHRED® Security is also NAID certified and holds the ISO 9001 Certified by NSF-ISR, adding another level of accountability and security. Finally, PROSHRED® understands the regulatory environment and what you need to stay compliant with federal and state laws.
Documents can be shredded on-site where you can monitor the entire process. Alternatively documents can be brought to a secure facility somewhere else. After that the shredded documents are baled and sent to a recycling facility to be disposed of in an environmentally safe and responsible way.
While there are other ways of destroying documents, shredding is considered the most secure. For items that can't be shredded, incinerating them is the best strategy, but you should never attempt that by yourself, as it is dangerous and illegal.
While burning or incinerating documents is an option, it is not as safe as shredding. It is also worse for the environment to burn paper; when we shred documents we make sure our waste is taken to a recycling facility. Shredding is also the most secure method since it is difficult to ensure documents are completely destroyed when you burn large amounts of paper all at once.
Yes, we recommend shredding those kinds of documents as shredding is secure and those documents contain sensitive financial information. When using commercial off the shelf shredders, like the ones found in your office, you don't get the secure cross-hatch shedding technique. That is why it is important to reach out to a professional shredding company, like PROSHRED® Security.
Shredding is the responsible thing to do with regards to your personal documents, as they often contain sensitive information. If you run a business, you may also have a legal and moral responsibility to your customers, employees, and partners to dispose of document securely.
With a good document management system (DMS), you can store and track electronic images of paper documents. This allows you to free up valuable office space and better access old documents, since you can use the DMS to search for them. This will reduce your overall costs as well as help ensure regulatory compliance and help make you Good Manufacturing Practices (GMP) compliant.
After your documents are shredded we provide you with a certificate of destruction. This helps make you compliant with privacy laws and shows what lengths you went to, to act responsibly. After that we take the shredded documents to a recycling facility to be made into new products.
Yes. The consequences for you if you don't properly dispose of sensitive documents can be both practical, as in disruption of your business, and legal, putting you at risk of a lawsuit.
Shredding documents yourself might seem like a way to save money, but it still requires employee labor. Also, it is more efficient and safer to have shredding done by professional using the correct equipment. This ensures the job is done quickly, completely, and securely.
Our prices vary depending on a variety of factors, including whether you're doing it on-site or dropping off with us and how much paper you are shredding. Only after understanding the scope of the project can we come up with an accurate estimate. Please contact us for more information.
A professional document shredder is similar to the paper shredders you can buy at the store except they are capable of far more volume and guarantee greater security using cross-hatch shredding.