July 24, 2019
How to Choose the Right Shredding Service for Your Business
If your Denver business has sensitive documents that need to be professionally destroyed, how do you decide which is the right type of shredding service?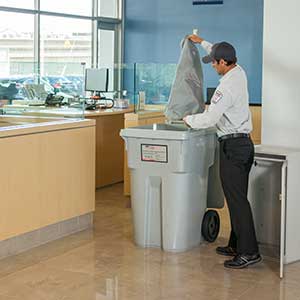 Waiting for the papers to pile up before calling a shredding company can not only take up valuable storage space in your office, it can expose your company to security breaches if the documents are stored in a way that allows for loss or unauthorized access. On the other hand, hiring a shredding company to make regular trips to your office when you don't have enough shredding to make the trip worthwhile is a waste of money and time.
The solution? A customized shredding schedule that is designed to match the specific needs of your office. PROSHRED Denver will work with you to create a personalized program, including coming to your location to determine how many containers your office needs and making a recommendation for how frequently to service them based on the number of employees, the physical space, and the amount of paper that needs to be destroyed.
PROSHRED Denver's scheduled shredding service eliminates the hassle of deciding when to schedule service and allows you to spread your shredding costs evenly over a full year. Once the plan is in place, you can rest assured that your confidential documents will be securely stored in our locked executive consoles, and promptly and professionally shredded on the schedule that is right for your business.