November 28, 2016
Partnering with a Document Shredding Company: What to Keep in Mind
If you are like the majority of companies in the Denver area, you may be finding that as your business grows office space is dwindling at the same time. Your filing cabinets may be beyond capacity and there's just not enough room for further records storage; this is a common problem, but one that can be solved efficiently and securely. Allowing your cabinets or desks to overflow with confidential paperwork, puts your organization at substantial legal risk as these documents should be secure at all times.
For your own benefit, be sure to dispose of records that are no longer relevant to your business, but ensure it's completed properly.  Business documents are full of private details about marketing plans, budgets, employees, and client information, which need to remain confidential. Professional document shredding guarantees that this paperwork is destroyed beyond recovery, with no risk of exposure.
As laws dictate, any business owner that deals with confidential information must properly shred all sensitive material, specifically those containing private customer matters or personal identification information. If you've been storing records away because of compliance reasons, you may be surprised to learn that most of your records don't require 7 years of storage.  At the end of the day, unless you have a specific reason to store these files, your smartest bet is to have them shred; save office space while keeping your office clutter-free and organized!
You may be wondering how in the world you'll find the time and resources to handle internal shredding. Not to stress; this is where we come in! Choose to do what many Denver companies have done, and partner with a document shredding company for your document shredding needs. We are the experts after all!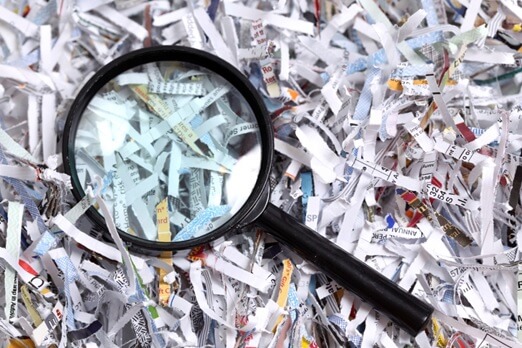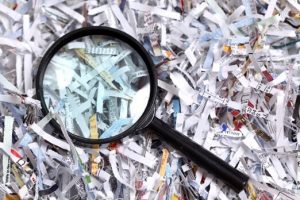 Before you select a shredding provider, it's important to select this service wisely.  Here are a few considerations to remember:
The Type of Shredding Provided
There are two solutions offered by shredding companies; on-site shredding services and facility-based (off-site) shredding services. On-site document shredding occurs directly at your business location, allowing you to easily witness the destruction process first-hand. Alternatively, off-site shredding is performed at the shredding company's shred facility. A technician will come to your location, collect your confidential documents and securely transport them back to our facility for shredding.  Either option is perfectly acceptable and offers the same level of security. Customers can choose based on convenience and what makes sense for their paper consumption levels. PROSHRED in Denver is pleased to offer both solutions to our customers.
Industry Experience and Qualifications
For the security of your business, make sure you hire a shredding company that is highly experienced, trusted in the community and is AAA certified by NAID. NAID Certification guarantees that industry standards are in practice, including requirements set out by document destruction legislation. We suggest visiting the company website to verify whether or not this certification is present.  Partnering with a provider that is not NAID-certified may mean that their shredding lacks security measures, which could put your company at risk.
Service options
While regular scheduled shredding is a common choice for many companies, some shredding companies provide drop-off shredding as well as one-time purge shredding solutions. Choose a company like PROSHRED, as we supply each of these shred options. We realize every company has different needs and some industries simply don't require the same continuous service, so it's important to tailor to all company sizes and industry types.
When it comes to keeping your business secure, being choosy in your quest to find the perfect shredding provider is totally fine.  You should feel positive about the decision made; set some time aside and find the right shredding business that speaks to your company.
Get in touch with the team at PROSHRED for reliable and flexible document management services.  We supply secure document shredding services to a variety of industry backgrounds. Contact us for a free quote, or for additional details in regards to our services.
Call our team in Denver at 1-303-730-2500