March 8, 2017
Document Shredding Solutions for Your Financial Company
It is imperative that in today's world, business owners are implementing the necessary security measures to keep sensitive information safe. Without the proper precautions, your company could be at substantial risk. This is even of greater importance if you are the owner or operator of a financial institution. Financial industries, of course, are all numbers. Banks and accounting firms are constantly dealing with private financial data. Legally, this data needs to be securely stored and kept safe from potential exposure.
There are specific and strict procedures that must be carried out as a bank owner to maintain total confidentiality. Even as firms become increasingly educated surrounding information theft, unfortunately, data theft continues to take place and targets the financial industry in many cases. If your firm is affected, such a scenario could be damaging to your reputation and overall business success. Be sure you are properly shredding all financial records that are no longer relevant to your business or have reached the end of their retention period. Staying on top of this will ensure you are doing everything you can to prevent information loss.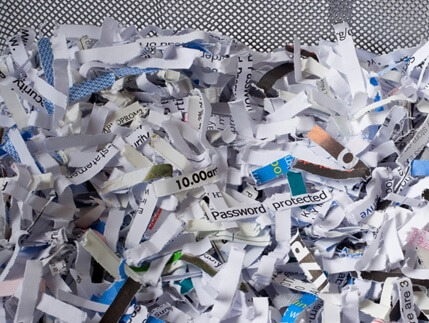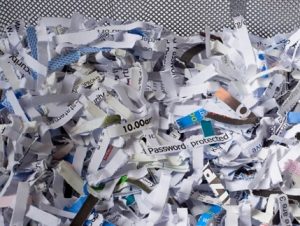 At PROSHRED Syracuse, we know how demanding and hectic it can get managing records in-house; you have enough to deal with on a daily basis after all, and this is one business practice that as a result can be forgotten about. Our shredding services are in place to make document management simple and worry-free. We'll perform the destruction directly on-site at your business location or if preferred, there is the option to have your documents shredded at our facility. Our shredding process will help your company stay in compliance with important privacy legislation, and we'll tailor our services so that they specifically align with your institution's due diligence and document shredding requirements. We guarantee 100% security over client information, and follow a strict chain of custody from the minute we pick-up your documents, through until total destruction.
How does the document shredding process work anyways? A qualified specialist from our team with your permission will pick up your old, unwanted documents and arrange them immediately on our mobile shred truck for total destruction. Clients are welcome to watch the destruction take place from beginning to end for additional peace of mind. Our industry leading equipment is capable of shredding through hundreds of thousands of documents in mere minutes. On the other hand, we also supply facility based document destruction that follows a very similar process, with the same security measures in place to ensure your total protection.
PROSHRED Syracuse provides flexible and cost-effective shredding solutions to:
Investment Firms
Brokerages
Trust Companies
Title Companies
Credit Card Companies
Local & Regional Banks
Mortgage Companies
Remember that it's not just smart to care for your financial records properly; it's your legal duty as well. The Gramm-Leach Bliley Act (GLBA)  has been designed for the security of consumer information in the financial services industry. Information can be considered any form of data from hard copy documents, to electronic and information found on portable devices. Particular precautions are highly suggested in ensuring this information is kept secured at all times; such measures include, an information security policy, ongoing security audits, ongoing training in data security best practices for your staff, and effective document management, from generation to secure destruction when information is no longer needed.
PROSHRED Syracuse wants to reduce the time and effort that comes with shredding records in-house. Allow our team to remove this tedious task off your plate; we'll also save you considerable costs while we're at it!  Contact our team to arrange an appropriate shred date for your financial organization.  Our team is more than happy to speak to you about all of your shredding options. Interested in pricing? We'll happily provide an estimate at no charge.
Get in touch with our team if you are in the Syracuse area and are looking for professional services.
Call 1-315-333-2727 to learn more about our shredding services and how they benefit the financial industry.