September 11, 2017
PROSHRED® Shredding Events Provide Knowledge About Red Flag Rules
Learn About The Red Flags Rule at Our Shredding Events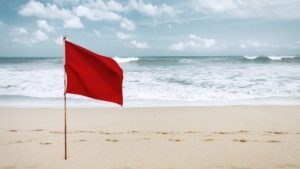 If you own or operate a business you may know that there are many different pieces of legislation that affect your day to day operations and how you do business. Keeping track of these rules can be a daunting and exhausting task. When it comes to document shredding, PROSHRED® Syracuse is on top of it all with our multitude of services and many shredding events happening throughout the year. Our teams of NAID certified professionals are trained, and as a member of NAID we are committed to keeping on top of US legislation which can influence how any and all businesses in the United States dispose of their old records and documents, even if they do so at local shredding events.
One of the more recent pieces of legislation that has come into effect is known as the Red Flags Rule. It was created by the Federal Trade Commission along with the National Credit Union Administration to work against identity theft. It was passed in January of 2008 and went into effect on November 1st, 2010. The rule applies to two different groups (not to be taken as legal advice):
Financial Institutions:
Defined as any entity that hols a transaction account which belongs to a consumer. This includes banks, loan associations, credit unions, etc.
Creditors:
These are entities that regularly extend or renew credit, or arrange for others to do so, and include all entities which allow for deferred payments for goods or services
The rule essentially sets out how businesses have to create and roll out a plan to prevent identity theft. The plan that these organizations role out must consist of four of these basic elements or more:
Identify the red flags
Detect red flags
Act to prevent the theft
Update the program
The FTC has posted a how-to guide on their official websites for small businesses. Larger businesses require more complex systems and solutions than what this guide template provides.
For many businesses PROSHRED® Syracuse's branch has become a key component of many businesses third step in their Red Flag Rule protocol. Some businesses in the area also take advantage of the shredding events we host! One of the best actions' businesses can make to lower their risk of identity theft and fraud is to ensure that documents are destroyed before or upon the suspicion that information theft may have or is at risk of occurring.
Our team of NAID Certified Technicians and experts are ready to help provide quality shredding services that will help your business keep in line with its Red Flad Rules. Contact our office today to learn about the many options available to your business and when our shredding events will be happening.
You can also find any future shredding events happening here.