December 4, 2019
10 Cyber Security Statistics
We live in a digital age where more and more of our information and business is conducted online. Online access, payments and management tools make for a fast and easy way to carry out many tasks. Easy access also provides more opportunities for those seeking to do harm to find ways to achieve their nefarious goals. When it comes to using these digital services, here are some important cyber statistics you should keep in mind.
10 Important Cyber Statistics You Should Know
Firstly, take a look at this graph that was published by the Identity Theft Resources Center.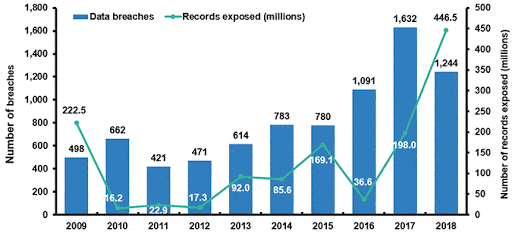 The data presented here is a little troubling, isn't it? It's not surprising in the least, especially when you consider how much of the world is completely digital and utilizing the incredible storage and organizational ability of computers. As the world changes, those who commit crime change with it as well to try and exploit things to their own end.
Let's get into those statistics now.
Worldwide cybersecurity spending is estimated to pass $133 billion by 2020.
In 2019, over 4 billion records were exposed due to data breaches.
Every 39 seconds a hacker attack occurs, which averages out to be around 2244 times in a single day.
By 2020, 83% of enterprise workloads will be transferred to the cloud.
94% of malware attacks are delivered to their target via email.
On average, the cost of a ransomware attack comes out to $133,000 for businesses.
Of all data breach victims, 43% are small businesses.
During 2018, most cyber crimes were directed at the banking industry, incurring a cost of over $18 million.
It is estimated that the damage caused by cybercrime is going to hit $6 trillion a year by 2021.
Data breaches on average cost $3.9 million.
As you can see, cybercrime is a truly damaging experience to go through, and it is on the rise. For an even more extensive list of cybercrime statistics, check out this article. From there you can see even more on how this is such a massive problem. This is why we are always stressing for people and businesses take information theft seriously, and to do what needs to be done to protect yourself and your clients.
It's important to keep in mind that not all data theft occurs from hackers and cloud breaches. Your hard drives and devices can be at risk from physical theft. The best cyber security in the world is going to do you little good if someone is able to come by and just pick up your device and walk off into the sunset with it. Taking extra precautions is highly recommended.
We pass along this information not to scare you away from digital information, as it is an amazing thing! Our purpose here is to ensure you are aware and informed of the risks associated with technology. For those responsible in handling sensitive information, do everything you can to protect it.
Your reputation and finances could very well be on the line.