September 19, 2019
Do You Make These Mistakes with Your Personal Info?
There isn't much to suspect in a typical morning routine. Perhaps you sort through email, click a few links, check a few accounts and maybe use your debit card to buy a coffee mug for your desk at work. Maybe you sort through yesterday's physical mail, tossing a few credit card come-ons into the bin.
This all sounds productive and normal, but in this scenario, you have already committed at least four mistakes and put your personal identity at risk.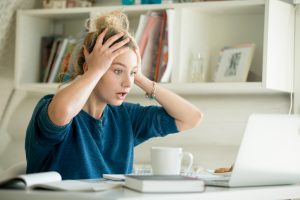 Easy Mistakes to Make
In Minnesota, 40% of committed fraud involves credit cards and costs an average of $387 per theft. Gaining access to someone's sensitive information is as easy as reaching into a mailbox. We live in a world where our identity is one of our most valuable resources, yet we frequently treat it casually. Providing your identity with a good defense requires constant vigilance. If you've made any of the common mistakes below, you may need to rethink your approach to your personal information.
Do you offer information freely? – A favorite tactic of scammers is to call or email, posing as a staff member from your bank or utilities company, and ask you to "verify" certain pieces of your account information. Keep your passwords to yourself and don't worry about being rude; tell them you'll call back, and then use a trusted phone number for your institution to do just that. Guard your personal information like your birthdate and address.
Do you use the same password for multiple accounts? – Yes, it can be a pain to have several different passwords, but if a thief can easily guess your password and you've used it for most of your accounts, then all it takes is one lucky break to gain access to more than enough information to steal your identity. Make sure your password is complex and avoid using any personal information in the password itself. Change it regularly.
Do you click on unknown web links? – If you get an email warning you that you need to verify some personal information, or informing you that you've won a company raffle, hover your mouse over the link before you click. The URL will usually display at the lower left-hand corner of the screen, so you can check that it does indeed lead to the company's website. If it doesn't, don't click.
Do you read and review your bank statements? – Too many of us rip open the envelope, give it a cursory glance, and then set it aside. Take some time and go through your bank statements. If you notice anything suspicious, like a withdrawal or a purchase that you didn't authorize, contact your bank immediately.
Do you go online without protection? – Make sure your computer has a trusted, up-to-date antivirus program on it. Anti-spyware is another good program to have on board, as that will safeguard against thieves trying to remotely access or spy on your online paths.
Are you aware of your surroundings? – When you're not paying attention, thieves have an easier time making a play for your money or information. Keep an eye out for skimmers at gas stations and protect your pin number when you enter it in on a keypad.
Do you toss important information in the trash? – A credit card solicitation typically gets little more than an eye-roll and a one-way trip to the trash. However, even spam mail can have information on it that we wouldn't want out in the world. Thoroughly shred anything with your personal information, like a birth date, address, or identity card number, before throwing it away. The goal is to make it impossible to put back together.
Cut Out Guesswork with a Certified Shredding Service
Basic "strip shredding" shredders that you buy commercially are better than nothing, but these strips of paper, especially if they're all thrown out together, can still be reconstructed. Many of the above suggestions require a change in personal habits or behavior, but one of the most common ways thieves obtain information – through physical mail – can be thwarted with a simple phone call.
Instead of throwing out your mail daily, reserve a box or lockable collection bin for items with sensitive personal information on them. When your boxes are full, or when you simply feel you need to clear out some space, you can request the services of a shredding company. Here at PROSHRED Minnesota, we're happy to dispatch a truck wherever needed, but we also have a drop-off service, perfect for up to three boxes of documents. Your documents will be cross-shred, and the resulting particles will then be securely and responsibly recycled.
If you're ready to set a new, healthy habit for your personal security, get a quote for your shredding needs today or call 1-877-767-4733.