August 10, 2021
Is Scheduled Shredding Right For Your Business?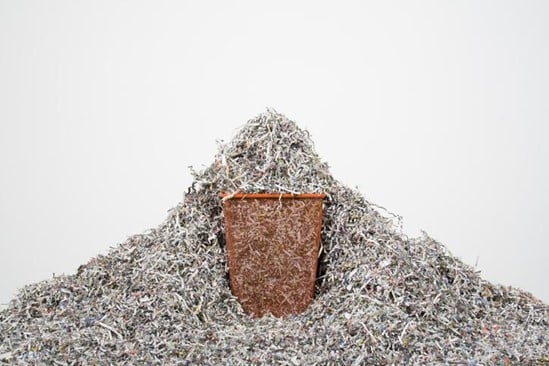 How sensitive are your documents? Scheduled shredding helps to protect your documents from being used for negative reasons like identity theft. It's a great way to easily get rid of your old documents without the worry of them falling into the wrong hands.
So what is scheduled shredding? Why is it going to benefit your business? Together we will go through what scheduled shredding is, how it works, and all the perks that you get out of using a scheduled shredding service so you can make an informed decision if this service is right for your business.
Scheduled Shredding: What is it?
Scheduled shredding is an effective form of document destruction in which companies, organizations, or other clients have their sensitive documents, papers, and personal files safely stored, picked up, shredded, onsite frequently. In most cases, the client will be given a list of documents that need to be destroyed, with sensitive information omitted or being omitted. The list contains the type of information to be destroyed and why. A sensitive document may include bank or financial records, medical records, home videos, legal records, and more.
How it Works
When you are ready to book your first appointment, you might want to know the process of how scheduled shredding appointments work. When you schedule an appointment, the company of your choice will ask you several questions about the amount of paper you have and how regularly you want your shredding appointments. When you choose this service, they will also provide you with a secure container and bins to store your documents until your appointment.
The mobile shredder will arrive on time, and be ready to begin shredding your documents when the appointment date arrives. All you have to do is show the professional workers where the documents you want to be shredded are, and they will handle the rest. The professional workers will then pick up your shredding containers that were supplied by the shredding company and take them to the truck. Once they are on the truck, they are immediately put into the commercial shredder. After the shredding is finished, they take the shredded bits of paper to a recycling facility to be made into other products.
The Perks of Using a Scheduled Shredding Service
Shredding your documents provides you with more benefits than just the security of your documents. Even though businesses can use this service to ensure valuable and sensitive documents are destroyed securely, that's not all.
It also is a cost-effective way in destroying your documents; this is because you no longer have to buy or keep up with the maintenance of all your personal shredders, and you don't have to pay one of your employees to spend days shredding all your documents, instead let the professionals handle it with ease. It also benefits the environment because the shredding company of your choice will recycle those shredded bits of paper into other paper items.
When a company needs urgent data protection, it makes sense to turn to a professional service. The security and safety of a business's information and the other benefits that come with it cannot be overlooked.
Get in touch with PROSHRED® Minnesota to schedule your shredding appointment.