January 26, 2018
Starting with Document Shredding (3 Simple Steps)
It's simple! But is it easy?
Ever have revelations a bit later than you expect? Hopefully with sensitive documents it comes after they are stacked up to the ceiling and not a security breach leading to stolen personal information. For your own sanity and the security of private information you collect, eliminating these documents before they're lost or stolen has to be a priority. Starting before things pile up will be a piece of cake! If you've waited until the towers of documents lean menacingly over you, getting things rolling will be a bit more challenging. No matter when you start, the process is a simple one. Just think of all the desk space you'll reclaim!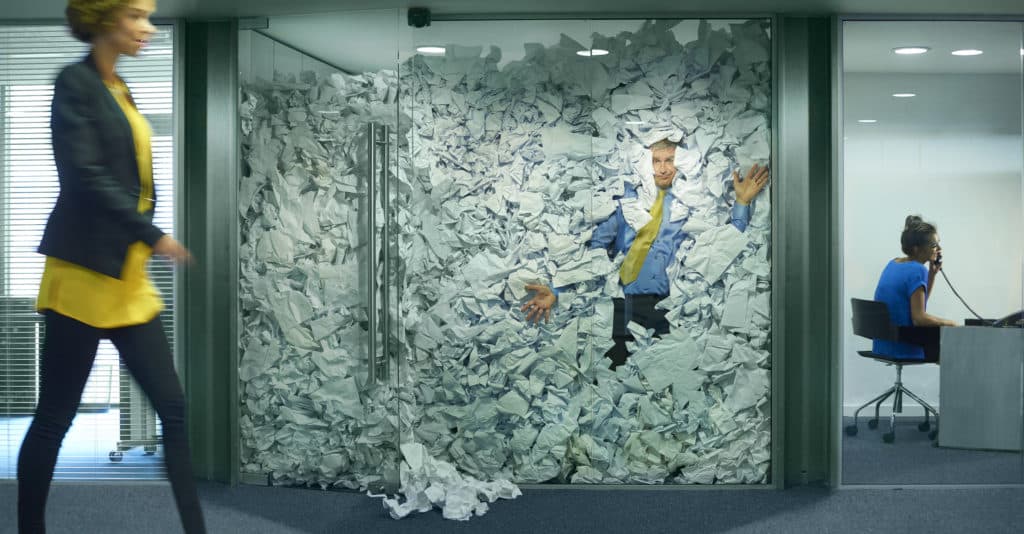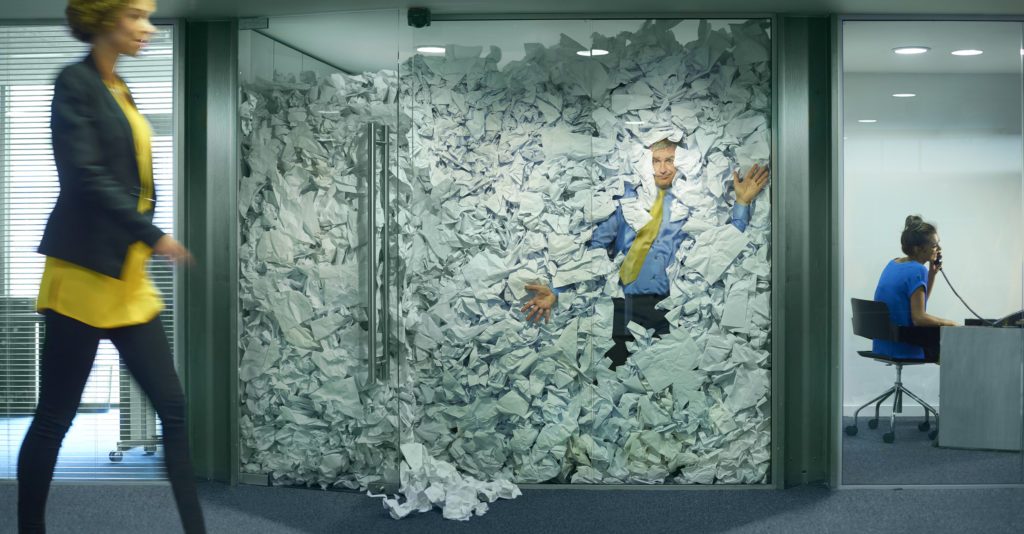 Three Step Process
Identify, Store, Shred.
See how simple saying that is? Actually following it is just as simple. There's no need for complicated procedures or the secret exchange of brief cases loaded with classified information at park benches. This process can be taught to employees on the first day. It can be inserted into the regular day-to-day routine without any loss of productivity or increased work load. Although if you've put off starting until shelves start bending and interns are lost within a jumble of boxes, you'll need some extra effort to get on top of things.
Identify and Separate Sensitive Information
When embarking down the path of document shredding you first need to know what documents need to be shred. Not all businesses deal with the same type of information; ensuring you know what's coming in will help to identify what to look out for. Financial details, addresses, phone numbers, and medical records are all examples of sensitive information. Once all sensitive documents have been found be sure to separate them so they don't find their way back into circulation. Familiarize yourself with the local, state, and federal privacy laws that affect you to ensure you're in compliance with all shredding requirements.
Secure Storage
 Once you've identified and separated the information destined for the shredder, you'll need a safe place to keep it. No, a high shelf at the back of a closet doesn't count. What's needed is a secure container. These locked containers are designed to keep the files secure while they await destruction. Think of a mail box. You can put letters in, but only authorized and trusted staff members can remove the contents. PROSHRED Minnesota will provide these bins to you for no additional cost and service them regularly. Not only is security increased with these bins, they increase organization without any added complications as well!
 Time to Shred
So you've identified and separated your documents, and placed them into the storage bins. Now the action can finally happen. You rub your hands eagerly together as you start feeding pages into your office shredder, basking in the satisfaction of seeing all the strips pile up at the bottom of a garbage bin. Or maybe not. What you should do is leave the shredding to a professional service because in-office shredding comes with risks.
PROSHRED can help. Remember those locked bins? The staff at PROSHRED Minnesota consists of the trusted personal that will handle their contents for you. Professional shredding is both faster and more secure than simply shredding yourself. Industrial shredders can not only shred a higher capacity of documents at one time but also their designed to accompany folders and boxes too. We will bring our shred trucks to your location and shred before your eyes. Watch the whole process!
Now suppose you only have one bin, and this bin fills up slowly, so regular service isn't required. That's ok. Bring the documents down to one of our locations, drop it off, and we'll take care of it. The remains of all shredding done with us will be disposed of in a secure and environmentally friendly manner. We are secure AND green!
It's So Simple!
The whole process really is that simple, and if you start now it can also be easy. You'll stay organized, and secure without having to worry about compliance issues. PROSHRED Minnesota will make shredding the easiest step to follow through; you don't even have to do anything! This turns a simple 3 step process into a simple 2 step process. Get started with shredding before you get lost in paper, and before you suffer a security breach.
Call 1-952-777-4876 today for more information on our services.