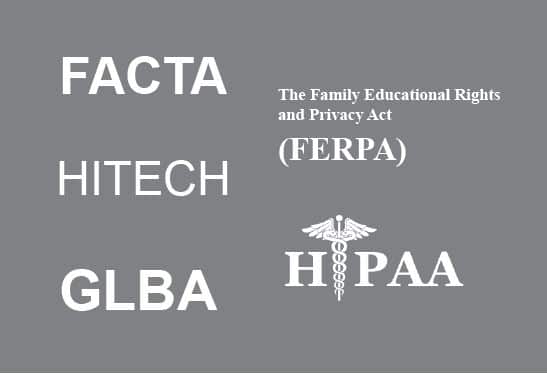 Missouri Privacy Laws
In 2014, more than 31,000 people became victims of fraud or other complaints. That is enough people to nearly fill Busch Stadium, the home of the St. Louis Cardinals. Those numbers are staggering and unfortunately, this is one of the fastest growing crimes in the state of Missouri with no end in sight. The majority of the time, identity theft can be completely prevented if the correct precautions are taken and can easily be avoided by proper destruction of paper documents, files or hard drives.
This is why our Missouri lawmakers are continually making efforts to protect its' citizens and since the mid 1970's, lawmakers have implemented several Acts and laws to eliminate this growing threat to your personal security. The goal of these Acts and Laws is to ensure every government office, local business, law enforcement agency and healthcare facility is responsible to keep the private information of anyone who utilizes their services, totally secure. If any of the above is found to be in breach of these privacy laws or acts will be subjected to huge fines and massive penalties.
In short, it is your obligation to protect all private information for your customers, employees and yourself!
This resource page will explain many different privacy acts that must be complied with.
Important Compliance Information
Fair and Accurate Credit Transactions Act (FACTA)
FACTA is the Fair and Accurate Credit Transaction Act. This is federal legislation that is applicable to every business in the state of Missouri and every other state throughout the U.S. FACTA was implemented to reduce the threat of fraud and identity theft occurrences. Any organization that disposes of private information unsafely could face substantial fines of up to $2500 per record. Learn More
Health Insurance Portability and Accountability Act (HIPAA)
HIPAA is the Health Insurance Portability and Accountability Act. This is a federal law aw that must be properly followed by every hospital, medical clinic or dental office which keeps and circulates confidential information about their patients. The purpose behind this act is to keep patient records protected and secure while they are in storage. HIPAA also requires the proper destruction of patient files once they no longer require in-house storing.  Learn More
Gramm-Leach-Bliley Act (GLBA)
GLBA is the Gramm-Leach-Bliley Act and it was put into place precisely for financial institutions in the St. Louis area; however, GLBA also applies to any business that handles customer data. This act exists to protect the financial information of customers, and penalize any business or bank that fails to do so.  Learn More
Sarbanes-Oxley Act (SOX)
SOX is the Sarbanes-Oxley Act of 2002. It was created to protect investors from the possible threat of fraudulent accounting activity by large organizations. The SOX Act outlined strict changes in an effort to improve financial disclosures from corporations, and to prevent accounting fraud in general.  Learn More