St. Louis - Paper Shredding Service
As a St. Louis paper shredding company, we provide the area with both on and off-site document destruction services. From One-Time Document Cleanouts to routine scheduled services. PROSHRED® St. Louis offers paper and hard drive destruction to St. Louis and surrounding areas.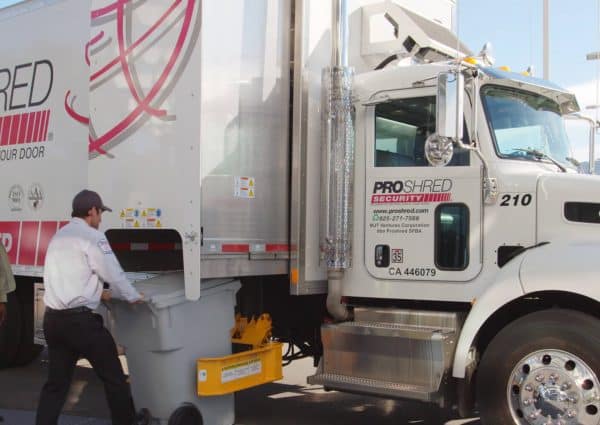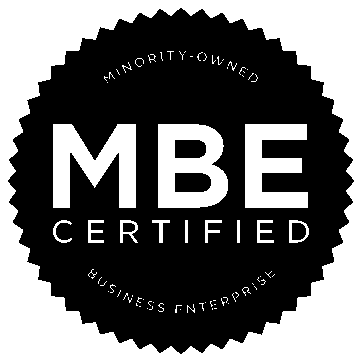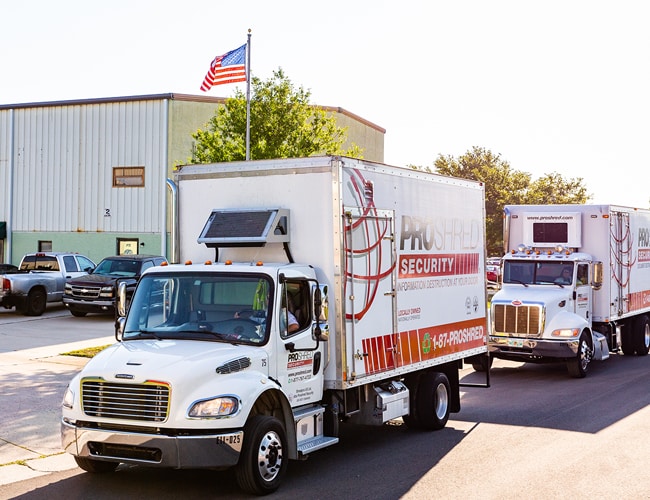 ZERO ADDED FUEL CHARGES
PROSHRED® St.Louis does our best to make your experience as affordable as possible. With no added fuel charges, we still come to you for a fair and balanced price. Servicing St. Louis and a majority of its surrounding areas, we perform your routine purges on-site, at an economical price and time that is most convenient for your business.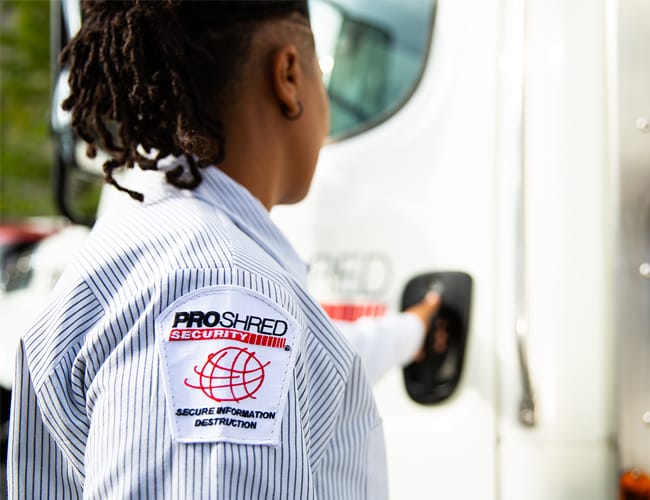 ZERO ADDED TRIP FEES
PROSHRED® St. Louis offers secure document destruction providing a straight-forward rate, charging no additional unwanted fees. Our fees are just based on the paper we shred. We strive to be consistent and fair with our prices.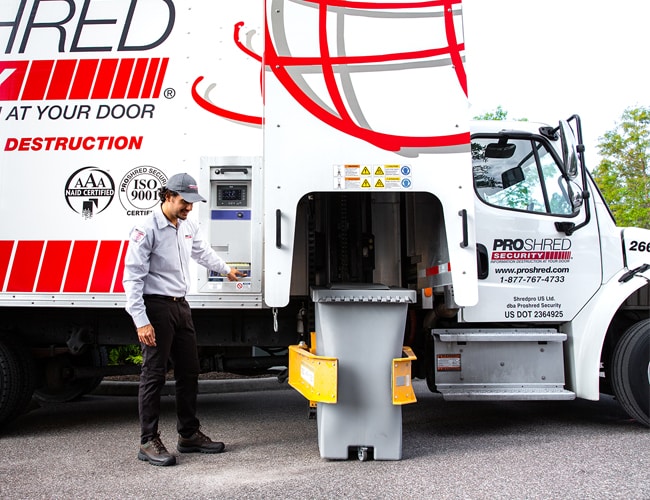 STANDARD FLAT RATE PRICING (per shredding container)
Instead of charging by the pound, PROSHRED® St. Louis charges a flat rate for shredding containers. Whether full or nearly empty, we guarantee you will never have to worry about our shredding containers overflowing. Regardless of time, our services will continue at a flat rate that is both convenient and affordable for you and your business.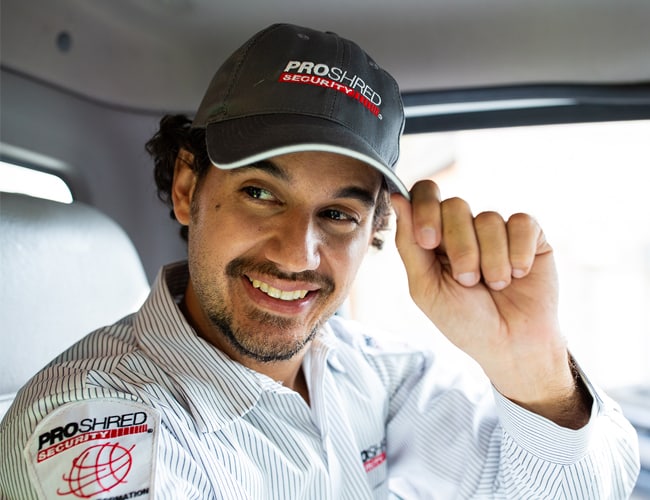 LOCALLY OWNED
PROSHRED® St.Louis understands how both small and large business are operated, rather than the large industrialized shredding companies. We strive to provide secure document disposal services that will work best with the structure and function of your company depending on the size of your business.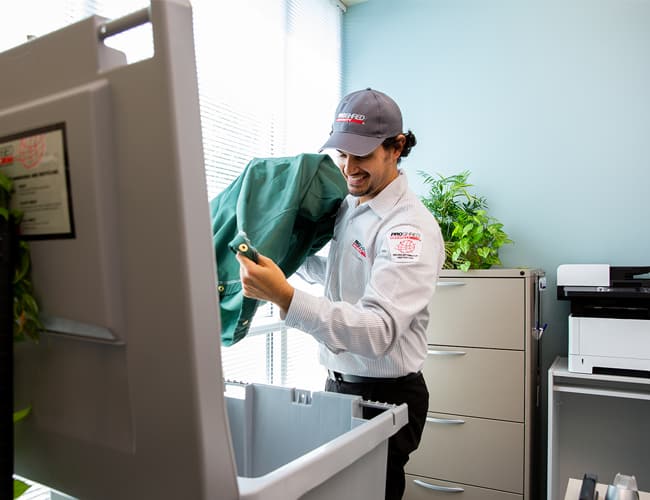 EASY ON-SITE PAPER SHREDDING SERVICES
PROSHRED® St.Louis created on-site paper shredding nearly 3 decades ago. With high knowledge of how a company is operated, we ensure your most confidential documents remain safe and secure. Using our highly trained Customer Service Professionals, we handle your information with care, guaranteeing the best on-site paper shredding services around.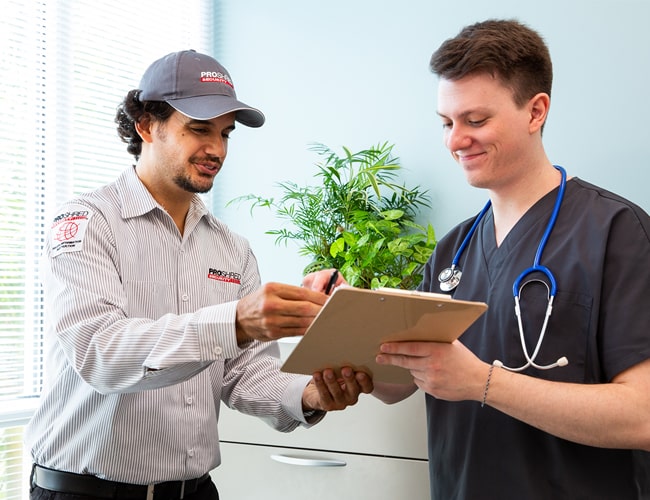 YOUR ST LOUIS PAPER SHRED SERVICE
Shredding your unwanted and outdated files with PROSHRED® St.Louis saves you a fourth of the amount that you would spend using other, more expensive paper shredding services. As well, our services are less expensive than you attempting to shred your files on your time. Saving you time, effort, and money, we do the work for you so that you can focus your attention on some of your more important tasks.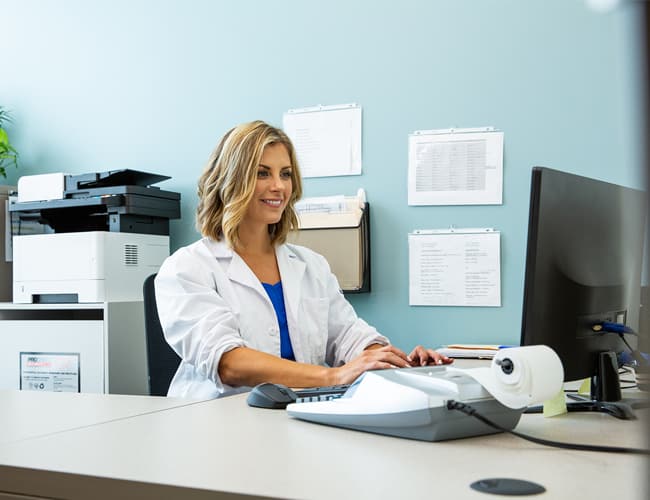 FLAT RATE PRICING
We understand that schedules change, and sometimes you're unable to make your shredding appointment. Let us know as soon as you can, and we'll help you set up a time and date that is more suitable for you, at no extra charge.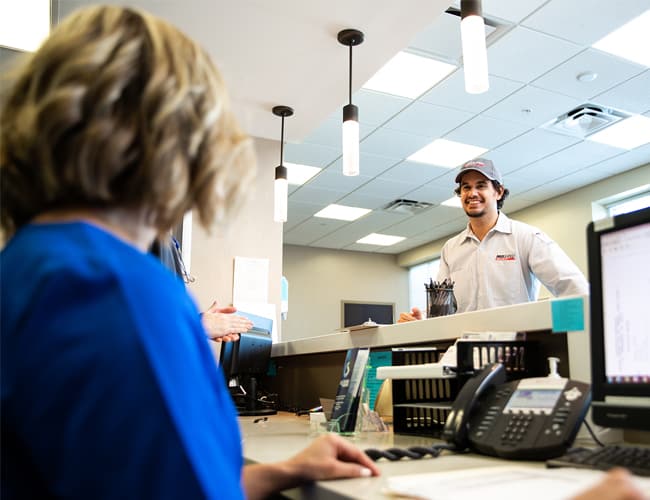 NO UNWANTED PAPER SHREDDING MANAGEMENT FEES
PROSHRED® offers flat rate pricing with no additional, or unwanted fees. Our paper shredding services are offered at a convenient and consistent rate.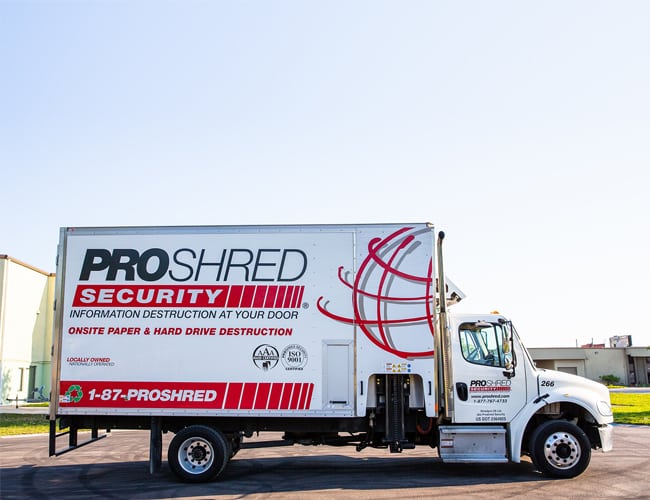 YOUR LOCAL PAPER SHREDDING COMPANY
PROSHRED® St.Louis strives to be heavily involved with our local community. Offering multiple shredding events year round, our state-of-the-art mobile shredding trucks are easily recognized in communities all around the area..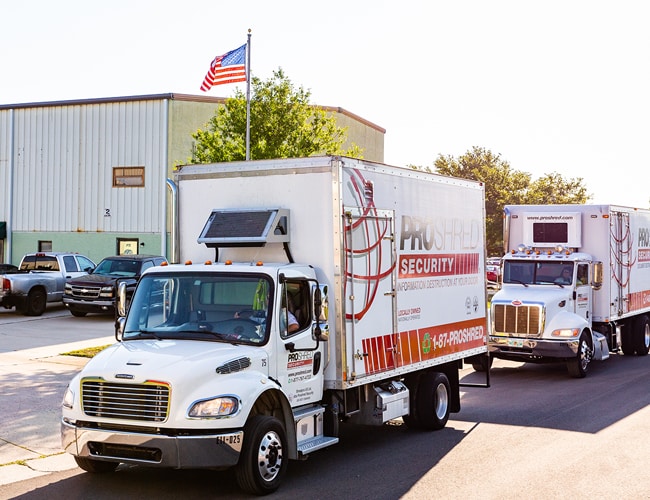 NATIONAL NETWORK
While PROSHRED® St.Louis is a locally owned and operated company, we have a network of locations in over 30 major metropolitan cities across the country.   If you have one or several locations in other cities, PROSHRED® St.Louis can help consolidate the execution, communication, and billing.  If you are looking for a mobile shredder,  PROSHRED® is the company you can trust.
Learn why you should be shredding your confidential documents and why PROSHRED® should be your first choice.
Contact Us
PROSHRED® St. Louis - Document Shredding Services
Address 1:
1988 Innerbelt Business Center Drive
Overland, MO 63114
Address 2:
100 Chesterfield Business Parkway
Chesterfield, MO 63005
Office 1 Hours
Monday – Friday
8:00 AM – 5:00 PM
Please Call for Holiday Hours
Drop-Off Hours:
9:00 AM - 4:00 PM
Office 2 Hours
NO DROP-OFF AT THIS LOCATION
Cities We Service Locally
Markets We Service Nationally