November 21, 2022
Deter Fraud from Occurring in Your St. Louis Workplace
Your business is a reflection of you and your team. That's why preventing fraud in the workplace should be a top priority for any employer who wants to maintain high standards of excellence across all areas. This post will discuss some steps any business can implement to deter fraud in your St. Louis business.
What is fraud?
Fraud is any intentional act resulting in the unauthorized or misappropriation of company assets. Fraud can take many forms, including financial fraud, cyber fraud, and identity theft. Fraud at your business can damage its reputation, erode customer trust, and lead to costly litigation. As an employer, you are responsible for taking steps to prevent fraud in your workplace.
Train Your Employees on Fraud Prevention
Preventing fraud in the workplace starts with comprehensive employee training. Employees should be aware of what constitutes fraud and the potential consequences of fraudulent activity. Training should focus on the specific types of fraud that could affect your business and how to prevent them. For example, your business could be more vulnerable to phishing schemes, embezzlement, or identity theft. Training should also include effective internal controls, spotting red flags, and knowing when to report suspicious activity.
Furthermore, employees should feel comfortable coming forward with concerns or questions. Creating an environment where employees feel empowered to speak up can deter potential fraudsters and losses. By raising awareness of the signs of fraud and how it can be committed, you can help your staff be on the lookout for dubious activity.
Implement a Clear Anti-Fraud Policy
Internal fraud and corruption can have a devastating impact on businesses of all sizes. That's why having a clear and well-publicized policy against these activities is important. Your policy should spell out what constitutes fraud and corruption and the consequences for violating them.
Ensure all employees are aware of the policy and consistently enforce it. Uniform enforcement conveys that your company takes fraud and corruption seriously and will not tolerate it. In addition to deterring potential wrongdoing, a strong anti-fraud policy can also help you identify suspicious activity and investigate it quickly if it does occur. Taking these steps can help create a culture of honesty and integrity in your workplace and protect your business from the devastating effects of fraud and corruption.
Conduct Regular Audits of Your Financial Records
As a business owner, it's your responsibility to ensure that your company's financial records are accurate and up to date. Correct, reviewed financial records allow you to make sound decisions about your business and also help deter fraud. An annual independent audit is an important part of this process.
Independent audits can help identify errors and irregularities indicative of fraud. In addition, they can provide valuable insights into your financial operations and internal controls. By conducting regular audits, you can help ensure the integrity of your financial statements and the accuracy of your financial reporting. Audits can also help prevent fraud by deterring employees from criminal activity. You can help protect your business and your bottom line by taking this simple measure to prevent fraud.
Use Technology to Your Advantage
Technology can be a powerful tool in the fight against fraud. There are a number of software programs and applications that can help you detect and prevent fraud. For example, there are accounting software programs that can help you keep track of your financial transactions and identify suspicious activity. Customer relationship management (CRM) systems can also help you keep track of your customers and their interactions with your business. By using these tools, you can help detect fraud early and take steps to prevent it.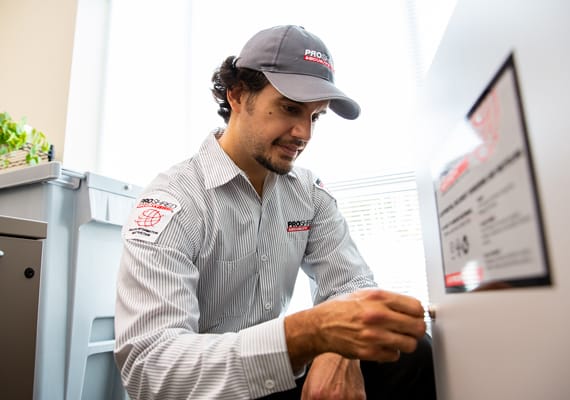 Hire a Professional Paper Shredding Service
One of the most important things you can do to protect your business from fraud is properly and professionally dispose of sensitive documents. Documents that should be adequately dealt with contain personal information, such as Social Security numbers, credit card numbers, and bank account information.
One way to ensure that digital versions of these documents are properly disposed of is to hire a professional and reliable hard drive shredding company, such as PROSHRED®. Not only will an experienced shredding service help keep your business from potential fraud, but it will also keep your employees safe from identity theft. Ensure the company you hire is reputable by checking their certifications and reading their customer reviews to make sure you hire the right company for your business.
PROSHRED® St. Louis Can Help Prevent Fraud in Your Workplace
Don't let your business fall victim to fraud. Protect your confidential information with professional shredding services from PROSHRED® St. Louis. We specialize in the certified, reliable, and secure destruction of sensitive documents and hard drives. Contact us today to learn more about our information management and scheduled shredding services and how we can help keep your business safe from fraud!