August 26, 2021
How Do You Dispose of Old Hard Drives?
Businesses all over the country are constantly receiving new information that must be stored and organized in digital systems for easy accessibility. This means that eventually, mounds of information that has accumulated on hard drives and other digital media storage devices will have to be cleaned up, and what's no longer needed will have to be disposed of.
However, wiping a hard drive in the traditional sense of deleting files then tossing it in the trash can result in more trouble than anticipated. The data on those drives, including company emails, financial documents, confidential internal memos, and client information, can still be accessed on the wiped drive.
Proper information security goes farther than simply trashing drives. Because deleting files is not the same as permanently erasing, there's an extra step that must be performed in order to protect company data and assets. The solution is hard drive destruction services, which are becoming increasingly popular as a method of secure data destruction, especially as businesses move toward more cloud and internet-based storage methods for digital information.
Hard Drive Shredding is the Most Effective Method
PROSHRED® St. Louis can be your trusted partner in hard drive shredding, helping you keep private information private even after that information is no longer needed. Hard drive shredding is the only way to keep old data truly protected from information theft.
When hard drives are shred, they are physically broken down into small pieces with the use of special shredding equipment. The traces of information left behind are rendered unrecognizable in the shattered remains of the drive. That's why this method is better for businesses and organizations who truly want to protect themselves and their client information, because professional hard drive destruction doesn't rely on hard drive wiping alone.
At PROSHRED® St. Louis, hard drive shredding services are affordable, and can even be performed on-site. Our mobile shredding service entails a shredding truck coming to your office, where a customer service professional will collect your hard drives and shred them on the spot right in front of you, making it the most secure form of hard drive destruction available.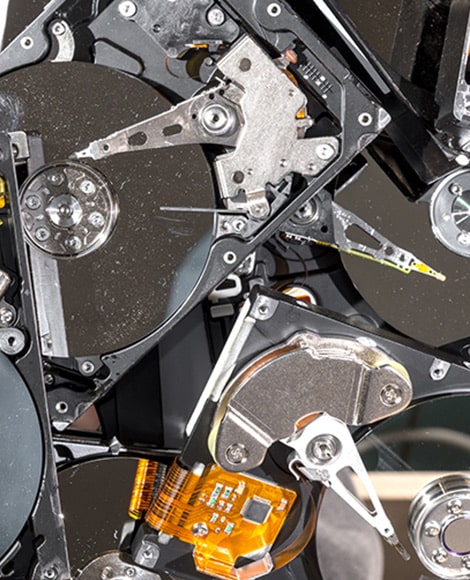 Why You Shouldn't Dispose of Hard Drives Yourself
Hard Drive Shredders are Expensive
Hard drive shredders aren't like your typical paper shredders that can be found at an office supply store. They are industrial shredders, and because of that, they are very expensive pieces of equipment to purchase and operate. These kinds of shredders are also capable of grinding through metal and plastic, which isn't a typical characteristic of office shredders. With all the hassle of trying to destroy drives yourself with a hammer or purchasing a large, costly machine, in the end it is more convenient to hire a hard drive destruction service. Hiring a company to shred all your drives at once is much more cost effective than purchasing a machine for office use in the end.
Shredding Can Be a Dangerous Process If You're Not Properly Trained
Hard drive shredding can be dangerous to untrained professionals because it involves handling sharp, jagged pieces of plastic and metal. These fragments of hard drive could cause cuts and puncture wounds if proper safety equipment isn't worn, and drives can contain toxic materials as well that can be poisonous if inhaled or ingested. It's safest to leave shredding up to well-trained professionals and avoid injury. Additionally, a hard drive shredding company can keep records of what hard drives are being shredded, and makes sure the entire process is done correctly from start to finish.
Shredding Releases Environmental Contaminants
Hard drives are made up of lots of substances including plastic, aluminum, and sometimes toxic materials, which could harm humans and animals if allowed to enter the ecosystem unchecked. The professionals at PROSHRED® St. Louis know how to properly handle and dispose of scraps without contaminating or polluting our ecosystem. After shredding, all scraps are sent to a local electronic recycling facility, where the materials are salvaged and reused. At PROSHRED® St. Louis, we meet all environmental, safety, and privacy standards set by the government with our hard drive destruction services.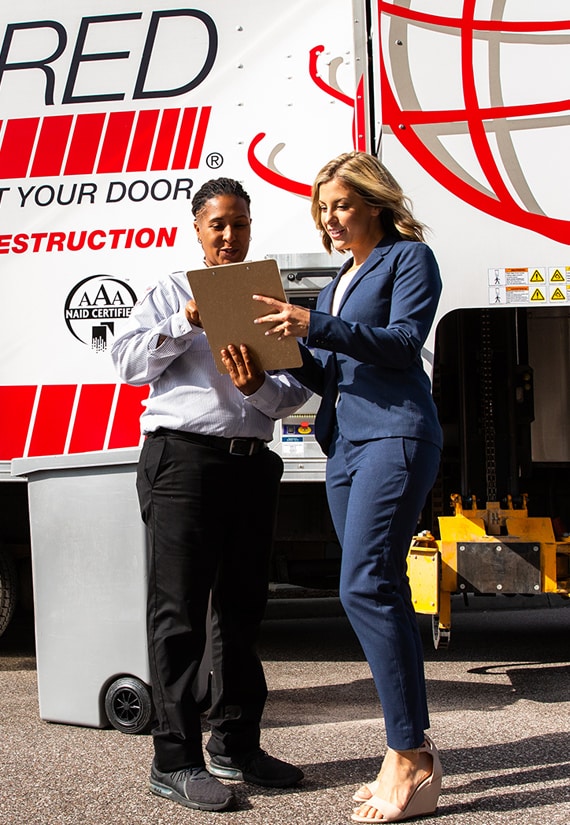 Benefits of Hiring a Professional Hard Drive Shredding Service
Hiring a professional to shred your hard drives is a simple and effective way to protect stored information. There's no need to risk an information leak when a professional at PROSHRED® St. Louis can do the job correctly and at a reasonable price. Through this method, you won't have to purchase an expensive shredding machine or deal with the leftover remains of hard drives. Secure shredding is ensured with our mobile shredding trucks, which can come to your office or location to shred hard drives on-site. Our customer service professionals will make a record of all the items that are picked up, shred them on-site in a timely manner with industrial shredding machines, and haul the broken hard drive pieces away for recycling, resulting in a swift process that leaves you with no extra work or inconvenience.
The trained shredders at PROSHRED® St. Louis take their jobs seriously, so there is no room for error or confusion. Every hard drive that is destroyed is first scanned and the serial number is recorded. The process follows all laws and regulations regarding information disposal. After the job is complete, customers receive a certificate of destruction to verify the service was completed. Hard drive shredding services from the professionals at PROSHRED® St. Louis is the best method for data destruction because it doesn't compromise safety or compliance with information security regulations.
Get Secure Hard Drive Destruction from PROSHRED® St. Louis
The most secure hard drive shredding services are offered by PROSHRED® St. Louis. We offer hard drive destruction services along with scheduled document shredding, drop-off shredding, and one-time purge shredding. These services are available for businesses large and small at an affordable price. We also pride ourselves on being the only shredding provider in the industry to hold both NAID AAA and ISO 9001 certifications, which means we are frequently audited to ensure we meet standards in ethics, quality management, and customer satisfaction.
Our convenient shredding solutions are available to the entire area: whether you are in the heart of St. Louis or closer to a surrounding city, our mobile shredding trucks will be able to reach you for secure shredding done on-site. You can call to schedule a service or receive a free quote by calling our office today: 314-778-9595