December 29, 2021
5 Reasons to Hire a Professional Paper Shredding Service
With identity theft and fraud being the fastest-growing crimes in America, data security is more crucial than ever before. Business owners, lawyers, health care professionals, and other service providers all have a responsibility to protect their clients' sensitive information, especially during the disposal process. One of the easiest solutions to protect your organization's reputation and secure the private data in your care is to invest in proper document disposal through an ongoing shredding service.
However, a small in-office shredding machine is not the most secure or efficient way to dispose of your files. Not only are they noisy, expensive to maintain, and time-consuming to operate, but they also leave a lot to be desired when it comes to protecting the private information housed within your documents. Thankfully, there is another option: hiring a professional mobile shredding service.
Shredding Keeps You in Compliance with Information Destruction Laws
No matter the industry, there are sure to be rules and regulations regarding the disposal of paperwork or materials that contain information about your company's clients or customers. Health care professionals must adhere to the Health Insurance Portability and Accountability Act (HIPAA), those in the legal and financial sectors are subject to the Fair and Accurate Credit Transactions Act (FACTA), while other industries have their own regulations and best practices.
It can be difficult to keep up with all of the changes to current laws and the emergence of new ones while running your business. A mobile shredding company can take care of all of your document disposal needs and keep you in compliance with all local, state, and federal legislation. That way you never have to worry about finding yourself in legal hot water due to regulation oversights.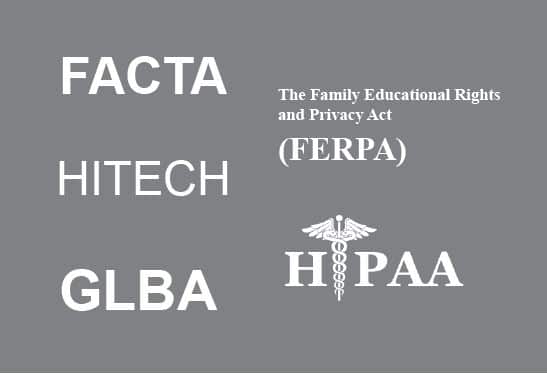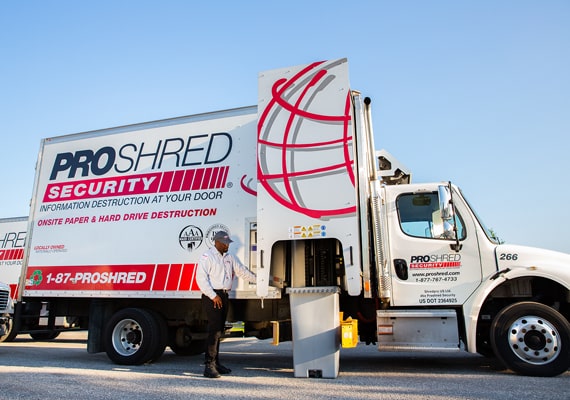 Professional Paper Shredding Services are Secure
When you hire a professional onsite paper shredding service, you can be assured that the shredded materials will be completely unrecoverable once the process is complete. This is because, unlike compact office shredding machines, mobile shredding trucks can take a standard 8.5" x 11" sheet of paper and turn it into nearly 200 particles. This is much more secure compared to the typical office shredder, which creates long strips of paper that can easily be reassembled. With PROSHRED®, you can rest easy knowing that once your papers have been shredded, they are virtually impossible to reassemble.
Shredding Services are Cost-Effective
When you outsource your paper shredding to a document destruction company, you are not just ensuring that your data remains secure. You are also saving time and money because you don't have to worry about maintaining a costly in-office shredding machine, or taking employees away from other projects and tasks that need their attention.
All of these advantages can really add up over time. On average, your company can save up to 25% by switching to a mobile shredding service. To top it off, PROSHRED® St. Louis has a flat-rate pricing plan. This means that there are no hidden fees such as mileage or fuel surcharges so your organization can accurately budget in advance.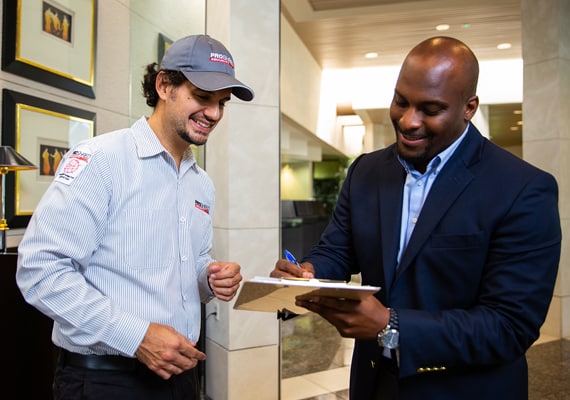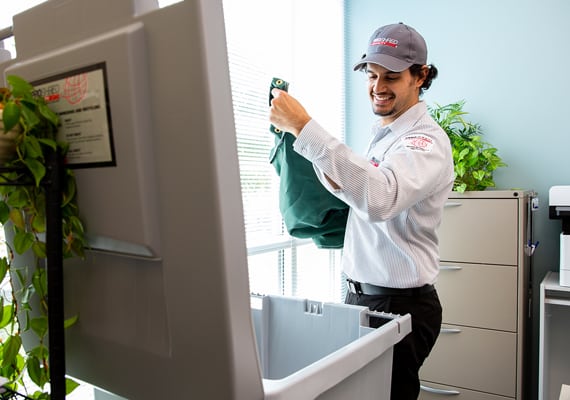 Professional Mobile Paper Shredding is Convenient
Traditionally, when you wish to have your files shredded by a third party, you must go through the headache of finding a way to transport all of your sensitive materials to a local shredding facility each time that you need to dispose of them. A secure mobile paper shredding service, however, does all of the heavy lifting for you.
To accomplish this, the team at PROSHRED® St. Louis will send one of our state-of-the-art mobile shredding trucks equipped with an industrial shredding machine to your location. Once the truck arrives, the process will be performed by a data security expert that has been specifically trained to perform secure, no-contact shredding services. With mobile shredding, all of your files will be securely destroyed before they ever leave your facility.
Shredding Companies Offer Other Data Security Services
As you know, sensitive data is not just stored on paper anymore. From the technology used in your day-to-day activities to the outdated/defective uniforms, ID cards, products, and other non-paper materials gathering dust in the workplace, there are a lot of items lying around that may prove detrimental to your business if they fall into the wrong hands.
Luckily, a professional shredding company can help. PROSHRED® has the equipment and knowledge to provide those in the St. Louis area with product and hard drive destruction that will keep your information confidential from every angle. The industrial shredding machines built into our mobile shredding trucks are capable of destroying your hard drives within seconds and can even shred other non-paper items.
Looking for a Professional Paper Shredding Service? Trust PROSHRED®
When you need a mobile paper shredding service in the St. Louis area, contact PROSHRED® today! Whether it's regularly scheduled service, drop-off shredding, or even product destruction, you can rely on our team of experts. We can help you determine the service plan that best fits your unique needs. To get started with a free quote, contact us today.