July 6, 2017
Protecting Digital Information Against Cyber Threats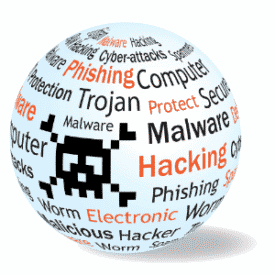 Cyber-attacks have become part of the norm in today's internet-driven society and they will continue to grow in complexity and sophistication. It's your job to take regular and deliberate steps to ensure your data security efforts are adequate.
No system is perfectly secure. However, there are some relatively easy, low-cost steps you can take to significantly improve the security of your business.
Here's nine of the most effective, cost effective steps you can take to protect your information:
Use a hardware-based firewall
A reliable firewall protects computers from a wide variety of potential security risks. By itself, the software-based firewall included in many computers isn't sufficient to protect against modern attacks. All computers connected to the Internet should be secured behind a capable hardware-based firewall in addition to their software-based defenses.
Don't click on unknown emails
This one's fairly well known, but opening unknown emails is still one of the most common mistakes employees make that can compromise a business's security. Talk to your employees and coworkers. Give them periodic reminders of the dangers of clicking on unknown emails.
Install real-time anti-spyware protection: While many free programs can detect spyware threats once they've infected a system, typically professional (fully paid and licensed) anti-spyware programs are required to prevent infections and fully remove those infections already present.
Install quality antivirus: Install professional, business-grade antivirus software. Professional grade antivirus programs update more frequently, protect against a wider range of threats, and enable additional protective features that standard free antivirus software won't. This is not a good place to try and save money. When it comes to virus protection, you get what you pay for.
Keep anti-malware applications current: When you see a notification for a new available security update, do not put it off. Cyber threats are constantly adjusting and being updated to get around security. If your your security measures are at all out of date, they'll be much more susceptible to attacks.
Perform daily scans: Running a scan for viruses is easy to do once you have the proper antivirus software installed and it doesn't take a long time. No matter how secure your network may be, viruses and unwanted programs can still occasionally slip through the cracks. Running regular scans can help identify these before they do too much damage.
Authorization & Access: Computers and software tend to have a hierarchy of methods for protection against unauthorized use. Many features are not accessible to ordinary users, but require some form of "administrative access." Be careful who you give that access to. While it may be more convenient for more personnel to have administrative software rights, it increases the risk of valuable information being stolen.
Change passwords and usernames frequently: I know it's a pain, but changing your access information regularly helps protect against common types of attacks. Some malicious bots will try to gain access to your website or files by simply guessing at what your access information might be thousands of times a day. Continually changing that information is a quick and cost effective way to combat those threats.
Use Chrome or Firefox: If you're a die hard Internet Explorer user, this one might hurt, but not all search engines are created equal. Firefox, and especially Google Chrome,  tend to be the most secure.