November 4, 2020
How To Keep Information Secure While Your Company Works From Home
With more employees working from home than ever, either permanently or on a temporary basis, protecting important business information is critical. Many former "office jobs" have transitioned into home office jobs, and that means critical data about employees and businesses are separated from the secure systems put in place in office buildings. Employers have invested in remote work tools to help them work easier and smarter in the age of work from home, and keeping information secure is top priority. 
A dramatic shift away from formerly crowded offices to extended work-from-home policies means more room for information security risks than ever before—but that doesn't mean you have anything to fear as long as you invest in a home paper shredding program.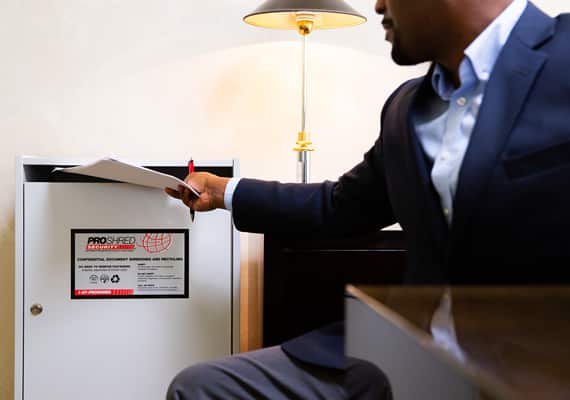 Know the risks of data exposure when working from home
No matter how careful employees are when they set up a home office, working remotely has inherent security risks. Safeguards put in place in a traditional work setting are often overlooked in a work from home scenario. It's important to understand what the risks are, because even if your employees work from home, your company is still liable for any data breach. 
Document Loss and Theft
Though it may seem far-fetched that a criminal would enter a home only to steal printed work documents, it can't be ruled out. Unsecured documents can be stolen easily enough by people coming to perform service or maintenance work on a home or apartment, or thieves targeting trash cans or recycling bins. Even if employees take care to shred their documents, if they have not been shredded professionally or correctly, criminals can put the pieces back together. 
Misplaced Storage Devices
External hard drives and flash drives have become commonplace in both home and traditional office spaces to help keep computers free of virtual clutter. But if those items are not secured in a safe place, they can become vulnerable to theft. Old hard drives can be forgotten in old backpacks or suitcases and are donated or thrown away, potentially placing them in dangerous hands. Hard drive destruction is a critical part of information security and should be included in your work from home practices.
Unsecure Network Access
If an employee working from home prefers to go to the nearest coffee shop or cafe to do their work, they need to be on guard: data can also be stolen through unsecure networks. If an employee is not accessing company data on a secure or private network, it's vulnerable to hackers who like to target public wi-fi.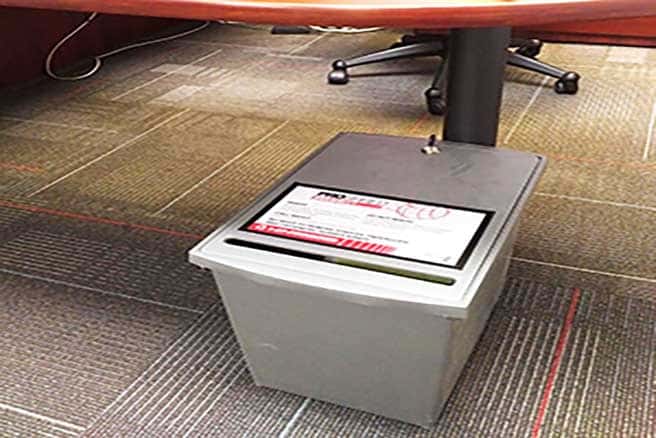 Take steps to secure documents in a home office
Understanding the ways that information can be vulnerable in a work from home setting isn't helpful unless measures are put in place to create a secure environment for sensitive data. 
Maintaining an organized space can go a long way to knowing which documents are where. Lock paper documents in a filing cabinet or keep digital files in a password-protected file or cloud storage. Make sure to label everything correctly to keep information from being discarded on accident. Also, putting away all papers or files after a particular task is completed or when done working for the day can help keep items organized as well as keep documents stored away safely. 
It's also important to know when to get rid of sensitive or confidential documents or files. After making sure all information is backed up, it should be deleted from a computer or phone, or a home shredding service can be scheduled to securely get rid of old documents. 
Why use home document shredding services
Home office shredders bought at office supply stores may seem like a good solution to document security concerns, but they're not the most reliable or secure way to dispose of old papers. Instead, partner  with a mobile shredding company like PROSHRED® St. Louis, which offers home office shredding services for record destruction. 
PROSHRED® offers shredding for paper, hard drives and other media, and those items can be picked up directly from your employees' homes. With PROSHRED® St. Louis' SHRED BAG program, document bags are available to deposit sensitive documents at home. Those documents can then be brought back to the office or a no-contact home pick-up can be scheduled. 
If you still have some employees working in the office, you can arrange for regularly scheduled document shredding. With this service, a mobile shredding truck comes to your location on a daily, weekly or monthly basis. 
Schedule a service today with PROSHRED® St. Louis
Some companies don't know when, if ever, their employees will return to a normal workplace. Work from home may become the way of the future, and that means steps to ensure data security should be taken sooner than later. Minimize the risk of company documents and confidential data being compromised  with services from PROSHRED® St. Louis. Contact us today to schedule shredding appointments for your employees. 1-314-274-9144