January 18, 2023
Why Your St. Louis Business Needs Hard Drive Destruction
Having valuable information on your company's hard drives can be a great asset, but it can also put you at risk of having that data stolen or lost. To protect your business and its sensitive information, companies should opt for professional hard drive destruction services such as those offered by the leader in mobile document shredding, PROSHRED® St. Louis.
Hard drive destruction offers a valuable layer of protection for the important data your company collects, stores, and transmits. It is a necessary step in protecting customers' privacy and ensuring that confidential company documents, product ideas, customer information, financial records, and other sensitive information remain secure. Continue reading below to learn how our state-of-the-art services can help.
What is hard drive destruction and why do businesses need it?
Hard drive destruction is the process of destroying a disk or other storage device in order to render it unusable and free from the risk of data breaches. Businesses can opt for physical destruction, which involves using specialized tools such as shredding machines and degaussers to completely destroy hard drives. Alternatively, they can use digital erasure tools that overwrite or remove the data on the drive though this method is much less secure.
Physical destruction is the only surefire way to ensure complete security, as digital erasure tools can still leave remnants of data behind. This is why most businesses prefer investing in hard drive shredding services, which render the data completely unrecoverable and the device unusable to guarantee that your sensitive information is protected from every angle.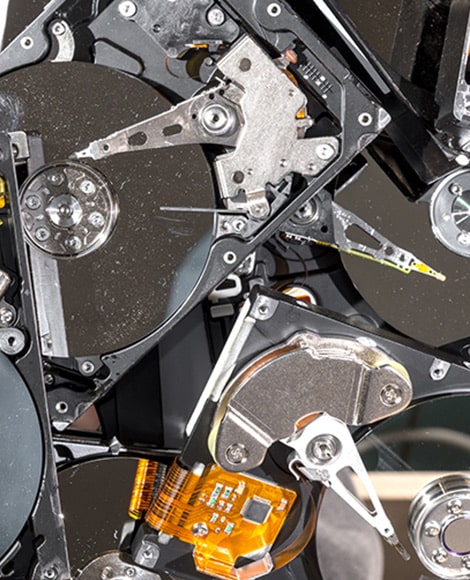 The Benefits of Hard Drive Destruction
With professional hard drive destruction, you no longer have to worry about the data stored on your company's hard drives falling into the wrong hands. Here are some of the other benefits:
• It is cost-effective and eliminates the need for expensive offsite storage solutions.
• It helps protect customer privacy and ensures compliance with state and federal regulations.
• It prevents identity theft and other forms of cybercrime.
• It helps protect your company's intellectual property from being stolen or copied.
• It offers peace of mind that confidential data is properly disposed of or destroyed.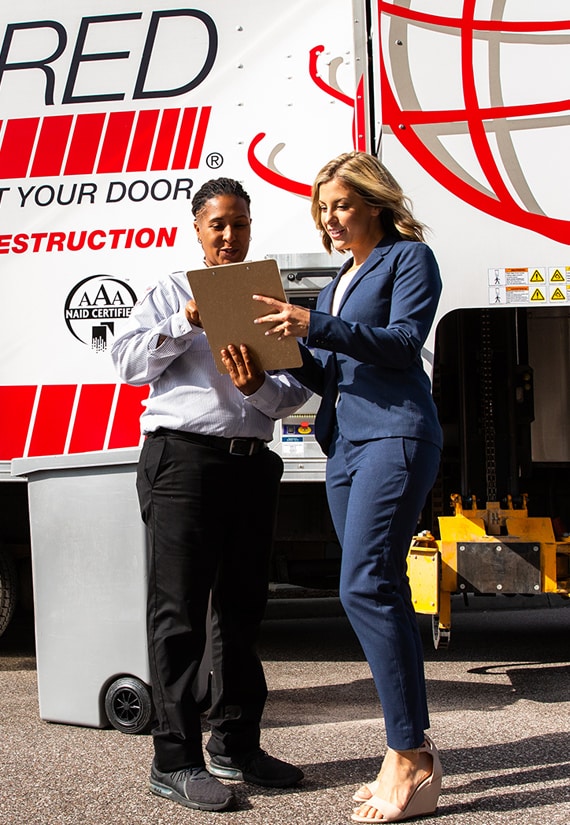 How To Choose a Hard Drive Destruction Company
When looking for a hard drive destruction company, it is important to find one that offers secure and reliable services. Look for a service provider with up-to-date tools and experienced technicians who are well-versed in the latest data security practices.
At PROSHRED® St. Louis, we offer secure on-site hard drive destruction services that guarantee the complete security of your data. We use a combination of shredding machines, degaussers, and digital erasure tools to ensure that your hard drives are destroyed in full compliance with all applicable laws and regulations.
Our state-of-the-art services also include video documentation and detailed reporting so you can be sure that your data has been completely destroyed. We also offer highly competitive rates and flexible scheduling to meet your needs without unexpected surcharges found at other providers.
The Process of Hard Drive Destruction
At PROSHRED® St. Louis, our hard drive destruction process follows a few simple steps:
1. Collection: We will come to your facility to collect your hard drives and other data storage devices that need to be destroyed.
2. Destruction: Our technicians will use state-of-the-art shredding machines and degaussers to ensure that your hard drives are completely destroyed.
3. Reporting: We will provide you with a Certificate of Destruction detailing the destruction process, including the date and serial numbers of all hard drives that were destroyed.
With PROSHRED® St. Louis, you can rest assured knowing that your data is secure and compliant with all applicable regulations. Trust our team of experienced professionals to help you protect your data from potential breaches and cyber threats
Why St. Louis Businesses Should Partner With a Local Hard Drive Destruction Company
When looking for reliable hard drive destruction services, it is important to consider partnering with a local company such as PROSHRED® St. Louis. Doing so ensures a better understanding of the data security regulations and laws that apply in the area as well as on-site services that offer greater flexibility and convenience than traditional shredding options. With us, you gain access to state-of-the-art destruction equipment and technology, personalized shredding plans for all your data destruction needs, and competitive rates with no hidden costs or unexpected charges.
By choosing to partner with a local hard drive destruction company, businesses in St. Louis can have peace of mind knowing that their data is properly and securely destroyed. PROSHRED® St. Louis offers all of the advantages listed above, as well as experienced professionals who are dedicated to protecting your data from potential threats. Contact us today to learn more about our shredding services and how we can help keep your data secure.