Covington Paper Shredding Services
Covington businesses are growing steadily. With this increase in customers and sales, an increase in confidential information also occurs. To protect client confidentiality and to meet federal privacy laws, businesses must destroy any documents that contain personal information. Whether medical records, financial statements, or old marketing and sales information, when your business needs a Covington paper shredding company, choose PROSHRED® of Georgia!
Covington's Trusted Paper Shredding Company
Locally owned and operated, PROSHRED® of Georgia has served businesses like yours for more than 30 years. We understand the importance of information security, and our team is here to keep your reputation safe! We work with both small and large businesses and can quickly complete shredding jobs of all sizes. Whether you have just a few boxes or a warehouse full of confidential papers, our team will perform all your shredding at your location and give you the option to watch the shredding take place.
Choose between one of the following:
On-Call Purges – for smaller businesses who need a one-time or annual shredding of documents
On-Going Services – for larger businesses who need a secure container and weekly, bi-weekly or monthly shredding service
On-Call Purge Shredding
Each of our on-call purges is completed at your facility at a specified date and time within our regular Covington routes. Our Customer Service Professionals or CSPs will be in and out of your office in no time and will quickly and conveniently destroy all unwanted documents. At the end of each service, the shredded remnants will be taken to a local recycling facility and you will receive a Certificate of Destruction.
On-Going Shredding
If you go through large amounts of paper or are finding yourself calling to schedule multiple On-Call shredding services a year, it may be a good idea to switch to on-going shredding service. Often times, this option is more affordable in the long run and is definitely more secure. You'll get a locked container in your office that secures your confidential documents between service calls.
By hiring PROSHRED® of Georgia to shred your confidential data, you are protecting your company's reputation while reducing labor cost and the likelihood of information leaks or security breaches. You'll have the option of weekly, bi-weekly, or monthly service frequency. All shredding will take place at your facility for greater peace-of-mind. You can even watch the document destruction take place!
Schedule Your Covington Paper Shredding Service!
Protect your customer, employee, and business information while making more space in your office. Scheduling your Covington paper shredding service is easy! Just call us and one of our team members will answer any questions you have while setting up a date to shred at your location.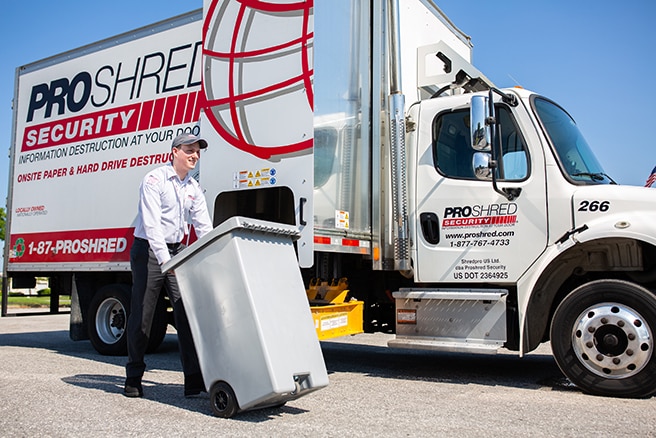 Covington, GA Shredding Services
On-Site Shredding in Covington, GA
Scheduled Shredding Service in Covington, GA
One-Time Shredding in Covington, GA
Hard Drive Destruction in Covington, GA
Product Destruction in Covington, GA
Legislative Compliance
HIPAA Compliant
HITECH Compliant
GLBA Compliant
FACTA Compliant