Business Shredding Services
Today, all kinds of businesses and professional organizations affected by privacy legislation and must take reasonable measures to protect their confidential information. PROSHRED® Atlanta's on-site shredding service provides any size business with the most secure, cost-effective and environmentally sound method available. If destroying confidential documents is a regular part of your businesses' privacy policy, let PROSHRED® help you maintain compliance and avoid breach-of-security situations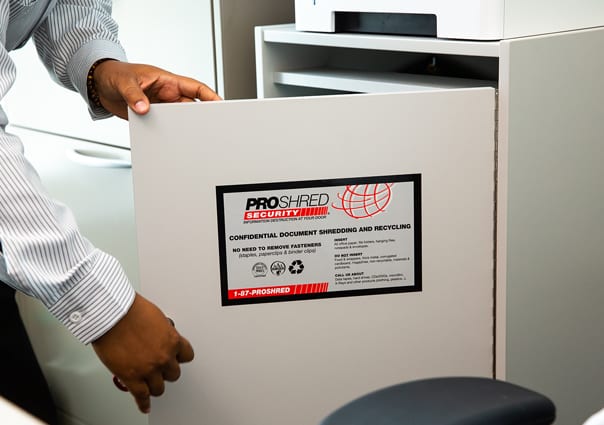 Security Above All Else
At PROSHRED® Atlanta, we consider ourselves a security company first and foremost. On-site corporate document shredding—the most secure system on the market for sensitive materials destruction—is what we specialize in. With more than 20 years of trusted experience in the Atlanta market and ISO certification to guarantee the highest standards in quality and service, the PROSHRED® name provides the most secure and professional shredding services available in all of America.
Our managed document shredding system ensures the "chain-of-custody" of your documents is never broken. We shred your paper right on-site, significantly reducing your security risk when you select an ongoing on-site security plan. We'll also provide you with a Certificate of Destruction, confirming and documenting the disposal and elimination of your materials for your business' records. PROSHRED® Atlanta's staff is friendly, highly trained, bonded, and uniformed and you can always count on them to provide photo identification. They're committed to providing you with the most professional customer experience available in Atlanta.
Convenience is Key
Many of our paper shredding Atlanta clients choose to have free security consoles strategically installed within their facilities. This helps employees conveniently discard confidential information without the worry of having to use messy, time-consuming office shredders. The best part is, there's never a need to remove staples or paperclips as PROSHRED®'s state of the art shredding machines can sort and recycle all document materials. This makes for higher usage of security consoles and less time spent sorting and preparing documents by your staff.
Depending on your needs, PROSHRED Atlanta can service your consoles on a weekly, bi-weekly or monthly basis and in some cases, on-call. If your needs change over time, we'll gladly adjust our services accordingly. If you need to shred files that you have accumulated in storage, PROSHRED®'s purge shredding service can be combined in conjunction with regularly scheduled onsite shredding services or during special one-time shreds.
We offer a variety of locking security containers and consoles to meet all your logistical requirements. Making sensitive material disposal easier means more of your staff will take the necessary steps to follow compliance protocol. And we shred more than just paper in Atlanta including proprietary products, electronic media, and various other materials. With state-of-the-art shredding trucks and highly-trained professional staff we provide guaranteed security for all of our customers.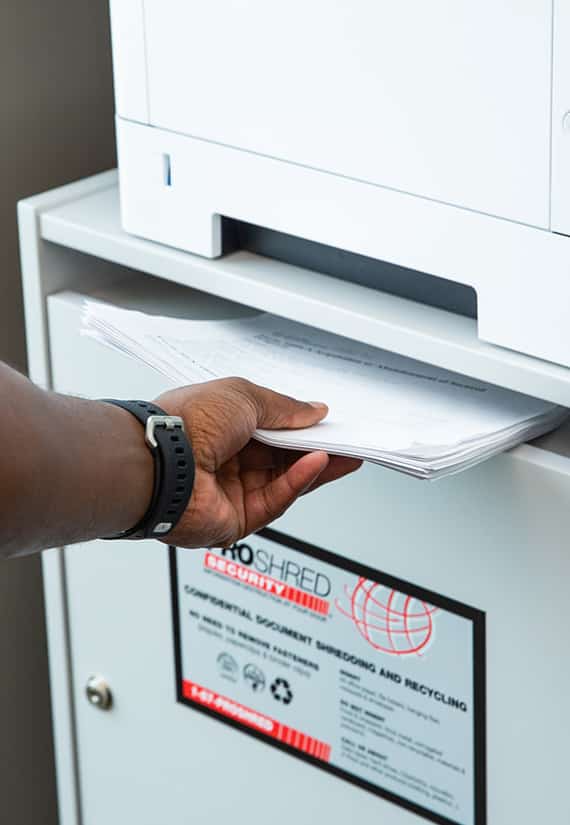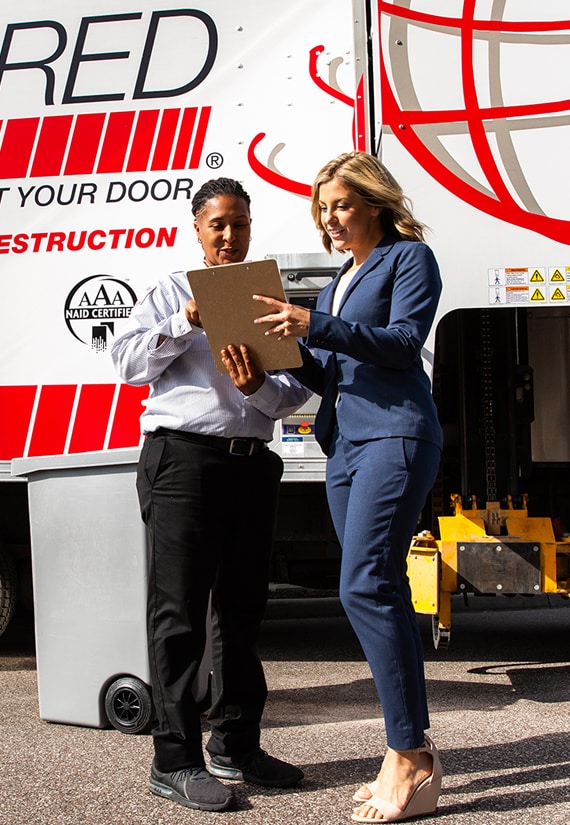 Cost-effective Shredding
Research shows that on-site shredding services cost at least 25% less than in-house shredding systems over time. By outsourcing your shredding needs, you allow your employees to focus on core business activities, improving overall labor productivity. PROSHRED® Atlanta pricing is based on your service frequency, not on weight or time, which allows your organization to accurately budget in advance. Compared to recycling and off-site and other in-house shredding programs, PROSHRED®'s professional shredding system for businesses provides both the best value and the most secure shredding service available in America.
In helping find and deliver the most secure shredding services for our clients we offer free custom estimates for your Atlanta business and we never require our clients to sign contracts. We are happy to set up a contract with you to help meet legislative or corporate requirements, but we don't expect our customers to bind themselves to ongoing shredding services. Our philosophy is that if we are not truly serving your needs, you deserve the right to eliminate services.
Environmentally Conscious
At PROSHRED®, we feel we all have a stake in preserving our environment. That is why 100% of our shredded paper is recycled in an Atlanta-area recycling facility. On each invoice you'll see the cumulative tally of mature trees you have saved by using our service. And at the end of each year you are provided with a TreeSaver Environmental Certificate documenting the total number of trees your organization saved during the year – a real corporate morale booster! PROSHRED®'s business shredding service provides you with the most secure integrated shredding and recycling program in America.