February 11, 2022
Guide to the Benefits of Hiring a Professional Shredding Company
Do you wonder if your business could benefit from hiring a paper shredding company? The simple answer is—yes! Businesses all over Georgia can take advantage of professional paper shredding services to keep their information safe and secure.
While the top priority of shredding companies like PROSHRED® Georgia is to keep sensitive information safe while it is being securely destroyed, there are many other reasons businesses can benefit from hiring a professional shredding company, like convenience and cost. If you are debating whether to hire a paper shredding company for your business, this guide will give you all the information you need to make the best decision for your business.
Professional Shredding Increases Information Security
All businesses have some form of paper records or electronic storage devices that eventually need to be disposed of. But throwing away documents and hard drives at the end of their useful life can make that information vulnerable to theft, which puts your business at risk of noncompliance with privacy laws.
Professional shredding helps keep your confidential business information safe from corporate espionage or identity theft. If these incidents occur, your business could face fines and suffer a hit to its reputation. You can avoid any of these unfortunate situations by working with a professional shredding company like PROSHRED® Georgia. Our team will help your business strengthen its information security practices and compliance with all privacy and data destruction regulations.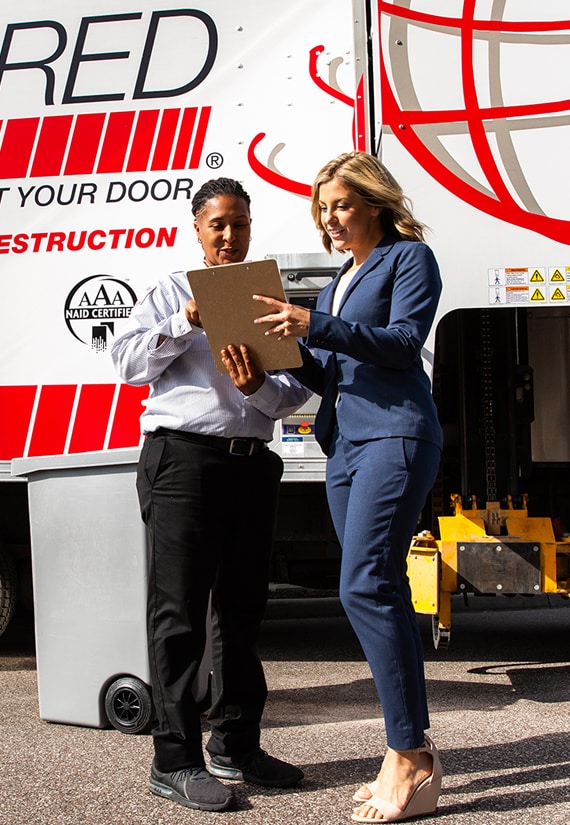 Professional Shredding is Convenient for Businesses
At PROSHRED® Georgia, we understand that time is money. Shredding papers with small office shredders can take valuable time away from employees whose time would be better spent doing other tasks. And while drop off services with a reputable shredding company can be a convenient way to get rid of papers, it's not the best option when it comes to disposing of large amounts of paper or if your business needs shredding on a consistent basis.
To provide the most convenient paper shredding services possible, PROSHRED® offers mobile on-site shredding as part of our various service plans. Our mobile shred trucks arrive at your location and shred papers on-site, saving you from the hassle of in-house shredding. All you have to do is fill up the free shred bins we provide, and we will take care of the rest!
Professional Shredding Companies Offer Multiple Service Options
Every business is unique and has different security and shredding needs. Therefore, we offer a variety of shredding service options that cater to your specific shred needs.
Professional Paper Shredding services
To figure out which service would best benefit your business, you need to determine how much paper you go through on a daily basis. Depending on the daily usage, your company may be better suited for on-going shredding or purge shredding services.
On-going shredding: With this mobile shredding service, our team will visit the location of your business on a weekly or monthly basis, depending on your specific needs. Our PROSHRED® team will schedule a time to come out to your location that is best suited for you and your schedule. We make sure to arrive accordingly and complete the job in a fast and efficient manner. With this service, we also provide free bins to your business to store your shredded documents, and our team will pick up and replace the bins at each visit.
Purge shredding: This mobile paper shredding service is best for companies that have large amounts of documents that need to be disposed of in one session. If you have a warehouse or storage unit that is dedicated to old files that need to be cleared out, then this shredding service will meet your business's needs the best. In just one service, our mobile shredding trucks can shred your documents on-site and free up your storage space. With purge shred, you will not only have the benefit of a newly cleared space, but also have a peace of mind knowing all of your old documents were properly disposed of.
Other Professional Shredding Services
PROSHRED® Georgia is more than just a paper shredding company. We offer a wide range of solutions for businesses, including hard drive shredding and product destruction.
Hard drive shredding: When it's time for your business to upgrade electronic devices such as computers, it's important that the old ones are disposed of properly. Most people don't realize that wiping old computers and hard drives isn't enough to keep information secure. Any intact hard drive still contains all the files and any sensitive information you thought was cleared when you initially wiped it. Unfortunately, there are people who are trained and experienced in obtaining this type of sensitive data. If you want to make sure this never happens to you, our PROSHRED® team can perform a secure, on-site hard drive disposal service with our state-of-the-art shred trucks.
Product destruction: If you have old products such as uniforms, security badges, packaging, or promotional materials that you are considering throwing away, it's important that everything is disposed of properly. That's because items like these can be stolen or fished out from the trash and used against your business. This can happen in a number of ways. Criminals can use old uniforms to pose as employees and harm the reputation of your business. Competitors can steal ideas from discarded prototypes or business plans. Consumers can unwittingly be sold defective or recalled products. When these items are properly disposed of with a professional product destruction service, you eliminate these kinds of risks. Our production destruction services at PROSHRED® Georgia will guarantee none of your old items fall into the wrong hands.
Need a Professional Shredding Company? Call PROSHRED® Georgia Today
Whether you're a big business or a small one, professional shredding is one of the best solutions for keeping your information safe and secure with a method that is efficient and cost effective. With PROSHRED® Georgia, not only do you have peace of mind knowing your items have been completely destroyed, but you also never have to worry about hidden fees or fuel surcharges, making us cost efficient for any sized business.
After reading the benefits to hiring a paper shredding company, you should have all the confidence and knowledge needed to call and schedule your service. At PROSHRED®, our team is here to help your business stay compliant and secure. If you're ready to get started with proper document disposal, PROSHRED® Georgia is only a phone call away. We can answer all your questions about our shredding services and set up a service that works best with your business's needs and budget. Contact us today!