February 20, 2018
Document Destruction near Me
Document Destruction in Albany, NY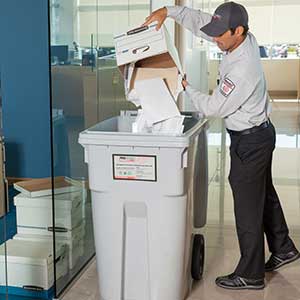 One might be surprised to learn there are still company managers who believe that shredding their documents before disposal is unnecessary. "Is anyone really going to rifle through a small
business' trash to see if they can find some scrap of paper with an account number on it?" they ask. Can I find a service for document destruction near me?
Well, it only takes a casual glance at the front pages of most news sites to learn the answer to that question. In 2016, identity theft and fraud cost consumers and businesses more than $16 billion. Any manager or company owner who would like to claim their share of those losses can certainly exacerbate their vulnerability by refusing to take advantage of document destruction and secure their information before disposal.
Information is Power
In a lot of cases, the correct answers to a few key questions could give an attacker access to any company's bank accounts, vendor accounts, credit information or electronic devices. The answers to those key questions can easily be gathered through gathering even a few days' worth of trash or discarded or lost documents. The biggest danger is not what someone might find with a search engine, but what connections someone might make through multiple searches, provided they have someplace to start.
Your documents could give them exactly what they need. Failing to take advantage of document destruction can be a tremendous risk.
Your Competition is Watching
Leaving aside the threat from identity theft and fraud, you should be aware of the fact your competitors could obtain an unfair advantage by gathering your plans out of your trash. By then, the question "can I find document destruction near me?" could be academic.
Hard won intellectual property advances, sources of supply, pricing information and all kinds of things that in any other circumstance you would go out of your way to cover with a non-disclosure agreement are fair game if someone manages to pull them out of a dumpster by dark of night. Even the contracts you write with your employees, licensees or licensors could be used to outmaneuver you, preempt a product release or muddy the waters when you file for patent or copyright protection.
Ultimately, not taking advantage of document destruction just isn't worth the risk.
A Trusted Service
So is there an answer to the question "can I find document destruction near me?" PROSHRED®Albany has what you are looking for: The infrastructure to secure your documents. We are ISO certified and will bring the shredding machinery directly to your office in the Albany area aboard their state-of-the-art trucks. Once your documents have been destroyed they will carry them off-site for disposal in secure containers. Your safety and security will be in experienced and qualified hands.
Provide for your company and keep your confidential information where it belongs with PROSHRED®Albany or give us a call for a FREE estimate (518) 512-0321.