One-Time Shredding Service
Schedule one-time, on-site shredding to securely dispose of old papers and documents at your home or business.
Are you looking for paper shredding, but don't need repeated, scheduled shredding services, then a one-time document shredding is perfect for you. It doesn't matter if you have a few boxes of papers that require shredding or an entire warehouse, PROSHRED® Albany is a paper shredding company that handles all sizes of jobs. If it's mobile shredding you're looking for we have mobile shredding trucks that arrive at your location, where the pickup and document destruction happens right before your eyes. There's no easier way to protect your sensitive information and clean up your home or office at the same time. To schedule a one-time commercial or residential shredding, contact us today.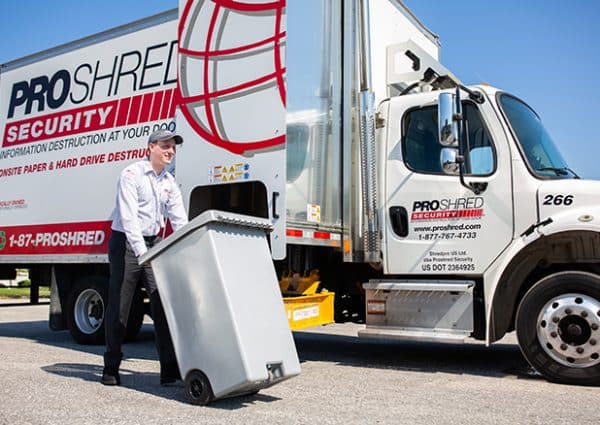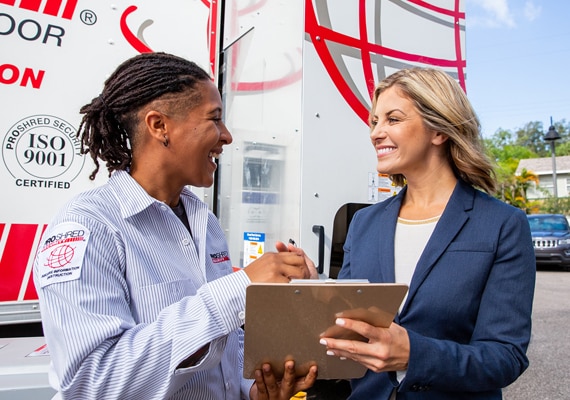 Affordable On-Site Shredding With No Hidden Fees
Our one-time shredding services are a cost-effective way to clean out your old documents and protect the privacy of your information. Instead of signing up for recurring shredding services that you don't need, let us provide you with a one-time document shredding service that includes mobile pickup, on-site shredding, and local recycling in Albany, NY. While some shredding companies hike their prices for one-time shredding by adding hidden fees and fuel surcharges, we believe in transparency. At PROSHRED® Albany, you know upfront how much your one-time shredding costs. No contracts are required for our one-time shredding. For a quote on one-time shredding services, contact us today.
How Does One-Time Shredding Work?
We have the best one-time shredding services in Albany because of our efficiency and knowledge of the local area. Our one-time shredding is a simple three-step process where we:
Pick up the papers at your location
Shred the documents on-site in a mobile shredding truck
Transport the shredded documents to a local recycler
Whether you live in Washington Park or work Downtown, our mobile shredding trucks are nimble enough to service most residential and commercial areas in Albany. Our shredders can destroy two tons of paper per hour so that we complete most one-time shredding appointments in a few hours or less. We also ensure complete privacy of your information because, from the pick up until we shred them, your documents are securely locked up and untouched until after they're shredded and recycled.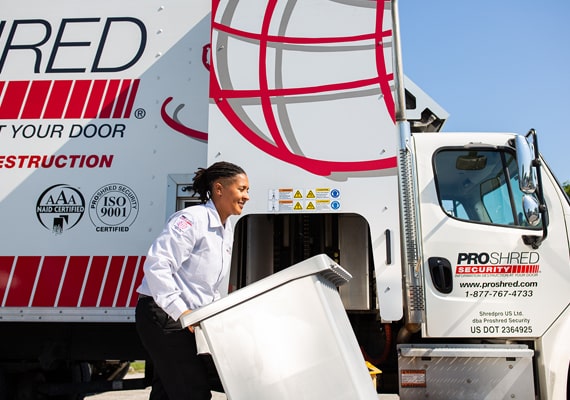 We Recycle 100% of the Papers from One-Time Shredding Appointments
PROSHRED® Albany recycles all of the documents we shred at local recycling facilities in the Albany area. Instead of throwing away papers in an unlocked recycling bin, where they could be stolen by identity thieves or other bad actors, schedule one-time document shredding and let us securely recycle them for you. With us, you get the benefits of green document disposal and secure professional shredding. In addition to being environmentally responsible, our one-time shredding services also comply with federal privacy legislation like HIPAA.
Schedule Convenient One-Time Shredding Service with PROSHRED® Albany
Are you ready to clear out those old papers, files, and documents in a secure and environmentally responsible manner? Contact us today to get a free estimate for one-time shredding services at your home or business!
Whether it's papers that have been building up over time in your home or if your business producers large amounts of paper at a time, properly disposing of large amounts of paper can be a challenge. So how do you destroy large amounts of paper? Using a professional paper shredding company is your safest and most responsible alternative. Burning can leave pieces of information still intact in the ashes and is bad for the environment. Tearing the paper apart simply adds time to the attacker's timeline, since it can be put back together. A proper industrial shredder that shreds, cuts, and completely destroys the information is the only realistic alternative. It is also quick and efficient, so it saves you time while ensuring that it is done the right way.
No, it is not safe to throw away junk mail. While it might feel safe to throw away junk mail since it has no value to you, you should never throw away mail with your personal information on it, even if it is junk. The primary reason is that it can lead to identity theft. As soon as someone assumes your identity they can use it to commit fraud towards others or to obtain assets that are rightfully yours. Leaving your address around for anyone to see can also increase the chance of burglary.