Chelsea Shredding Services
PROSHRED® Boston stands out among the leading experts in Chelsea and its surrounding areas when it comes to reliable document shredding services. From mobile shredding and hard drive disposal all the way to product destruction—you can count on us for comprehensive solutions that will meet your precise needs. We understand just how critical it is to protect your personal information; which is why we treat customer privacy with utmost care and respect.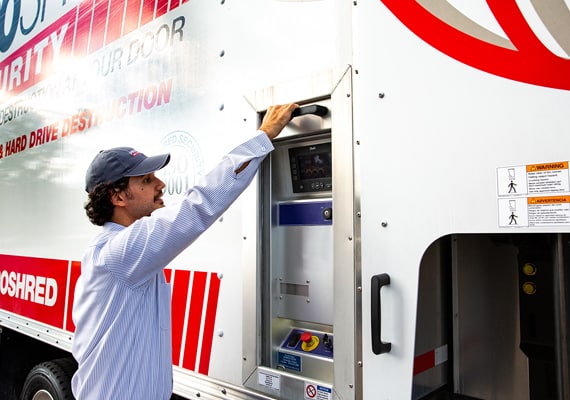 Shredding Services in Chelsea
At PROSHRED® Boston, we are committed to safeguarding your information with our Chelsea Paper Shredding Services. Data security is our priority, and we ensure this by hiring highly qualified personnel trained according to industry standards. With our Certificate of Destruction provided after each job, you can rest assured that all your documents are properly disposed of. Let us take care of your Chelsea shredding needs and enjoy complete peace of mind about the security of your data.
 Chelsea Mobile Shredding Services
At PROSHRED®, we deliver an on-site document destruction solution that is ideal for businesses of any size. Our mobile trucks are integrated with the latest technology, including a monitor so you can watch your documents being destroyed in real-time. This service is effortless and remarkably secure as our team will come directly to your door and shred all materials for you.
We appreciate how much effort it takes to secure your documents, which is why our Chelsea paper shredding services are designed with comfort and affordability in mind. Whether you need one-time shredding or ongoing solutions—we crafted our state-of-the-art mobile trucks, especially for your needs! Our goal is simple: provide convenience at a reasonable price so that shredding confidential paper is no longer a hassle.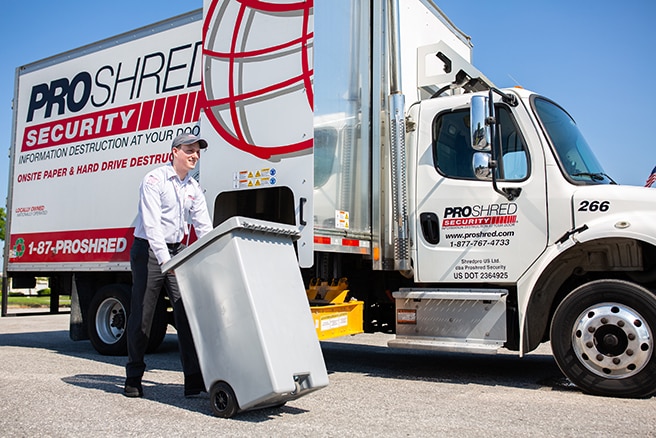 Product Destruction Services in Chelsea
To prevent the risks of fraudulence, identity theft, and damage to your reputation, we ensure that every product from old uniforms to recalled items with company logos is destroyed with care. We pride ourselves on our attention to detail, making sure every piece of product is properly destroyed. You can rest assured that your business is safe from any unwanted consequences. 
When you use PROSHRED® in Chelsea, you are ensuring that you and your company are protected from any legal consequences. As a dependable destruction service, our strict policies guarantee that all products will be destroyed without fail, with no safety risk at all. As a number one product destruction service in Chelsea, our goal is to provide an efficient yet secure method of product disposal, so that you can have peace of mind knowing your products are taken care of properly.
Home Office Shredding in Chelsea
It can be difficult to keep track of paper documents when working from home, especially if they are filled with sensitive information. Shredding unnecessary paper is essential to keeping your information safe and secure, so why not make the process easier by investing in our budget-friendly and dependable shredding services? We understand the importance of safeguarding your personal information. We will come straight to where you need us so that we can safely get rid of any documents in the most reliable manner possible!
PROSHRED® in Chelsea is here to help you keep your confidential information secure. Our extensive range of Chelsea services is designed to be convenient, affordable, and reliable whether you are using a one-time document shredding or scheduling regular visits with our team. Reach out to us today to learn how we can help you protect all your important information in Chelsea.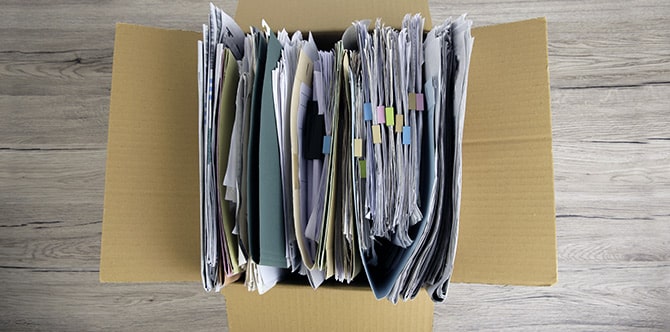 Chelsea Shredding Services
On-Site Shredding Chelsea, MA
Scheduled Shredding Service Chelsea, MA
One-Time Shredding Chelsea, MA
Hard Drive Destruction Chelsea, MA
Legislative Compliance
HIPAA Compliant
HITECH Compliant
GLBA Compliant
FACTA Compliant