One-Time Cleanout
PROSHRED® Boston one-time cleanout shredding service is designed for businesses and residents who need a single clean-out of their unwanted documents and papers. Whether you have a few file boxes that you need to shred or a large room/warehouse full of old confidential documents, our PROSHRED® Boston Get a Quote will come to your location and destroy all unwanted documents quickly and efficiently.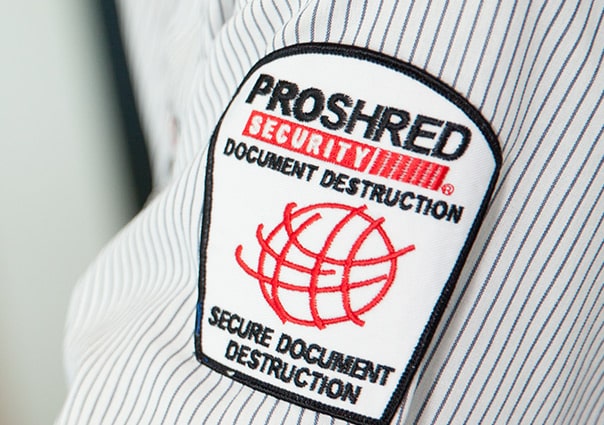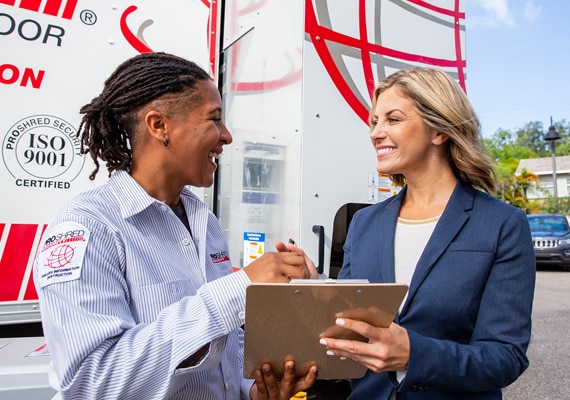 Affordable and With No Hidden Fees
This service is very affordable, PROSHRED® Boston always has trucks on stand-by to do purge or one-time cleanout shredding service for our clients. There are no contracts required for clean-out shredding, and unlike many of our competitors, we don't charge fuel surcharges or any other hidden fees.
State-Of-The-Art Mobile Shred Truck
PROSHRED® Boston takes pride in all our on-site trucks. Some of our mobile shredding trucks can even shred up to 2 tonnes of paper per hour! This means PROSHRED® Boston can be in and out of your facilities quickly and make sure all confidential documents are securely destroyed. No matter how many boxes our clients have, our Customer Service Professionals (CSPs) never physically handle your documents – the entire process is touch-free!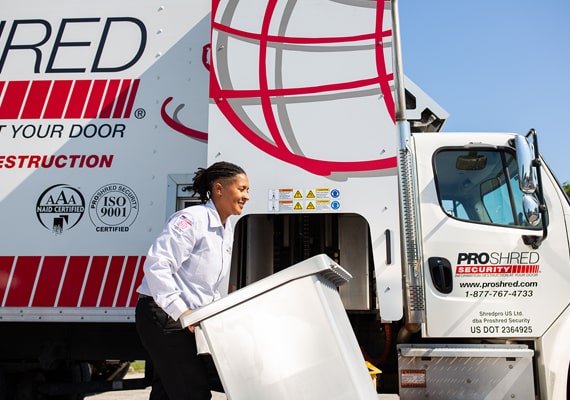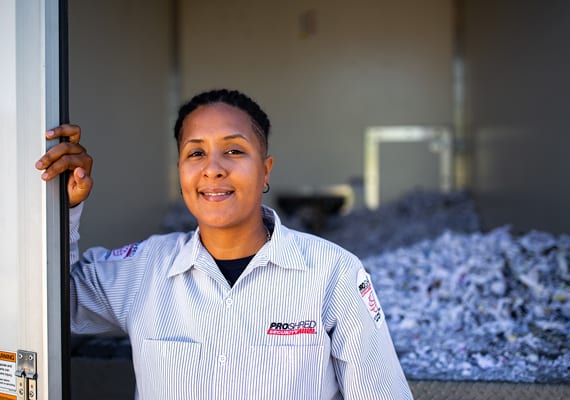 100% Of Your Documents Are Recycled
After all your confidential documents are fully shredded and destroyed our Customer Service Professionals (CSPs) will provide you with a certificate of destruction as proof that the destruction has occurred and completed. PROSHRED® Boston will then take your shredded documents to a local recycling facility where 100% of the papers and documents are recycled.
PROSHRED® Boston Offers a Convenient One-Time Shredding Service
PROSHRED® Boston has the extensive experience and professionalism needed to provide industry-leading service to our Boston customers.  Allow our team to work with you in customizing an ongoing shredding program for your shredding needs in the Boston area.
Yes, a one-time cleanout is a purge shredding service that allows for a person or a business to shred a large number of documents all at once. If old documents that are no longer needed for recordkeeping are taking up space in your home or business, this service is for you.
Shredding trucks are equipped with large industrial paper shredders that can shred up to 2 tonnes of paper per hour. Mobile shredding trucks come to your business or specific location your convenience. Your documents are then destroyed on-site so you can remain confident that your sensitive information will never again risk getting into the wrong hands.