Revere Shredding Services
At PROSHRED® Boston, we are dedicated when it comes to safeguarding the privacy of you and your businesses. We offer a variety of shredding services that ensure your confidential information remains fully protected. Not only is document shredding reliable in terms of security, but it is also budget-friendly and convenient—we'll even come directly to you with our state-of-the-art mobile shredding trucks! Thanks to being an industry-leading option for secure disposal, PROSHRED® in Revere guarantees complete protection for all documents destroyed with us.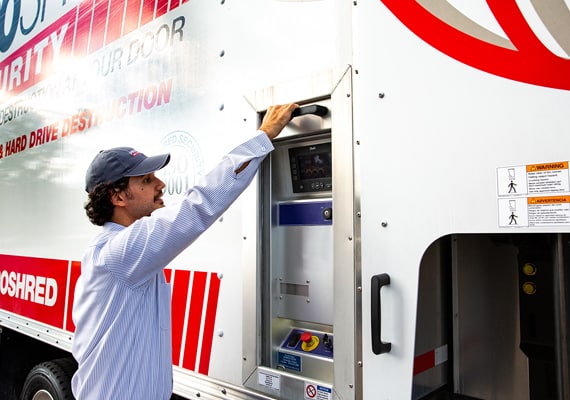 Revere Secure Document shredding
PROSHRED® Boston is offering businesses and residential property owners a secure document shredding solution in Revere, for disposing of confidential documents. We offer multiple safe shredding services, including our signature mobile document shredding trucks that come directly to your location for your convenience. With our state-of-the-art trucks and viewing screens, you or anyone on your team can witness the entire shredding process right at your location, with complete confidentiality!
With our experienced and knowledgeable team, you can have the utmost assurance that your sensitive information is safeguarded.. This is of great importance as it ensures the protection of your company against any possible malicious activities or security breaches. PROSHRED® Boston guarantees that all confidential data has been permanently disposed of so you don't need to worry about its misuse in the future.
Product Destruction Services in Revere
When it comes to product destruction, it's important to act fast. Avoid any risk of your confidential or sensitive data being exposed by quickly disposing of unnecessary materials. Our quick and reliable service can help you securely eliminate outdated products before anyone else has a chance to get their hands on them. Don't wait-make sure that you take advantage of our reliable and efficient services today for the safety of your company!
Companies looking for safe disposal of their surplus inventory can look no further than our world-class product destruction services. We ensure absolute discretion when it comes to uniforms, IDs, and other non-paper items—guarding against any potential security threats that may arise should these materials end up with the wrong hands. We also take care of faulty or outdated products, preventing them from resulting in damages or liability issues. With our Revere product taper shredding service on your side, you are assured total reliability and complete peace of mind!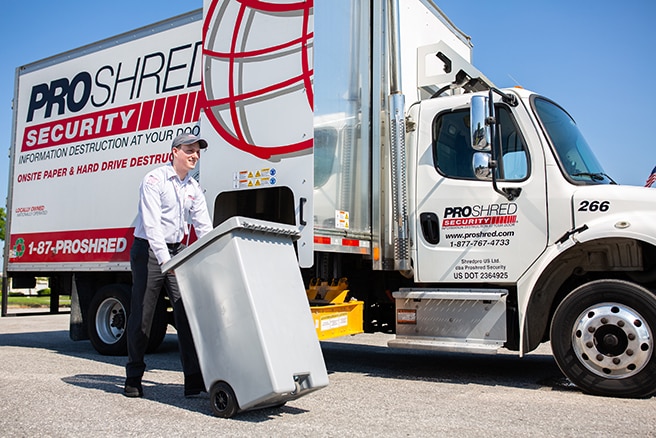 Scheduled Shredding Services in Revere
Don't let your personal information fall into the wrong hands—shred any documents that are outdated or no longer needed. PROSHRED®'s Revere shredding services make it easy for you to do this quickly and conveniently by coming right to your home or office! Our state-of-the-art trucks will come to you wherever you are located in Revere. We also provide regularly scheduled Revere paper shredding appointments that occur every week, bi-weekly, or monthly, depending on your needs!
Rely on PROSHRED® for All Your Secure Document Disposal Needs
Keep your confidential information away from prying eyes! Make sure to securely shred any out-of-date or no longer-needed documents. Fortunately, PROSHRED®'s Revere shredding services make this simple and straightforward while being incredibly convenient—we bring our mobile shredding trucks with powerful industrial paper shredders right to you! If that's not enough for you, why not choose one of our regularly scheduled Revere paper shredding appointments every week, bi-weekly, or monthly? You can rest assured, knowing that all of your essential paperwork is in safe hands.
Revere Shredding Services
On-Site Shredding Revere, MA
Scheduled Shredding Service Revere, MA
One-Time Shredding Revere, MA
Hard Drive Destruction Revere, MA
Legislative Compliance
HIPAA Compliant
HITECH Compliant
GLBA Compliant
FACTA Compliant