Shredding Services in Winthrop
PROSHRED® Boston stands as a leading provider of reliable shredding services to Winthrop and the surrounding areas. Whether it's mobile shredding services or product destruction, we are dedicated to providing the most secure services for you and your company. We understand the importance of protecting your company's personal information and reputation. That's why we make your privacy our top priority and treat our clients' information with care and respect.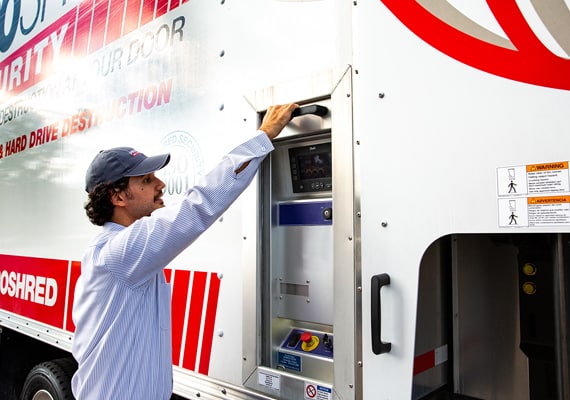 Mobile Shredding in Winthrop
Regardless of the size of your company, mobile shredding is an ideal solution for document disposal. As part of our Winthrop shredding services, our team will come directly to your place of business to shred your materials effortlessly and securely. Our mobile shredding trucks have state-of-the-art technology to properly destroy your unwanted materials, and even have viewing monitors. With these, our clients can witness the shredding process firsthand. 
At PROSHRED® Boston, we pride ourselves on providing affordable mobile shredding services for you that are highly secure. We crafted our mobile trucks to suit your shredding needs and provide the convenience needed when your schedule is busy. To ensure the best security, our trained team will hand you a Certificate of Destruction after the shredding process, to date and confirm that our services were completed. Skip the hassle of dropping off your documents and instead call for us to come to you!
Scheduled Winthrop Shredding Services
Sometimes document disposal isn't a one-time occurrence. When you're running a business or working within a company, it's common to end up with documents that your business no longer needs. Leaving them to pile up before they're disposed of can lead to risks to the security of your sensitive documents. PROSHRED® Boston offers scheduled shredding as part of our shredding services in Winthrop. 
When your company is in need of regularly scheduled shredding, a time can be set up for our team to come to your workplace with our mobile shredding trucks. We'll provide convenient and secure executive consoles within your office, along with a thorough security audit. The audit will help us assess how many consoles are needed and provide the proper solution for your shredding needs.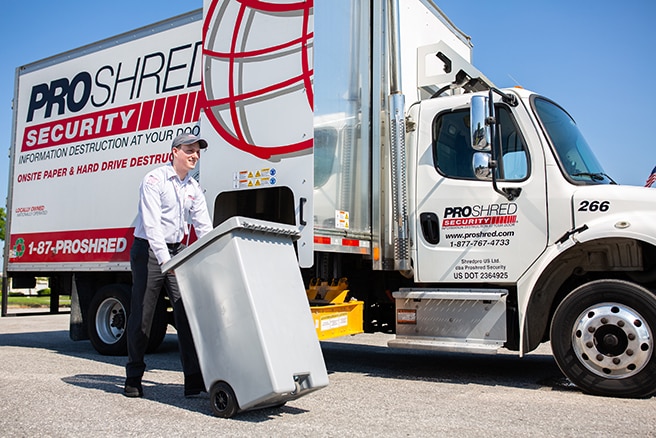 Product Destruction Services in Winthrop
For companies that produce products like uniforms, badges, and exclusive merchandise, there's the risk of fraudulence, identity theft, and product damage. Our team at PROSHRED® Boston offers secure product destruction services in the Winthrop area in order to eliminate those risks. We take great care in handling the products you need to dispose of, and make sure that each piece is thoroughly destroyed. You can have peace of mind that we'll keep your brand safe.
As a reliable shredding service, PROSHRED® Boston follows strict regulations and rules to protect your company from any legal issues. We are certified in the shredding industry and strive to be dependable when it comes to your sensitive information. Our main goal is to provide a secure method of product destruction, so you don't have to worry about security risks.
Call PROSHRED® Boston for Reliable Shredding
Keep your confidential information safe and secure with Winthrop shredding services you can count on! PROSHRED® Boston is proud to be ISO 9001 Certified by NSF-ISR and NAID-AAA Certified, and we work to uphold these certifications and bring you the best service we can provide. Rest assured that your unneeded documents are in good hands. Call today to schedule an appointment with our team.
Winthrop Shredding Services
On-Site Shredding Winthrop, MA
Scheduled Shredding Service Winthrop, MA
One-Time Shredding Winthrop, MA
Hard Drive Destruction Winthrop, MA
Legislative Compliance
HIPAA Compliant
HITECH Compliant
GLBA Compliant
FACTA Compliant