Hard Drive Shredding Services
Does your business have a secure plan for destroying your old data and hard drives? Whether you're switching to a different system that requires hardware replacements or your hard drives are simply too old to do the job anymore, proper disposal of hardware is increasingly important for proper data security. Things like sensitive emails, invoices, and internal documentation shouldn't be left out for anyone to access. All it takes is one leak of confidential information to hurt your reputation, as well as result in revenue loss. Contact PROSHRED® Northern New Jersey today for secure hard drive destruction.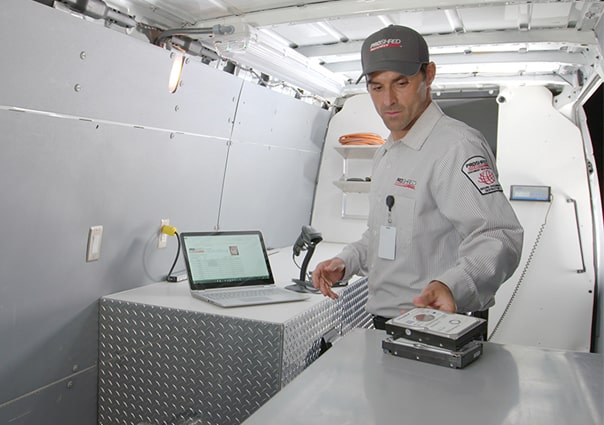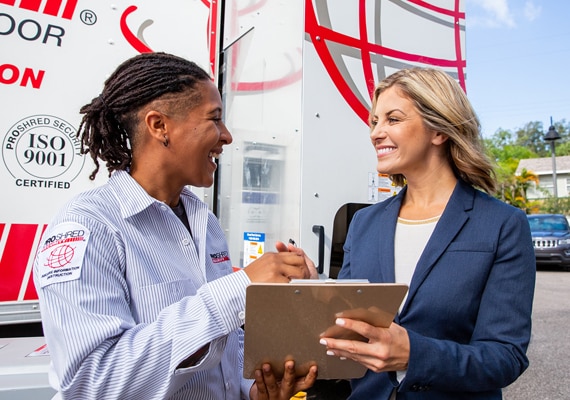 Erasing Data vs. Hard Drive Destruction
You may think that simply erasing and reformatting your hard drive is enough to ensure the data stored on there is gone forever. Unfortunately, if a hard drive is still physically intact, the information you just erased can still be reconstructed and breached. Simply erasing and discarding hard drives, CDs, or thumb drives isn't enough for data security. The only way to safeguard your sensitive information permanently is to physically destroy your data with professional hard drive shredding services.
On-Site Hard Drive Destruction. How Does It Work?
PROSHRED® Northern New Jersey's on-site hard drive shredding services ensure proper destruction and disposal of your digital media. Our professional shredders will come to your business to pick up your end-of-life hard drives and other materials for on-site mobile shredding. We also allow you to oversee the destruction of your hard drives in person and provide you with a certificate of destruction showing the date and the time of the hard drive pickup and destruction for your compliance records.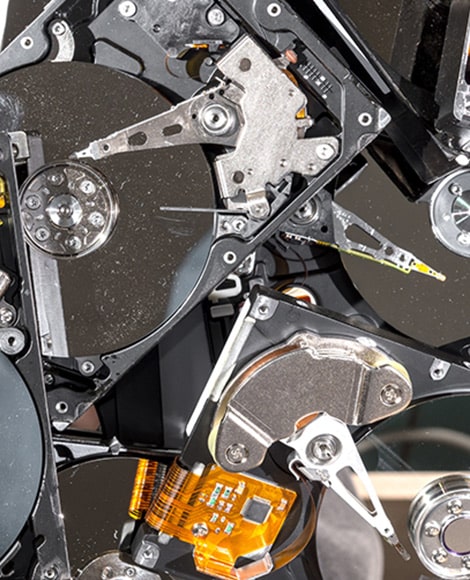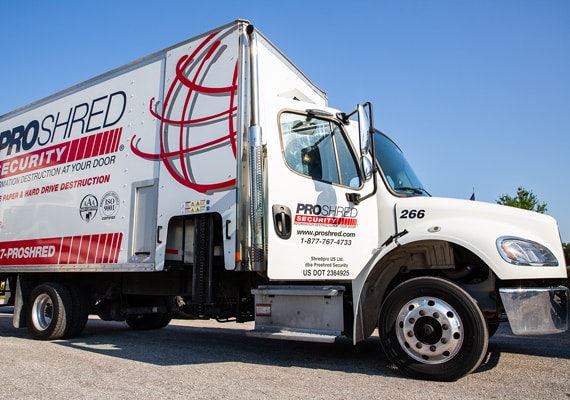 Our Hard Drive Shredding Complies with Privacy Legislation
At PROSHRED® Northern New Jersey, we are as committed to the environment as we are to your information security. Therefore, we send e-waste recycling to local plants for final processing, but only after your hard drives have been properly destroyed. We also only partner with recyclers who are certified and comply with federal and state electronic waste regulations. In an effort to help your business stay environmentally friendly, we recycle all types of electronic waste, including hard drives, CDs, and other digital media.
Schedule Hard Drive Shredding Services in Northern New Jersey
If you're ready to securely dispose of the unwanted data on your old hard drives or other digital devices, please contact PROSHRED® Northern New Jersey to schedule an appointment or request a free quote today.
The safest way to destroy a hard drive is to let the professionals take care of it. We will shred your hard drive, making it impossible for criminals to retrieve any data.
No, deleting the files does not completely remove them and criminals would still be able to retrieve your data. Using a professional shredding service is the safest way to dispose of old hard drives.