Scheduled Shredding Services
Scheduled paper shredding services are a secure way to dispose of sensitive papers, files, and documents on an ongoing basis. Many companies throw away papers to maintain a clean work environment, but not all of them use a secure shredding service. Without a secure method of document destruction, however, private and sensitive information can wind up in the wrong hands. Ongoing shredding services from PROSHRED® Northern New Jersey helps prevent identity theft and other security breaches by destroying your unwanted documents. All shredded paper waste is then recycled locally in a sustainable manner, so there's no waste.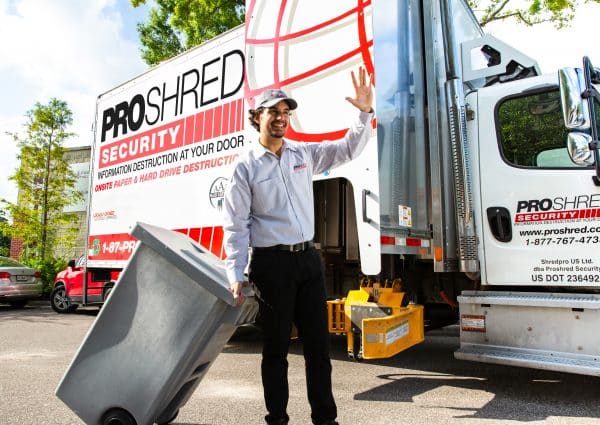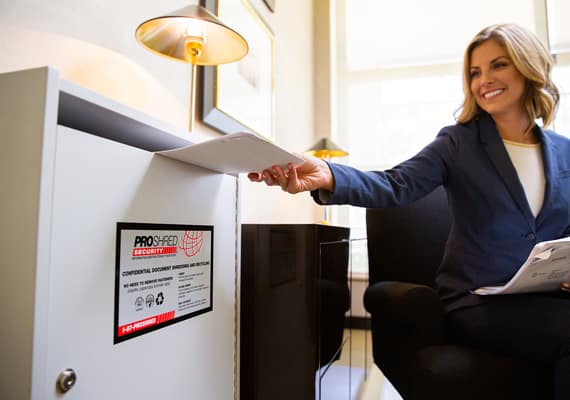 How Scheduled Shredding Services Work?
Our ongoing shredding service is an efficient way to regularly dispose of your unwanted papers and documents. Shredding bins are placed around your business or work location so that employees can easily discard their papers throughout the day. The number and size of the bins and the frequency of pick-ups are determined by the number of documents you need shredded. Pick-ups occur at daily, weekly, or monthly intervals, and always during a convenient time of the day for you. During each visit, a PROSHRED® Northern New Jersey team member arrives in a shredding truck, empties the bins and consoles around the office, and then shreds their contents on site. You can also choose to witness the shredding process. Afterward, you'll receive a certificate of destruction for your records or compliance requirements. Finally, we transport the shredded materials securely to a local recycling plant for processing.
Customized Document Destruction Plan
What makes the scheduled shredding service from PROSHRED® different from many other document destruction services in Northern New Jersey? For starters, we take the time to create a custom document destruction plan for you. Before we shred any documents, we conduct an audit at your business's security needs. We find out which materials you'll need shredded (paper shredding, media destruction or hard drive destruction), the number and size of shredding containers you'll need (from 36" consoles up to 64- or 96-gallon bins), and how often you'll need service. This degree of detail guarantees that we're always doing what's right for your business.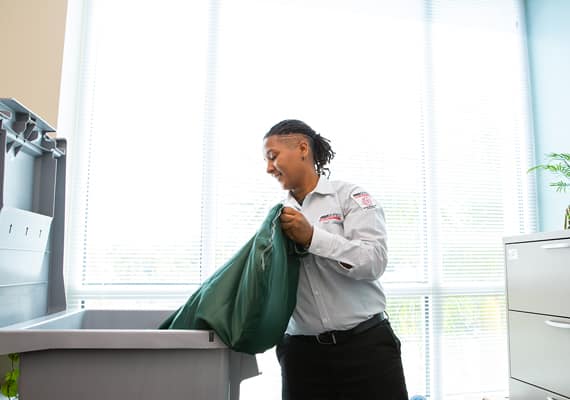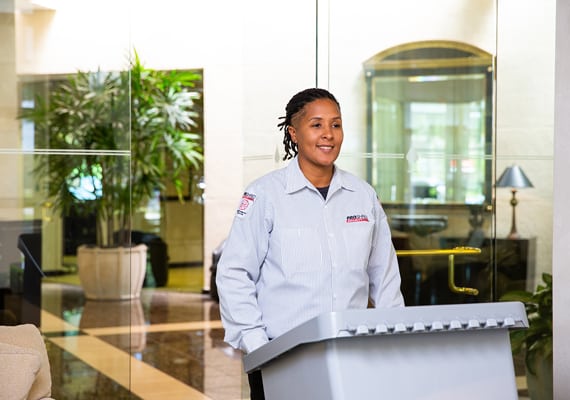 We Comply with all Document Shredding Regulations
PROSHRED® Northern New Jersey is both locally managed and associated with a national brand. Therefore, our scheduled shredding services meet all state and federal data security and privacy regulations related to document destruction, including ISO 9001 Certified by NSF-ISR and NAID AAA standards. At the same time, we provide friendly, personalized recurring services, and shred paper in an environmentally responsible manner.
That all depends on your individual needs. If you generate enough paper waste on a regular basis, you probably need a scheduled shredding service. Please contact us today so we can come up with the best plan for your needs.
Purge shredding is a fast and secure way to quickly get rid of outdated files. It is performed on-site in a secure facility, saving you time and money. Since our mobile shredding trucks can handle tons of paper in mere minutes, it can save you days of work instead of using an office shredder.