Business Shredding Services
Miami businesses of all different sizes are affected by privacy legislation and they must take proper and reasonable steps in protection against outside access to confidential, sensitive data.
PROSHRED® Miami's on-site document shredding services provides any type of business with the most secure, reliable, cost-effective and environmentally way of destroying confidential documents. We pride ourselves as a shred provider that guarantees all of your private information is safeguarded while maintaining legislation compliance and lowering the risk data hacking happening to you and your business.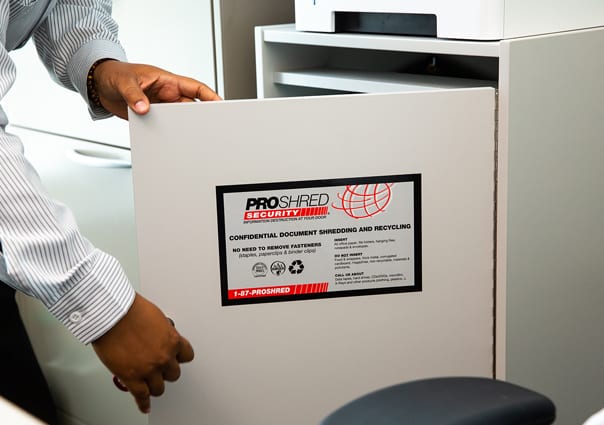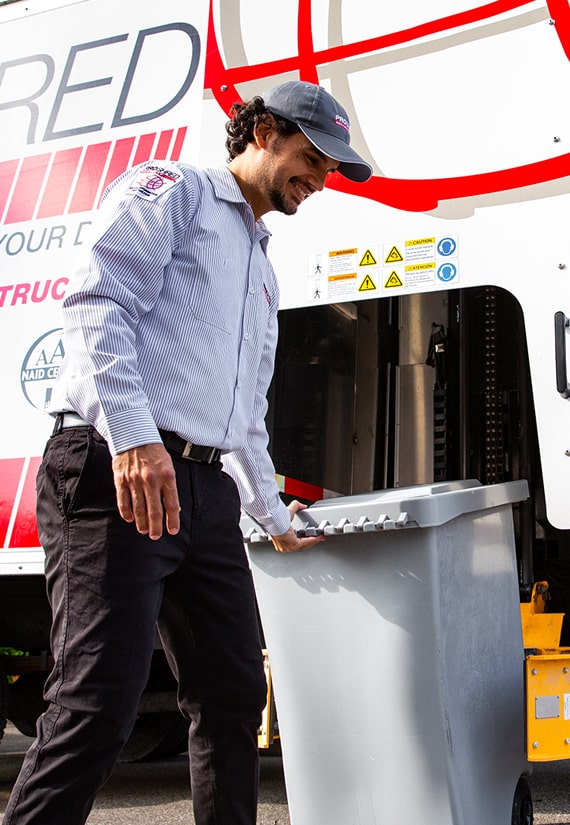 Secure
PROSHRED® Miami prides itself as a top security company. No other shredding provider compares to our success record and continuous passion for offering the best on-site document shredding services for Miami businesses and residents.
With years of strong experience and successful results, and an ISO 9001 Certified by NSF-ISR to guarantee the highest standards in quality and service, we offer the most secure and professional shredding services available in Miami.
By following our business document destruction system, we ensure that the "chain-of-custody" of your documents is never broken. We will come directly to your business location where we will shred all of your sensitive documents using our state-of-the-art shred trucks. This will significantly reduce your security risk. After finishing the shred job, we will provide you with a Certificate of Destruction which confirms the disposal and elimination of your private information. We will not leave your business location until we shred all of your unneeded documents.
Our well-trained staff are fully background checked, bonded and uniformed. They are committed to providing you and your Miami business with the most secure, reliable and professional customer experience possible.
Convenient
To help make it more convenient for you, we will give you free security consoles and bins for your business. Your staff members can conveniently discard confidential information using PROSHRED® consoles and bins with peace of mind knowing all information will be safeguarded until our shred technicians arrive at your location. There is no need to remove staples or paperclips from your documents. Simply drop the paper into the console and PROSHRED® ensures your information is securely shredded and recycled.
Depending what your business needs are, the PROSHRED® Miami team can service your consoles on a weekly, bi-weekly or monthly basis. If you need, we can also service you right on-call. If your needs change, we are more than happy to adjust our services to your organization.
If you have a need to shred files that you have accumulated in storage, PROSHRED®'s purge shredding business can be handled either in conjunction with regularly scheduled services, or during special one-time shreds.
We offer a variety of secure security consoles and bins to meet all your logistical requirements and make the system as easy to use as possible for staff. We also go beyond just shredding paper; we destroy other materials, such as proprietary products and electronic media.
With our state-of-the-art mobile shredding trucks and our background checked, highly-trained staff, we professionally and securely shred all confidential materials on-site.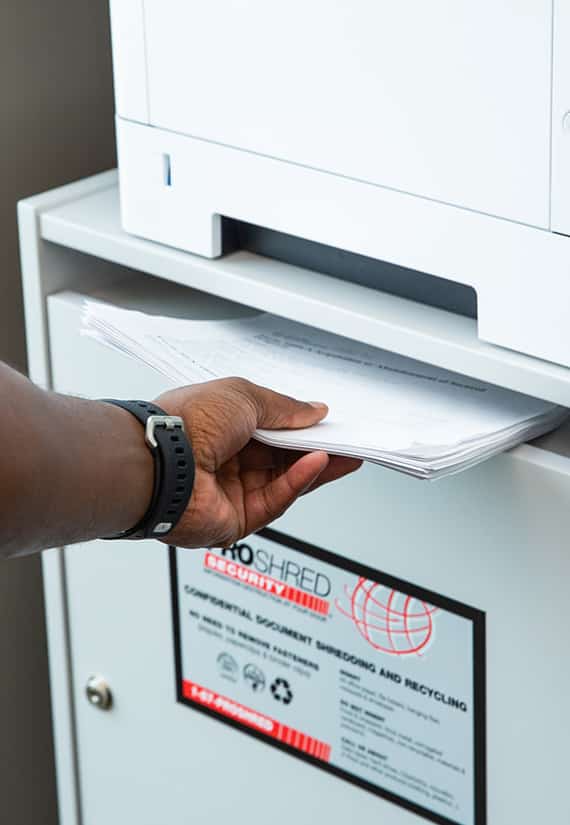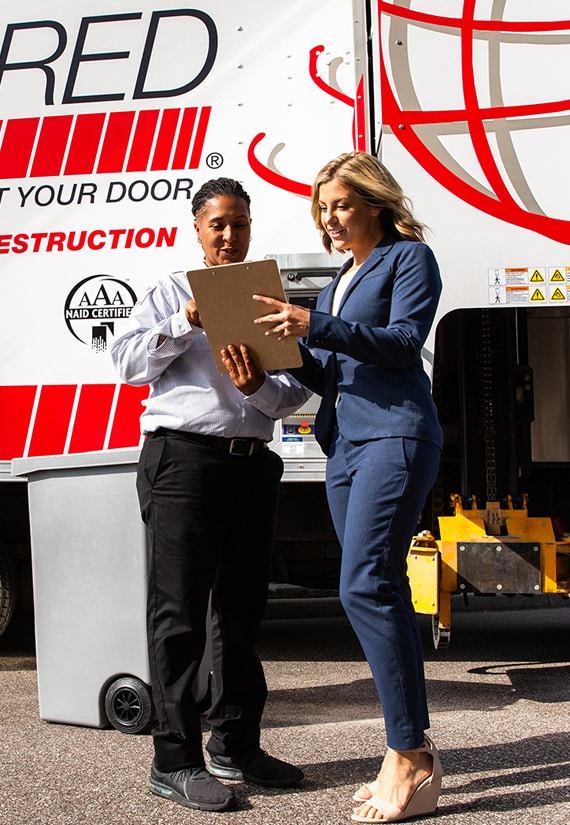 Cost-effective
By doing in-depth research, we confidentially say that on-site shredding services cost at least 25% less than any in-house shredding systems. By partnering with PROSHRED® Miami to outsource your document destruction needs, you allow your staff members to focus on your daily work tasks and core business activities.
When it comes to rates, PROSHRED® Miami's pricing is based on a negotiated service frequency. We do not base our pricing on weight or time which will allow your organization to accurately budget in advance.
With our free secure consoles at your business and our shredding service conducted at your premises, PROSHRED® Miami provides complete paper shredding security, and thus a very economical security insurance policy. Compared to recycling and off-site document destruction programs or in-house shredding systems, PROSHRED® Miami's reliable on-site shredding service for your organization provides the best value and customer service.
In order to help deliver you and all of our Miami clients the most secure document shredding services, we offer free consultative estimates and do not require signed contracts. While we are more than pleased to set up a contract with you to help meet legislative or corporate requirements, we don't expect you to sign a contract. We believe that if we are not truly serving your needs, you don't deserve to be bound to us.
Environmentally Conscious
Here at PROSHRED® Miami, we believe we have to have a strong stake in preserving our environment. That is why all of our shredded paper is completely recycled. Not only do we take your security seriously, we work with you as your partner in corporate responsibility. By working together, we are making a long-lasting, positive difference in our green environment.
On each invoice you receive you see the full amount of trees you have saved by using our shredding service. At the end of each year, you will be given a TreeSaver Environmental Certificate documenting the total amount of trees your organization saved during the year.
PROSHRED® Miami's business document destruction services provides you with the most secure, reliable integrated shredding and recycling program in the state.