One-Time Shredding Service
PROSHRED® Miami's one-time, on-site shredding service is intended for residential or commercial customers who need to securely dispose of old papers or documents but don't have enough volume for regularly scheduled shredding. The value of a one-time shredding is its convenience. Whether you have a few boxes of paper in the garage or an office or warehouse full of financial records that need to be securely discarded, our one-time shredding services can accommodate jobs of all sizes. We destroy everything on-site in mobile shredding trucks and then recycle the materials in an environmentally responsible manner.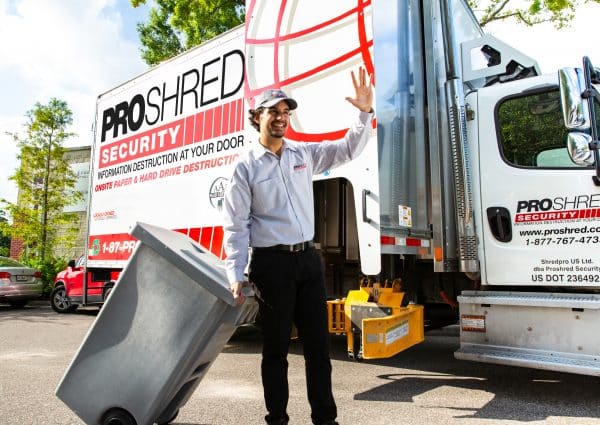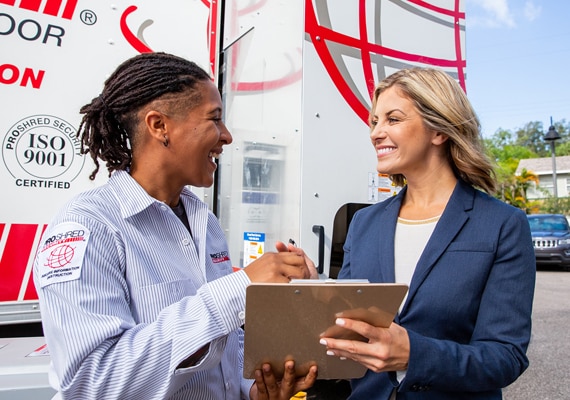 Affordable On-Site Shredding With No Hidden Fees
The purpose of one-time shredding is to save you money by providing you only the amount of shredding services you need. Unfortunately, not all shredding companies share PROSHRED® Miami's enthusiasm for affordable service. Some shredders in Miami attach hidden fees and fuel surcharges to their one-time services or even sign up their customers for unnecessary contracts. We never sacrifice our clients' trust. As Miami's most trusted provider of shredding services, PROSHRED® Miami's one-time shredding has no hidden fees, no fuel surcharges, and no unnecessary contracts. Contact us today for a free quote.
How Does One-Time Shredding Work?
Our one-time shredding happens on-site at your location using mobile shredding trucks. Each truck is nimble enough to park in a residential driveway or fit into a tight business parking lot. Meanwhile, the mobile shredders on board are capable of shredding two tons of paper per hour. That means we can finish most one-time shredding jobs quickly with minimal disruption to your day. Our process is also entirely touch free — our customer service professionals (CSPs) pick up your documents using secure shredding bins, which are loaded directly into the shredding unit where the papers are destroyed before your eyes.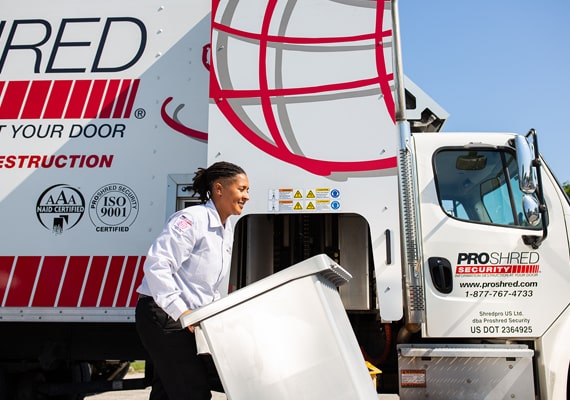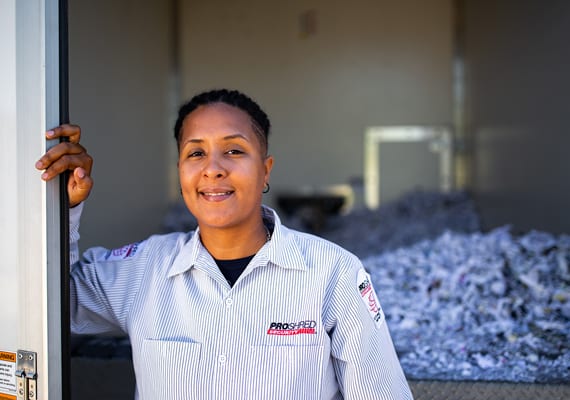 We Recycle 100% of Documents Locally
Miami is a beautiful coastal city, and many residents want to keep it that way by being environmentally conscious and using blue recycling bins to discard papers at their homes or businesses. However, these bins are often unsecure and can leave your private information vulnerable to identity theft or other breaches. When you schedule one-time shredding with PROSHRED® Miami, 100 percent of the papers we destroy are taken to local recyclers for processing. We also comply with federal privacy laws, including HIPAA. Therefore, you can rest assured that as a result of one-time document shredding, your information is protected, and the papers you discarded are dealt with in an environmentally responsible way.
When it comes to one-time shredding services there are many benefits. However, the main benefit or value of one-time shredding is that it is convenient. In addition, PROSHRED® Miami's one-time on-site shredding service can accommodate jobs of all sizes, and this is made possible by the use of mobile shredding trucks.
The one-time shredding process is constructed with you in mind and designed to be efficient and secure. The main purpose of one-time shredding is to save you money and this is done by only providing you with the shredding services you need instead of shredding services on a regular basis.