October 19, 2021
How to Destroy a Hard Drive (The Right Way)
From data-wiping programs to microwaving to breaking out the power drill, the internet is rife with suggestions of DIY methods for destroying unwanted hard drives. Many websites will suggest using bleach or acid on the drive, smashing it with a hammer, or otherwise attempting to physically destroy this type of digital storage hardware.
But these methods of destroying sensitive data are not only outdated, they are also dangerous. Most people will not have the protective gear necessary to safely perform any of these destruction methods, and many of them are not effective anyway at completely erasing data from the hard drives.
So what's the best way to destroy a hard drive so that the information it contains cannot ever be accessed again? Professional hard drive destruction by a trusted, certified shredding company is the best, most effective way to completely eliminate the risk of your confidential information being stolen or leaked. If you're curious about this service and wondering if it could be a good fit for you, continue reading to learn all you need to know about the benefits of professional hard drive shredding and how you can sign up.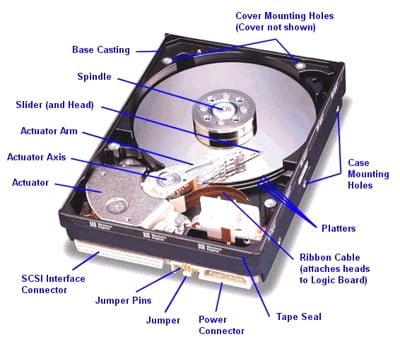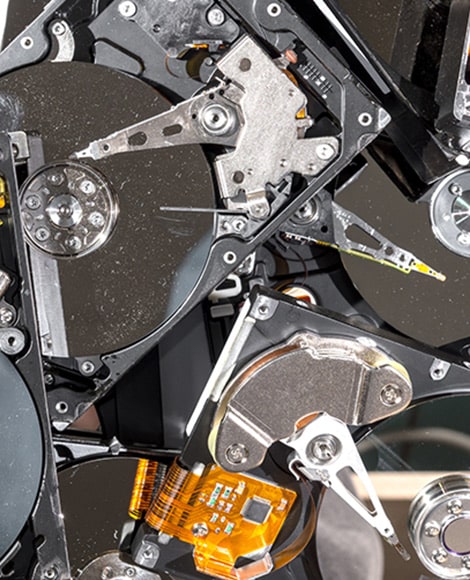 Benefits of Professional Hard Drive Shredding
The benefits of professional hard drive shredding are pretty straightforward. If you want to ensure that all of your data is 100% physically destroyed and recycled so no information can ever be accessed again, you need the help of a professional shredding service that not only understands how to perform secure information destruction services, but also genuinely cares about their customers and works to ensure compliance with all state and federal data protection legislation.
PROSHRED® is the only shredding company that is both NAID AAA and ISO 9001 certified. This means that we meet high standards for quality management and customer satisfaction as well as comply with all known data protection laws. All of our personnel are also screened and certified and have undergone a rigorous training regimen, so you can rest easy knowing that every shred job is done in a completely secure and confidential environment
As a locally-owned and managed shredding company, we make it our mission to keep our pricing as transparent as possible, and charge no hidden fees such as fuel surcharges, management fees, or trip fees, unlike many of our competitors. We charge based upon the amount of hard drives you need to destroy, so it doesn't matter whether you have just a few to destroy or several boxes full, we can take care of it all!
Don't risk injury or data breaches by attempting to DIY hard drive destruction; with PROSHRED® San Diego's hard drive shredding services, you'll have access to a safe, convenient destruction method that is backed by a nationally-recognized and trusted brand.
The Hard Drive Shredding Process
As we've mentioned, professional hard drive shredding is an extremely convenient and cost-effective way to properly dispose of old hard drives. The hard drive shredding process takes very little time or effort on the part of the customer; all you need to do is schedule the service and supply your hard drives, and we'll take care of the rest!
1. Schedule Mobile Hard Drive Shredding or Drop-Off Shredding
The first step to receive a hard drive shredding service is to schedule a time for one of our team members to come and pick up your hard drives. We can either schedule you for a mobile destruction service, where your hard drives are destroyed on-site inside one of our mobile shredding trucks, or for an off-site destruction service, where we pick up your drives and transport them to our secure facility to be shredded.
We make it convenient for you to comply with laws that dictate your hard drives must be destroyed while on your premises by offering the on-site shredding service, in which a customer service professional will drive to your location, pick up your hard drives, and shred them as you watch.
2. Industrial Shredding Machines Will Destroy Your Hard Drives
Once we have collected your hard drives, one of our certified customer service professionals will start by copying or scanning each hard drive's barcode and recording that information into a log. The hard drives are then destroyed by an industrial shredding machine inside one of our mobile shredding trucks. These machines are powerful, and can process up to 1,000 hard drives per hour.
3. Certificate of Destruction For Your Peace of Mind
With our secure process, you don't have to worry about being in compliance with legislation like FACTA, HIPAA, HITECH, or GLBA. You'll be provided with a Certificate of Destruction at the end of each job, which details the service you received, the barcodes of the hard drives that were destroyed, and information about the date, time, and customer service professional who handled the hard drive destruction.
4. Destroyed Hard Drives are Recycled at a Trusted Partner Facility
Data destruction doesn't end when the hard drives are shredded. We take it a step further by making sure that each shredded hard drive is sent to a certified electronics recycling center for further processing. We only partner with certified companies that comply with federal and state electronic waste regulations, ensuring that none of your electronic waste ends up in landfills.
5. We'll Be Ready When You Need Us Next!
While the importance of having a hard copy of all of your business or organization's sensitive data will probably not wane any time soon, it's important to recognize that times are changing. More and more people are switching to storage devices such as SSDs, or Solid State Drives, which have faster access times, use less power, and generate less heat than magnetic hard drives. If your company is switching to alternative means of data storage, you might find yourself with a large amount of obsolete hard drives in need of secure destruction. Thankfully, PROSHRED® San Diego hard drive destruction services offer a convenient, cost-effective solution that you can schedule whenever you need it.
Secure Hard Drive Disposal Services from PROSHRED® San Diego
For easy, secure hard drive destruction services at your door, trust PROSHRED® San Diego. We also offer other types of shredding services, including regularly scheduled paper shredding and product destruction services, to small businesses in all industries looking to reduce clutter, manage data storage, and securely destroy confidential data in accordance with information security laws. For more information or to schedule a shredding service, give us a call today.