Sorrento Mesa Shredding Service
Having an information security plan is imperative in a world where identity fraud and data theft are a regular occurrence. Privacy laws and regulations can vary from state to state and from industry to industry, but the overall theme is that proper document handling, storage, and destruction is a crucial component of keeping your information safe from those who want to do you or your business harm. Whether you operate a small business or oversee a medical office, you need secure Sorrento Mesa shredding services that can meet your security needs.
Stay Compliant with Sorrento Mesa Mobile Shredding
Partnering with a local document destruction company like PROSHRED® is a convenient solution to protect the security of your business and your stakeholders' information. Several state and federal regulations stipulate that businesses and other entities must destroy sensitive documents, and we bring industry knowledge and expertise to help you securely dispose of unwanted and outdated confidential documents. To do this, we offer mobile shredding services in the Sorrento Mesa area. With this type of paper shredding service, one of our Customer Service Professionals will drive a mobile shredding truck to your location and destroy your documents on-site. Benefits of a Sorrento Mesa mobile shredding service include an efficient and easy process that doesn't disrupt your day. With affordable pricing and a focus on environmentally-friendly practices, this service is our most popular, and for good reason.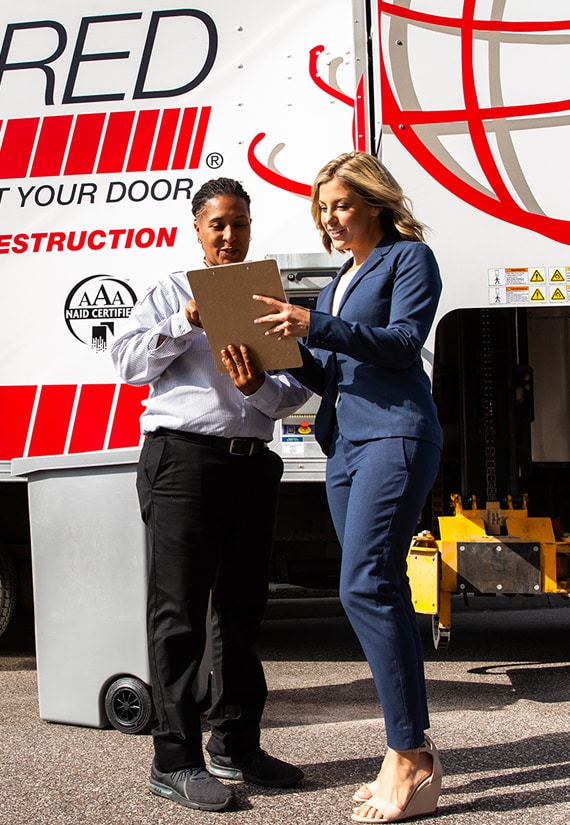 Affordable Sorrento Mesa Shredding
At PROSHRED®, we offer two different mobile shredding options: one-time shredding and on-going shredding.
One-Time Purge Shredding
Businesses and residents who need a one-time cleanout of their unwanted files can take advantage of our purge shredding service. Whether you need an annual, bi-annual, or one-time service, we can make quick work of your documents by bringing one of our state-of-the-art shredding trucks to your location. This way, you don't have to worry about loading up and transporting boxes and boxes of documents to an off-site shredding facility; we'll come to you and shred all of your papers fast and with the utmost attention to the safety and security of your information.
On-Going Shredding
With an on-going shredding service, we will work with you to assess your needs and determine the frequency of pickups you will require. We will provide you with the appropriate number of secure shredding bins and consoles to keep your documents safe between services, and utilize a touch-free process to destroy your documents right outside your door. Our Sorrento Mesa regularly scheduled shredding services are convenient, cost effective, and most importantly, completely secure.
Our Sorrento Mesa Information Security Services
At PROSHRED® San Diego, we offer a full suite of information security services outside of just mobile paper shredding.
Drop-Off Shredding
For residential clients and small businesses, our drop-off shredding services are a convenient way to shred small amounts of documents. You can witness the destruction of your papers at our facility and know that you have received the most secure service possible.
Hard Drive Destruction
When your hard drives have reached the end of their lifespan, complete hard drive destruction is necessary to ensure that none of the sensitive information stored on those drives is accessible to data thieves. We offer both off-site and on-site Sorrento Mesa hard drive shredding, and provide you with a detailed Certificate of Destruction for your records once the service is complete.
Document Scanning
Many companies are making strides to go paperless with their daily workflow. If you have documents you would like scanned and destroyed, we have solutions for you. We offer a variety of customized imaging solutions to help you gain easier access to your valuable information and decrease compliance risks.
Product Destruction
Protecting your reputation is essential to business success, so don't let recalled, damaged, defective, or otherwise unwanted products end up in the wrong hands. Having your uniforms, recalled products, expired security badges, and other items containing your logo properly destroyed with a product destruction service can mitigate security breaches that could damage your brand.
Convenient Sorrento Mesa Shredding from PROSHRED®
As a locally managed but nationally operated company, we have the resources to provide top-quality service with a personal touch. When you call our office, you will get a human on the phone who is ready to answer all of your questions without any runaround. We also take pride in ensuring our services are aligned with ISO 9001 and NAID AAA standards, so you are getting the best and most compliant shredding services available. For more information or to schedule a service, give us a call today!
Sorrento Mesa, CA Shredding Services
On-Site Shredding in Sorrrento Mesa
Scheduled Shredding Service in Sorrento Mesa
One-Time Shredding in Sorrento Mesa
Drop-Off Shredding Locations in Sorrento Mesa
Legislative Compliance
HIPAA Compliant
HITECH Compliant
GLBA Compliant
FACTA Compliant