Electronics Recycling service is Temporarily Unavailable at this time.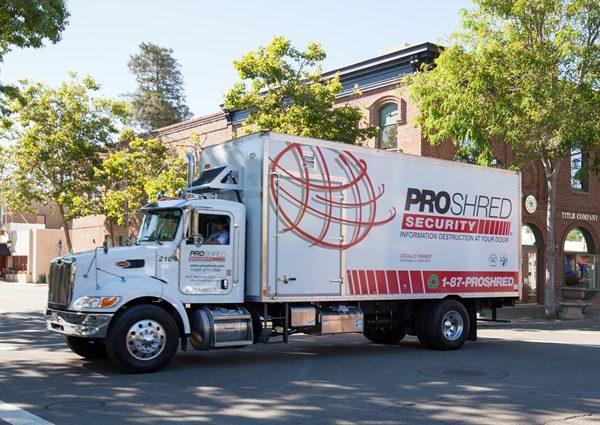 The amount of electronic media in the market has drastically increased over the last several decades. Both homes and the workplace are becoming heavily reliant on computers, cell phones, tablets, and other electronics. As new versions or models are purchased, the older versions must be properly discarded.
Keeping these items at your home or office can put your business at risk, as many electronic products store your information. Throwing them away also puts you at risk and is illegal in the state of California for several environmental reasons. Learn more about how PROSHRED® San Diego can help you with a professional electronics recycling service.
Why Using an Electronics Recycling Company is a Must
Some may view electronics recycling as unimportant or an unnecessary mess, but there are several distinct reasons your business should use an electronics recycling company. First and foremost, it is the law. Additionally, the chemicals and materials electronic devices are made of can cause great harm when these items are placed in landfills.
Heavy metals and toxic chemicals such as mercury, bromine, lead, and cadmium will negatively affect the surrounding environment and community. Protect your health and the health of those around you by recycling your electronics.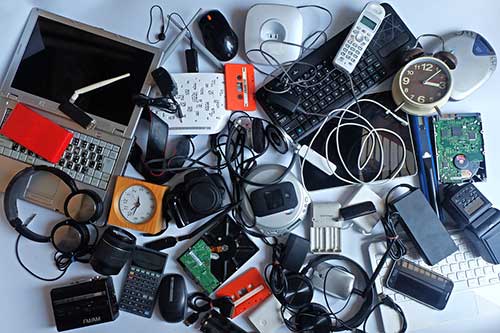 California Electronic Waste Recycling Act (EWRA)
Founded in 2003, the California Electronic Waste Recycling Act makes it illegal to throw away electronic devices. Those that are found placing electronic equipment in the trash, and ultimately landfills will face large fines of thousands of dollars. The amount of the fine your business experiences will vary depending on your violation and the length of the violation.
This law and its penalties were established to help business owners responsibly take the needed steps to have their electronic waste recycled properly.
PROSHRED® San Diego Electronics Destruction
At PROSHRED® San Diego, it is our goal to provide your business with the easiest and most affordable electronics destruction service. Our on-site destruction method for hard drives, memory units, and other electronic components will keep you in compliance with California laws and regulations, save you thousands of dollars in fines, and keep your information secure.
When company smartphones, tablets, laptops, or computers are not properly discarded, sensitive information can fall into the wrong hands. Companies must professionally destroy and recycle electronic equipment to protect their business and its reputation, clients and employees from unauthorized access.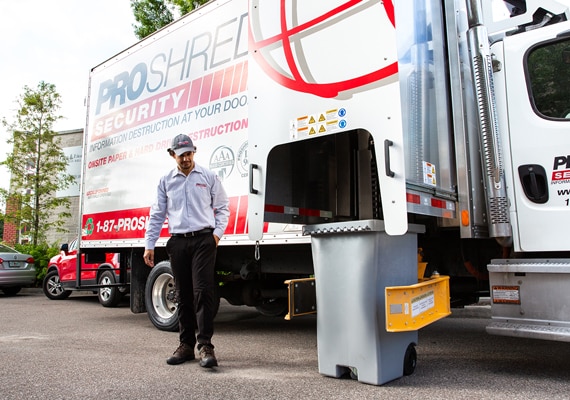 Recycle Your Electronics Today!
After properly destroying the information stored on your electronic materials, PROSHRED® San Diego partners with a local recycling agency to guarantee all of the dangerous components of your equipment are recycled and discarded.
Through this process, your electronics will be broken down and any material that can be recycled, such as nickel, gold, and copper will be sent to recycling while the rest is safely disposed. Our electronics recycling process ensures professional destruction and recycling of your electronic equipment and that your company meets legislative compliance and is using environmentally-friendly procedures.
FREE ELECTRONICS ACCEPTED:
Computers
Tablets
Computer Accessories
Cell Phones
Printers
VCR and DVD Players
Televisions
Speakers
Cords and Wires
Gaming Stations
Audio/Visual Equipment
**HARD DRIVE SHREDDING AVAILABLE $9.95/EACH
Laptops
Servers
Keyboards/Mice
Scanners
Monitors
Telephones/Telephone Systems
Stereo Systems
Projectors
Chargers and Cables
Modems & Routers
Fax Machines
ITEMS NOT ACCEPTED:
Batteries
Printer Cartridges
Small Appliances
Household Appliances
Paint
Toxic Materials
Light Bulbs
Microwaves
Vacuums
Exercise Equipment
Car Batteries
While we can recycle most electronic equipment, we cannot accept television sets. For a full list of items we can destroy and recycle, to schedule a service, or to learn more information, contact us today at 1-858-492-9600.