March 13, 2018
PROSHRED® Protects You and the Environment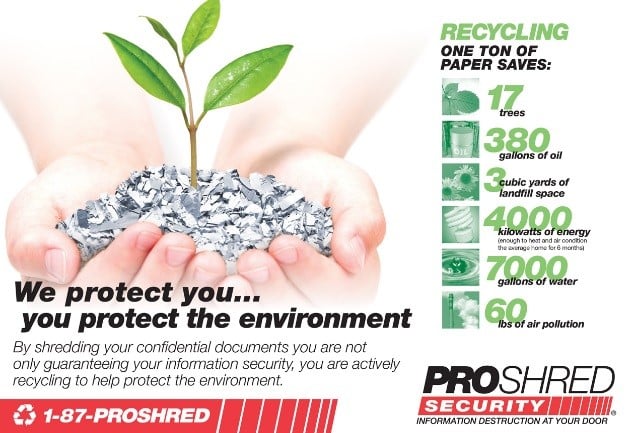 PROSHRED® takes care of your secure documents by shredding them, but did you know that you are also helping to protect the environment when you use Proshred?
It's true, PROSHRED® Security takes all the shredded material and recycles it.
Once material is shredded, shredded material is then taken to a certified recycler here in San Diego.
The biggest question I get from my customers is "what exactly happens to the shredded material in the recycling process?"
Once it leaves our trucks, the material is separated and sent to a pulp factory, where it is mixed with hundreds of thousands of gallons of water.
The pulp is then sterilized and then sent to the paper making machine where the pulp is sprayed on to a moving screen.
The excess water is removed, leaving only the paper.
Once dried, the paper is then cut to specific sizes, packaged, and shipped to be made into different paper products like newspapers, copy paper etc.
To find out how much paper you are saving when you use PROSHRED®, look on the copy of your invoice/ certificate of destruction and on it you can find the environmental impact statement.
It calculates how many trees you have saved based on the number of lbs. worth of material we shredded for you.
Usually about 10 boxes worth of material is saving about 2 trees worth.
Thank you for stopping by, hope you learned a little something new.
Join me next month as I talk to you a little more about the Do's and Don'ts of scheduled shredding services.