August 25, 2020
Why Document Security during Covid-19 should be a concern and what to consider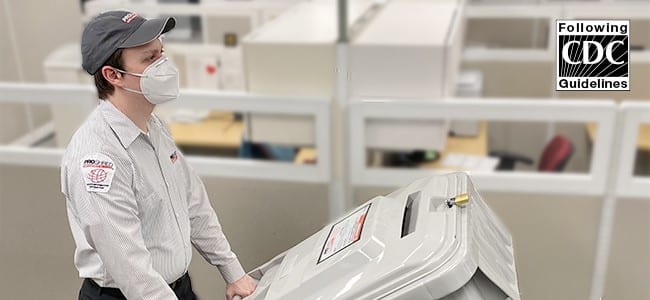 The last few months have seen changes in the ways we work. For the office worker, the lawyer, the accountant and many white collar employees, offices may never be the same again. Remote working, home offices and buildings shuttered or partly staffed, is now the "new norm"! Low on many companies' concerns is their document security. While many have hosted servers, firewalls in place, phones on forward, few are considering the security of the documents they still print. Yet our society is still not paperless.
Security for these documents, particularly their destruction, should not fall by the wayside. Companies need to update physical data destruction procedures and processes to ensure data security at the tail end of the information flow is properly handled. Data breaches cost companies tens of thousands of dollars and can harm a company's reputation.
There are multiple solutions for companies to choose from.
Where an office already has a document destruction scheduled service, staff should know the calendar of service dates, make sure they visit the office prior to the date to drop off their documents in the secure containers and make sure on the date of service, the office is staffed by at least one employee and the shredding company aware of how to access the building.
An alternative is to choose a company like PROSHRED® that offers home office shredding and set up a schedule for those who produce documents in their home. Having a Certificate of Destruction for those locations is proof that procedures are in place. Shredding at home using a small, stand-alone shredding machine, with the maintenance and disposal of shredded paper is not cost effective long term. If not followed diligently in accordance with company policy, in the event of a data breach there is no proof the employee or professional followed the correct procedures to dispose of sensitive information. This could result in a costly lawsuit for the Company and damage to its reputation.
Where scheduled service has never been an option, whether due to retention dates or relatively low paper volume, purging should still take place. Documents past their retention date, or support paperwork no longer needed, should be destroyed in a timely manner. Again, staff should be aware of the one-time purge date to enable them to take advantage and dispose of their material in a secure manner. PROSHRED® can also come to the employee's home not just their place of business to perform the needed purge.
Remote working can be a safe and cost-efficient option for many businesses both during the pandemic and after. Companies data destruction procedures need to evolve as well. We at PROSHRED® are here to help you update your processes and to keep your data safe and your company's reputation secure. Please contact us at 1-87 PROSHRED. Our staff are ready to help.