Secure Collection Equipment
Our specially-designed office consoles are made to look like office furniture. They can be placed anywhere in your office for easy access and are installed free of charge with a regularly-scheduled shredding routine. And rest assured, PROSHRED® makes it simple for your employees to use the consoles; forget separating staples and paper clips – PROSHRED® will handle that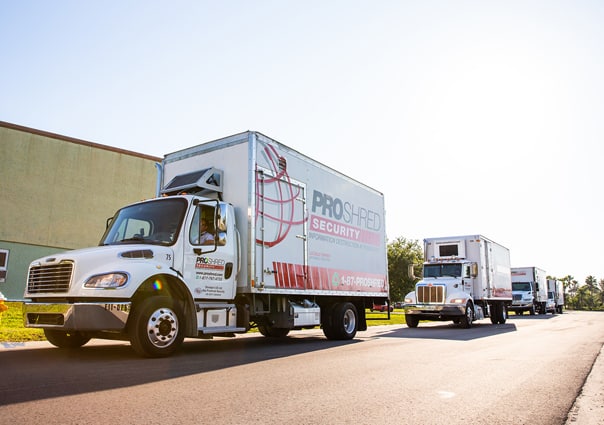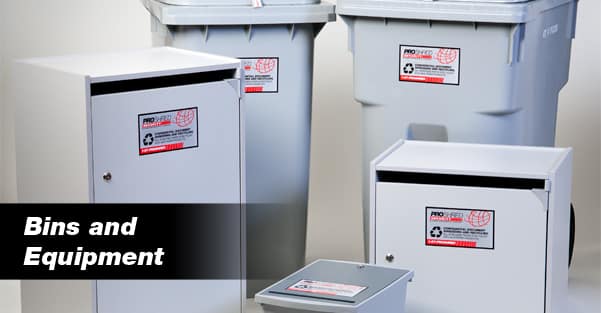 The Executive Console [Largest]
The Executive Console is large enough to handle most office requirements and can even serve as additional tabletop space.
Dimensions: 36"H x 21 1/2"W x 16"D
Capacity: 70-80lbs
The "Shredinator" 27" [Medium]
The Shredinator is a space saving option popular for home offices or as an add-on in situations where clients want additional convenience but lack the space for multiple Duraflex Consoles. It resembles a standard-sized trash console and is slim enough to be tucked away or placed under a 30" desk.
20 Gallon Size; Dimensions: 11"L x 20"W x 27"H
The Personal Desk Console [Smallest]
The PDC is small and compact enough to fit underneath a desk space comfortably. Only offered as a service add-on, it is particularly popular with medical facilities that need HIPAA compliance in multiple areas.
9 Gallon Size; Dimensions: 16.75" L x 12" W x 13.25" H
Holds up to 30 lbs.
Shredding Bins
Our bins are designed for maximum efficiency and convenience. Featuring high capacity and wheeled bases for maneuverability, these secure containers are the largest on-site shredding receptacles provided by PROSHRED®.
Large, wheeled, locked containers are a perfect solution for high-volume areas of the office like the mail room and copy room. They're efficient and attractive.
64 Gallon Bin
Capacity: up to 220 lbs.
Dimensions: 42″H x 23″W x 29″D
96 Gallon Bin
Capacity: up to 330 lbs.
Dimensions: 46″H x 24.5″W x 34″D