September 7, 2023
How To Pick The Best Delaware Paper Shredding Company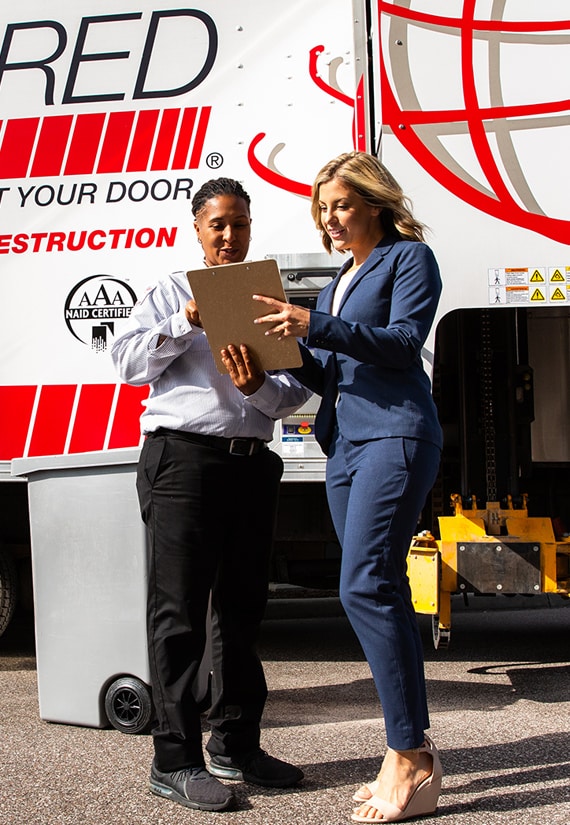 When it comes to keeping your personal or business documents safe and secure, paper shredding is a key component of any data protection plan for Delaware-based businesses. Choosing the right local Delaware paper shredding company isn't always an easy task. It can become overwhelming trying to figure out which one is best suited for your needs and budget. Making the right decision can be critical to protecting your reputation and assets. The good news is that by looking out for these key qualities, you can confidently select the right company for your paper shredding requirements! Keep reading to discover exactly how you can pick the best Delaware paper shredding company and the best way to shred paper.
Understands Compliance Laws
As one of the most professional paper shredding companies, PROSHRED® knows that certain industries have strict rules and regulations when it comes to document destruction. We understand these compliance laws are for every industry, including medical fields, law offices, financial companies, government facilities, and even businesses.
Good Hiring and Staff Training
PROSHRED® Delaware is made up of some of the finest employees in Delaware. Not only do we hire the best candidates, but we have hands-on training to ensure their success. This includes being knowledgeable of industry standards, proper shredding procedures, and above all else customer service. Mobile paper shredding companies like ours have consistent routes, allowing customers to become familiar with their paper shredding technicians and develop a trusting relationship.
NAID AAA and ISO 9001 Certified
NAID AAA is the standard in the secure data destruction field, offering certifications to only the most trusted and capable paper shredding companies. PROSHRED® is proud to be among the few mobile paper shredding companies to be both NAID AAA certified and ISO 9001 Certified by NSF-ISR.
Secure Shredding Start to Finish
One of the most important steps in secure shredding is to keep a secure chain of custody of your confidential documents from collection to destruction. The chain of custody starts at your office with your employees placing any sensitive materials into a secure bin or console that PROSHRED® will provide based on your needs. Our highly trained technicians will come to your office and shred everything right in the parking lot. You can observe to keep the secure chain of custody and ensure that your documents have been properly destroyed.
Certificates of Destruction
With every shredding event, you'll receive a Certificate of Destruction. A certificate of destruction is a formal document that serves as proof that confidential or sensitive documents have been securely shredded and disposed of in compliance with privacy regulations. It serves as tangible evidence that your sensitive documents have been properly and securely disposed of, ensuring compliance with privacy laws and regulations. This certificate also demonstrates your commitment to data protection, which is crucial in maintaining trust with clients, partners, and employees.
On-Site Shred Service
On-site paper shredding offers a range of benefits for businesses and individuals. It provides a heightened level of security, as sensitive documents are shredded right in front of you, minimizing the risk of data breaches or unauthorized access. On-site shredding ensures convenience and control, as you can schedule the shredding process at your preferred time and location, optimizing workflow efficiency. Another alternative is to organize a shredding event, offering private or community access to mobile shredders for the secure destruction of a large volume of papers and other materials.
Trusted Reputation and Reviews
When choosing a paper shredding company, prioritize those that offer transparent pricing and no long-term contracts. It's important to assess their reputation by reviewing customer feedback and testimonials to gauge their past performance. This will give you a clearer idea of the level of service to expect, including their responsiveness, quality of work, and professionalism.
Choose to Work with Delaware Paper Shredding Company
When it comes to keeping your company's confidential information safe, there's no room for error. That's why it's important to choose a trusted, reliable, and professional Delaware paper shredding company. With PROSHRED®, you can rest assured that your sensitive documents are being handled with care and professionalism. Not only that, but our commitment to providing excellent customer service means that you'll always have a clear line of communication with our team. So why settle for anything less when it comes to the security of your company? Choose PROSHRED® Delaware to ensure that your confidential information remains confidential.