November 30, 2021
Your Paper Shredding Questions, Answered
It's natural to have a lot of questions when it comes to paper shredding and how to best protect your documents. After all, it's your private information that is at risk should documents containing confidential data fall into the wrong hands. At PROSHRED® Delaware we believe that there should be full transparency when it comes to paper shredding. That is why we have put together a list of the most common questions our customers have about shredding.
What materials should you shred?
In general, you should shred any paper products that contain personal information that can potentially be used against you, your company, or your clients/patients. This includes items that have names (maiden names as well), addresses, phone numbers, emails, account numbers, driver's license numbers, birthdates, passwords or PINs, signatures, or Social Security Numbers (SSNs).
When documents that contain this information are simply thrown away, identity thieves can look through your dumpster and use the documents for nefarious purposes. These items include, but are not limited to:
Expired passports and visas
Utility bills
ID cards that are no longer valid
Copies of important documents like marriage, birth/death certificates
Billing statements for credit cards
Travel itineraries and airline tickets
Paid (and undisputed) medical bills and records
Legal documents
Resumés
Old photographs that you plan on tossing out
Sales receipts
Old pay stubs
Report cards
Canceled and voided checks (that aren't tax-related)
Junk mail like credit card and insurance offers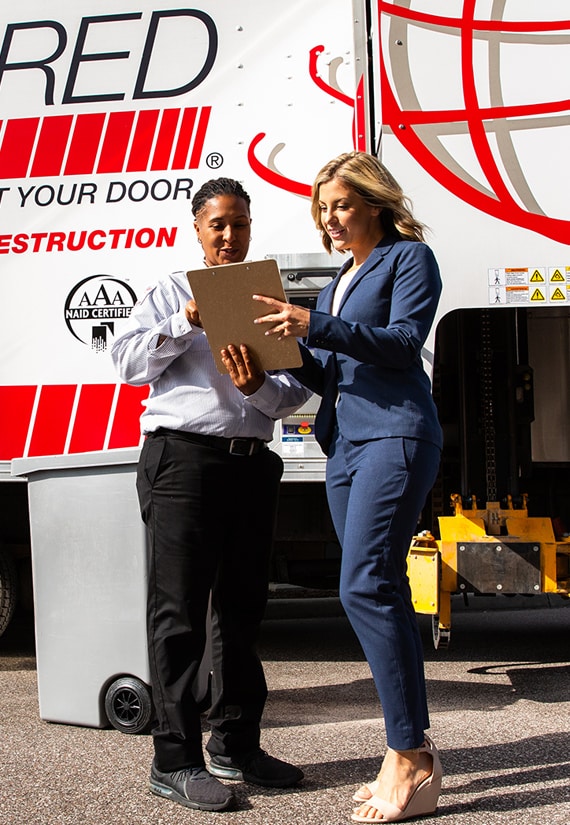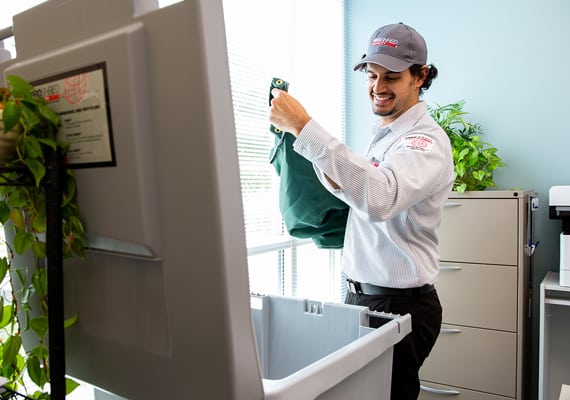 Can you shred paper with staples?
In short, yes! Paper fasteners, such as staples and paper clips, can be easily shredded by the industrial shredders housed inside PROSHRED®'s mobile shredding trucks. Once the documents have been shredded, they will be taken to a recycling facility, where magnets are used to remove the metal from the paper debris.
This means that you don't have to waste any time making sure that all of your staples have been removed from the documents before shredding. However, things like binder clips and hardcover books, planners, or portfolios cannot be put through the machine. In addition, don't shred plastic covers and x-rays, as they cannot be recycled.
Can you recycle shredded paper?
Intact, uncontaminated paper can be recycled at your local recycling facility, but it is not recommended that you put shredded paper in the recycling bin. Instead, if you shred paper at home, it must be thrown in the trash or repurposed for other things, such as filler for packaging, fodder for compost, or even making your own recycled paper.
By far the best way to recycle your sensitive documents is to invest in a mobile paper shredding company such as PROSHRED®. With our paper shredding services, you never have to worry about recycling your paper. Once your files have been destroyed, our secure trucks will transport the scraps to a recycling center where they will be used to create new paper.
Can you shred a hard drive?
When you need to dispose of old, outdated computers and other devices, wiping the hard drive is just not enough to protect your data. Hackers can easily recover deleted information from the drives and use it against you, your company, or your clients/patients. Though it may come as a surprise, hard drives can also be shredded. The hard drive destruction process at PROSHRED® Delaware renders the data unrecoverable by leaving the hard drive in pieces before recycling the precious metals inside.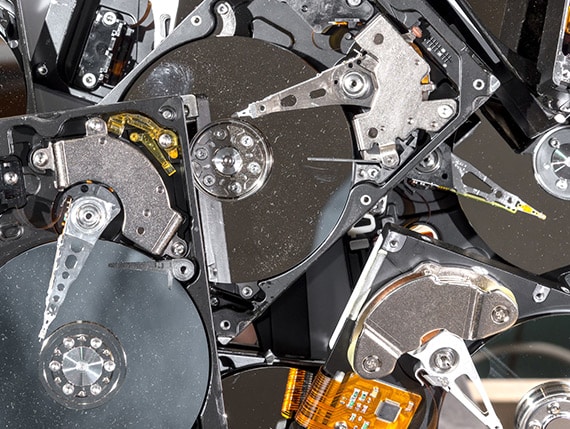 How to shred paper quickly?
The quickest way to shred your unneeded documents is to hire an on-site document destruction service. A mobile shredding company will come to your location in a state-of-the-art shredding truck, collect your items, and dispose of them before ever leaving your facility.
As business owners are well aware, small in-office paper shredders are noisy, take time to operate, and can jam frequently, causing employees to spend even more time shredding sensitive documents. By choosing to rely on the shredding professionals at PROSHRED® Delaware, you can spend more time doing important work while leaving document destruction to us. Our trucks can cut through an average of around 2 tons of material per hour, shredding copy paper-sized sheets into nearly 200 pieces.
What if I only need service one time?
If you have a backlog of outdated documents that need to be disposed of safely but do not have the need for an ongoing, regularly scheduled service, you can benefit from a purge shredding service. Purge shredding is perfect for those small businesses or homeowners who would like to do an annual clean-up.
The team at PROSHRED® Delaware can meet you at your location, whether it be your business, home, or even your storage unit, and quickly shred all of your old files. Unlike other mobile shredding companies, PROSHRED® does not charge fees for mileage or fuel.
Get Secure Paper Shredding with PROSHRED® Delaware
We know that trusting someone else to take your documents and shred them can be daunting. That's why the team of data security experts at PROSHRED® Delaware has created a system of secure paper shredding that leaves you without a doubt about the safety of your information. With our proven process, you can rest easy knowing that your data has been properly disposed of without the chance of it falling into the hands of identity thieves.
PROSHRED® Delaware is committed to the security of your data, offering a live view of the shredding process and providing a Certificate of Destruction upon completion. This way, you never have to worry about your documents again. To get started, contact us today!