July 28, 2022
5 Ways to Protect Your Data While Returning to the Office
The COVID-19 pandemic has forced many businesses to temporarily close their doors and send their employees home to work remotely. However, as the world continues to reopen, many companies are starting to bring their employees back into the office. While this is a welcome return to normalcy for many, it also comes with some risks. One of the biggest risks is data security. Luckily, our team at PROSHRED® understands the importance of data security, and we're here to provide five steps that your business can take to protect your sensitive data.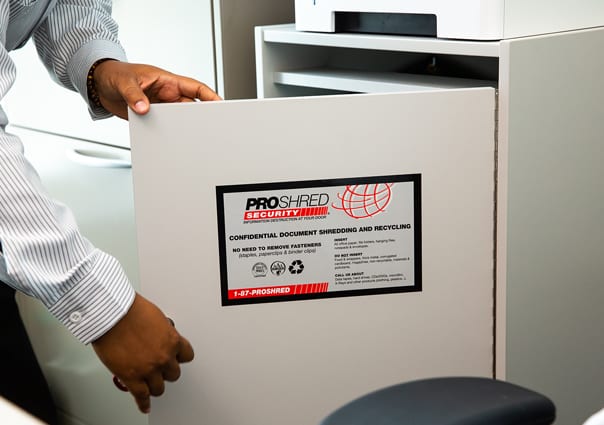 Review Existing Data Security Policies
When returning to the workplace, it's important to review your company's data security policies to make sure they're up to date and effective. First, consider the types of data your company collects and stores. This includes customer data, financial data, employee data, and any other sensitive information. Next, identify the potential threats to this data, including hacking, phishing, and social engineering. Then, put in place appropriate security measures to protect against these threats. This might include encrypted storage, access controls, and regular training for employees. By taking these steps, you can help to ensure that your company's data is safe from harm.
Update Existing Employee Training Programs
As employees return to the workplace, it's essential to update existing employee training programs regarding data security. Data security is an ever-evolving field, and new threats can emerge at any time. By ensuring that employees are up to date on the latest data security threats and best practices, businesses can help protect themselves from costly breaches. Furthermore, regular employee training can help to create a culture of security within the organization, making it more likely that employees will follow proper protocols and report any suspicious activity. By investing in employee training, businesses can create a safe and secure working environment for all.
Encrypt Your Sensitive Data
Sensitive information, such as customer data and financial records, can be a valuable target for criminals. If this information falls into the wrong hands, it could be used for identity theft, fraud, or other malicious activities. That's why it's crucial to encrypt your company's sensitive data. Encryption is the process of transforming readable data into an unreadable format. This ensures that only authorized individuals can access the information. There are many different encryption algorithms available, so it's important to choose one that is reliable and difficult to crack. Implementing a strong encryption strategy can help to protect your company's sensitive data from unauthorized access.
Monitor and Audit Employee Activity Regularly
Monitoring employee activity is an important part of any security plan. By keeping track of what employees are doing, you can help to prevent accidents and unauthorized access to sensitive information. There are a variety of ways to monitor employee activity, and the best approach will vary depending on your specific needs. However, some general guidelines can help you get started.
First, consider what type of activity you want to track. For example, you may want to monitor email usage, internet browsing, or file transfers. Next, decide who will have access to the monitoring data. This will ensure that only authorized personnel can view the information. Finally, establish a schedule for auditing the data. This will help you to ensure that the monitoring system is working as intended and that any unusual activity is properly investigated. By following these steps, you can develop an effective plan for monitoring employee activity.
Update Your Software and Anti-Virus Systems
Hackers are constantly finding new ways to exploit weaknesses in software and systems, so it's essential to stay up to date with the latest security updates. For businesses, this means regularly updating software and anti-virus systems to protect sensitive data. Failing to do this could leave your company open to a cyber-attack, with potentially devastating consequences. By keeping their systems up-to-date, businesses can help to protect themselves against the latest security threats.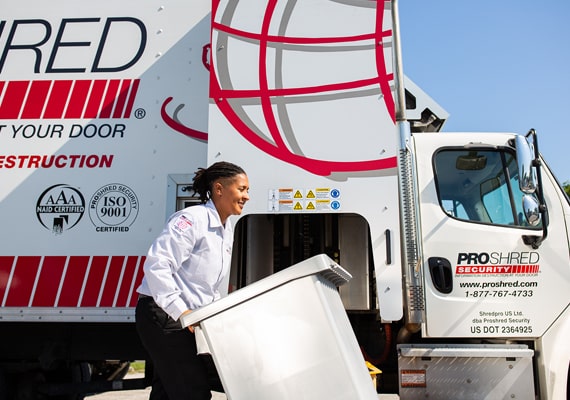 Protect Your Company's Sensitive Data with PROSHRED®
At PROSHRED® Delaware, we understand the importance of data security. Every business has different data security needs, which is why we offer a variety of services that can be customized to meet your specific needs. Whether you need one-time shredding for a small volume of sensitive documents or ongoing shredding for a large volume of documents, we can help. We also offer hard drive destruction services to ensure that all sensitive information on your old hard drives is destroyed. Contact us today to learn more about our shredding and hard drive destruction services and how we can help protect your company's data.