May 18, 2021
Everything You Need to Know About Mobile Shredding
If your idea of paper shredding is using a small, noisy office paper shredder to slowly cut paper into strips while you sit and feed the documents through, it's time to enter the 21st century. Shredding has come a long way since the days where every office had to have its own shredding machine in order to stay organized and compliant with information security legislation.
Today, mobile shredding services offer a more convenient, secure method of destroying sensitive documents, and the best part is, you never have to leave your office or warehouse to have access to quality, high-security paper shredding services.
What is mobile shredding?
Mobile shredding has been around for a few decades, and refers to the process of a technologically-advanced shredding truck visiting your location on a routine basis to collect and shred documents on the spot. This can be done on an on-going basis or as a one-time purge. The bulk of our customers at PROSHRED® Delaware are businesses that need on-site, routine mobile shredding on either a daily, weekly, or monthly basis.
When you sign up for mobile shredding, you don't have to lift a finger when it comes time for shred day. A truck will come to your door and one of our customer service professionals will come inside to collect your secure bins. All of the papers will be securely destroyed on-site: you can even watch from your door or window! We also provide clients with a Certificate of Destruction for their records, which details the service received and the date and time the documents were shred.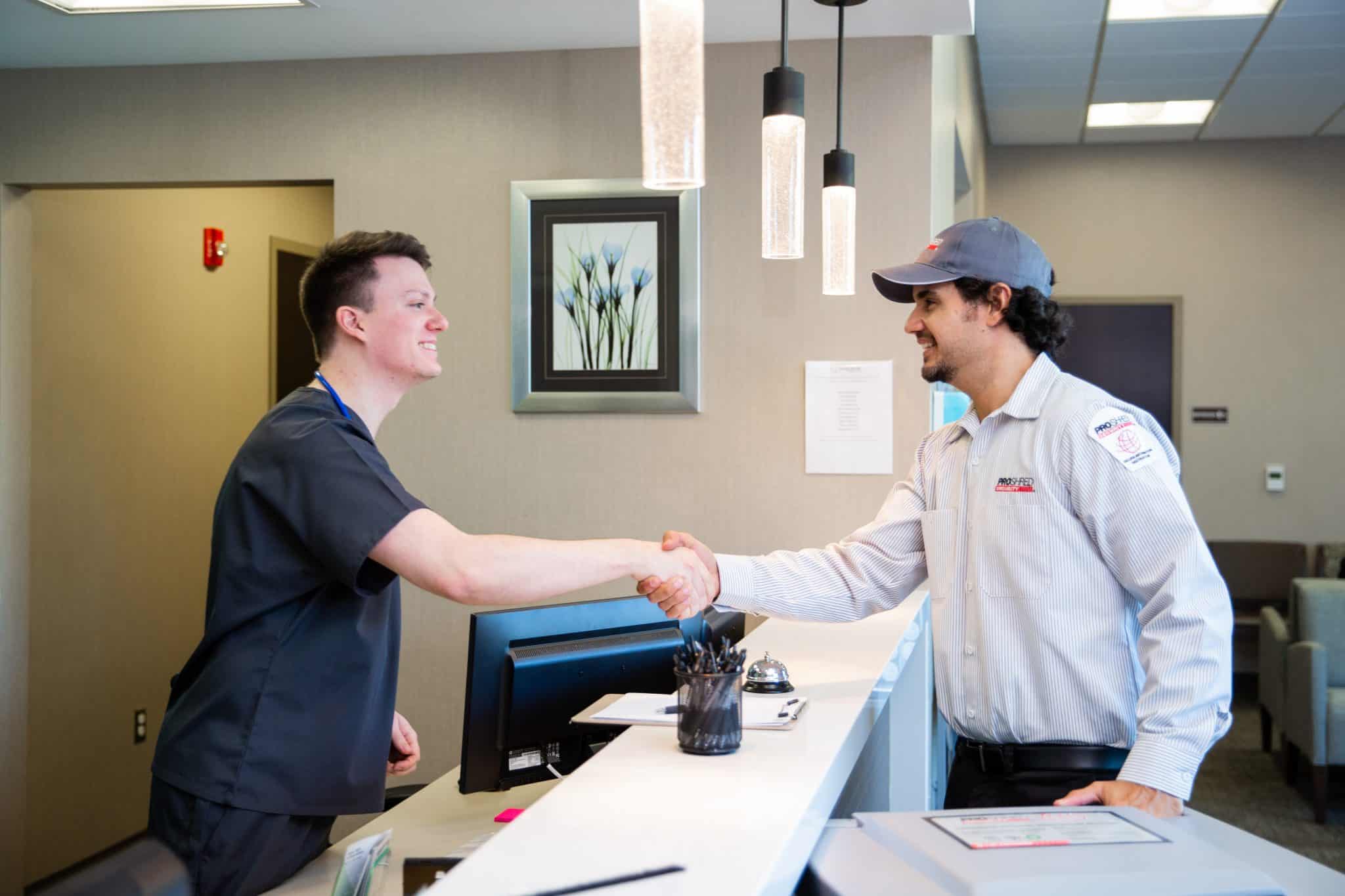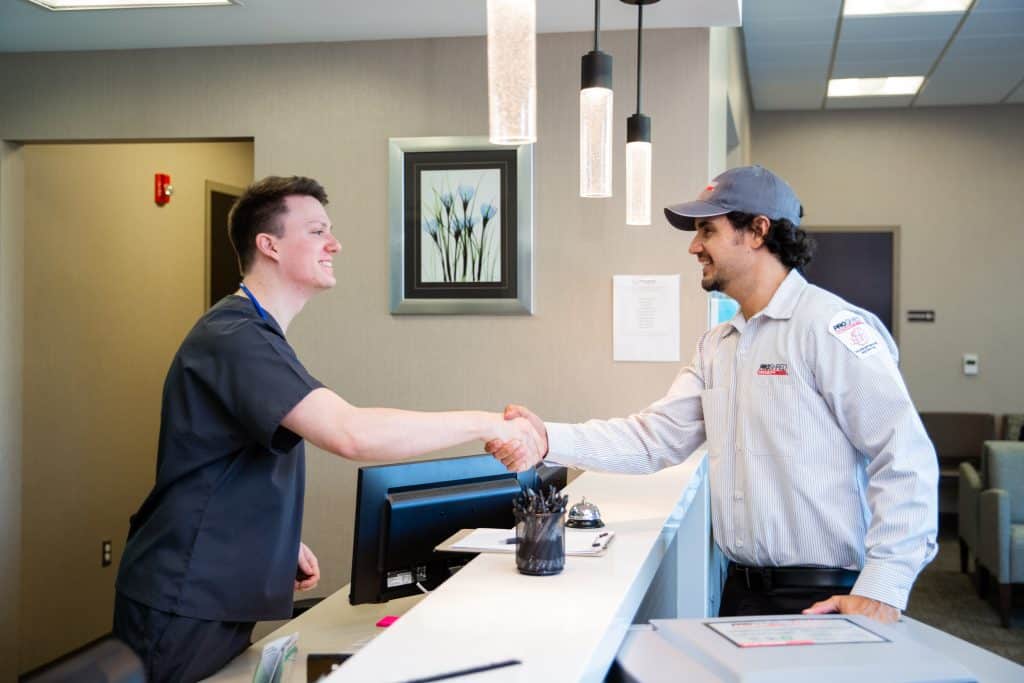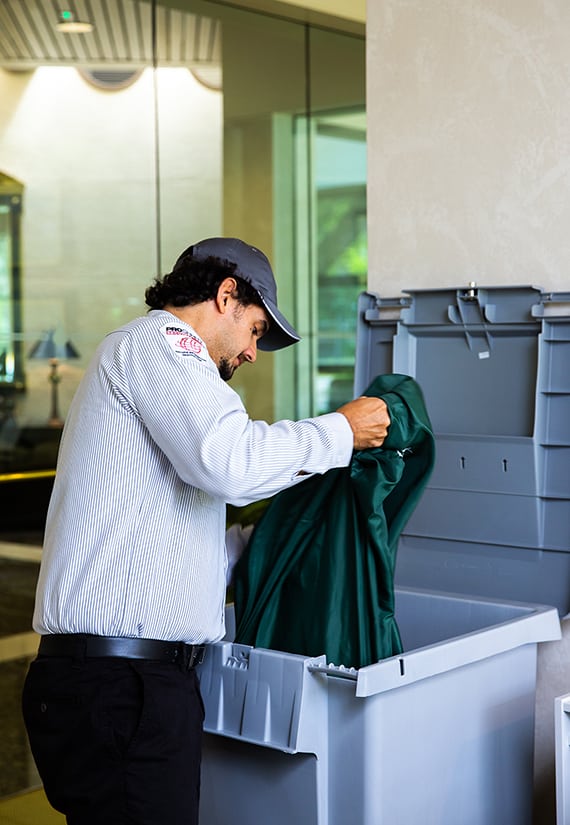 What are the benefits of mobile document shredding?
The benefits of mobile document shredding services are many. Firstly, it takes the burden of this time-consuming task off of you and your employees. Office shredders can't handle very large amounts of paper at once, making the process slow and cumbersome. A mobile shredding truck can destroy thousands of documents within minutes, making the process extremely efficient.
Mobile document shredding is also more cost-effective, as your company won't have to spend money maintaining a shredding machine. No employee labor time will be lost to this menial task, and with no fuel surcharges or hidden fees, this service has been called a game-changer by many of our clients.
Perhaps most importantly, mobile shredding from PROSHRED® Delaware is simply more secure than office shredding. For one thing, our employees will never physically touch the documents that are placed in the secure shredding bins. You also don't have to worry about your employees stealing information from other departments or taking confidential documents they shouldn't have access to. While we know you do your due diligence in hiring, there are some documents that need to be seen by as few eyes as possible, and mobile shredding eliminates the need for anyone in the company to handle sensitive documents that have been marked for destruction.
In addition, our mobile shredding trucks shred paper into a much more secure shred size than any home or office paper shredder could. A typical office shredder cuts an 8.5"X11" piece of paper into around 40 particles, while a professional shredding machine can cut the same piece of paper into nearly 200 particles!
How does a mobile shredding truck work?
As we've explained, mobile shredding trucks pull right up to your location for easy and convenient shredding that's just as secure as it would be at a large off-site facility. A customer service professional will use a key to unlock the shredding consoles in your office and take the removable bins directly to the shredding truck, where a mechanical arm dumps the papers into the industrial shredding machine.
These high-performance shredding machines can destroy large volumes of paper with ease. No need to remove staples or paperclips from the documents beforehand; our shredders can handle it. A mounted screen on the side of our trucks allows you to watch the paper being shredded in real time. When the shred job is done, the paper will be taken to a secure recycling facility to be turned into brand new paper products.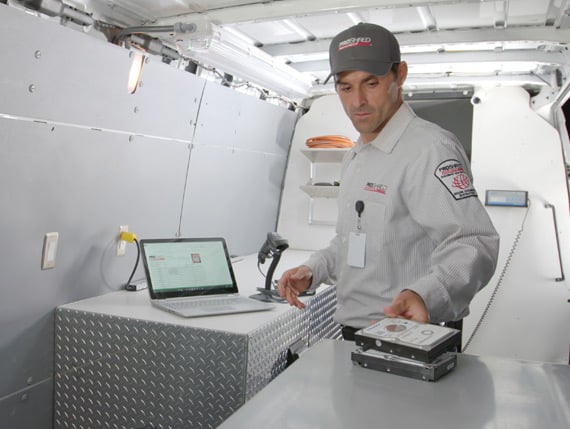 Industries That Use Mobile Shredding to Stay Compliant
Today, companies in every industry are aware of the need to stay compliant with privacy laws, as well as the importance of keeping sensitive information out of the hands of those who could do your company, your employees, and your clients harm. That's why we offer business shredding services to large businesses of all kinds; your security is our top priority. We provide mobile shredding services to the following businesses, to name a few:
Medical Record Shredding: doctors offices, hospitals, surgery centers, dentists, pharmacies, nursing homes, psychiatrists, psychotherapists, physiotherapists, chiropractors.
Legal Record Shredding: law offices, government offices, courts, detention centers.
Financial Record Shredding: banks, financial advisors, insurance agencies, stock brokers, online merchants, retail companies.
Home Office Shredding: Home-based businesses, freelancers, remote employees.
Get Mobile Shredding Today from PROSHRED® Delaware
At PROSHRED® Delaware, we help businesses and home-based workers maintain compliance with security legislation and keep private information out of recycling bins and trash cans. If you own a business and are concerned about protecting your reputation and public image, mobile shredding is the solution you've been looking for. Contact us today to learn more about our on-going shredding services as well as our other information destruction services and to get a free estimate! 1-302-433-6610