One-Time Cleanout & Shredding Service in New York
Need to securely dispose of and recycle sensitive documents from your home or business? PROSHRED® New York offers a one-time cleanout for all papers, binders, files, and more. Service happens conveniently at your location, where our trucks equipped with industrial mobile shredders come to you and perform the job onsite. Capable of destroying tons of paper in minutes, our shredders can handle every job from a few boxes to an entire office or warehouse full of papers. Have a need for regular service? Consider an ongoing-shredding agreement. Please contact us for a free quote today.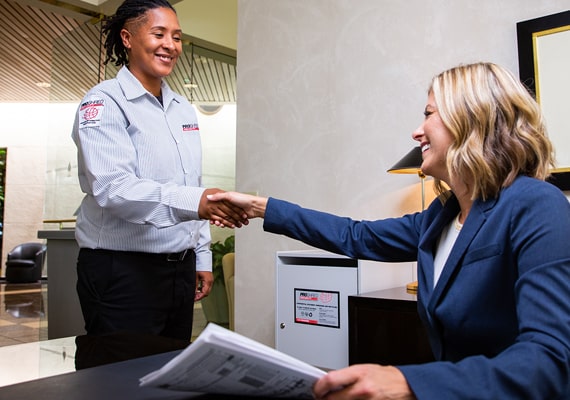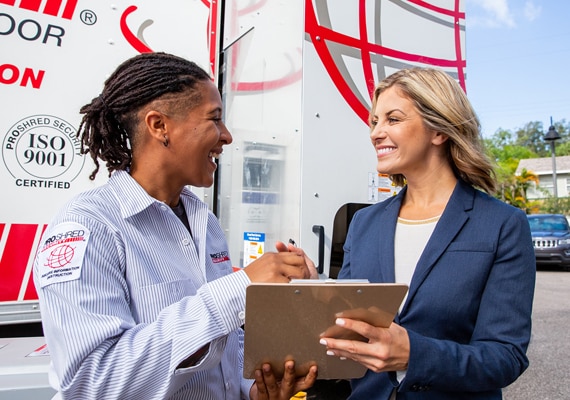 No Hidden Fees for Shredding Services
Why spend more than you have to for a one-time cleanout? PROSHRED® New York charges no hidden fees on any of our residential or commercial shredding services. Some shredders in New York charge fuel or even city parking fees. We don't. The price we quote is what you pay. We also have no contracts for our one-time clients, so you get the shredding service you need with no strings attached. You'll also receive a certificate of destruction to show proof that your documents were destroyed in compliance with current privacy laws and standards.
Our Mobile Shredders vs. Traditional Shredders
Throwing away papers into a trash or recycling bin presents a security risk for breaches like identity theft. At PROSHRED® New York, we encourage all of our customers to shred and destroy all sensitive materials. A traditional shredder doesn't compare to the service we provide, however. Most traditional shredders only cut the paper into strips, which isn't adequate protection. Our mobile shredding trucks use cross-shredding for full destruction. We also have a secure chain of custody and a "touch-free" process, so rest assured your documents will never wind up in the wrong person's hands.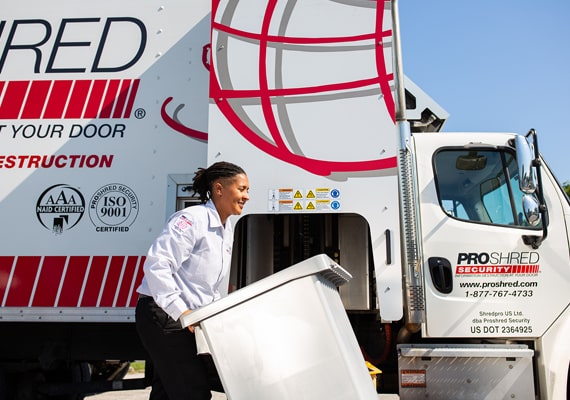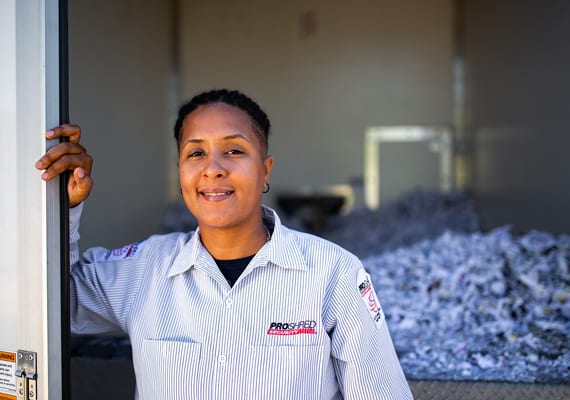 We Recycle 100% of Paper Waste
Our one-time shredding services let you to dispose of personal or business documents securely and responsibly for the environment. We partner with local recycling providers in New York to make sure 100 percent of the paper waste we create gets processed. We can even shred hard drives and recycle electronic waste.
Schedule Convenient One-Time Shredding Service
PROSHRED® New York has a team of professional document shredders who can be available for one-time services based on your schedule. Contact us for a free quote today.
One-time shredding services are great for when you have a lot of sensitive information that you need destroyed all at once. Letting a professional shredding service take care of this is the safest and most environmentally sustainable way to dispose of old documents.