Document Scanning Services
PROSCAN® Solutions provides organizations with the tools they need to digitize, retrieve, and safeguard their paper records. We can minimize your document storage and retrieval expenditures by automating processes so you can focus on expanding your business.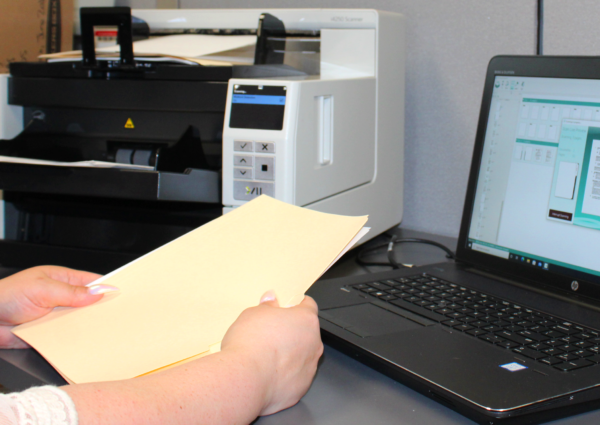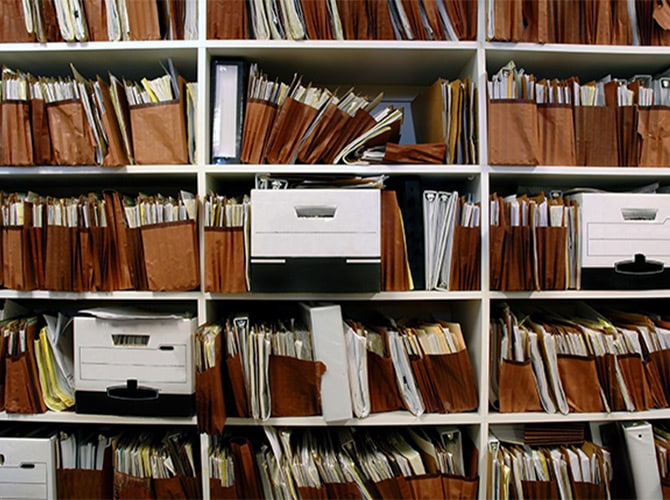 What Are Document Management Solutions?
Document management includes scanning services and management solutions to assist in the organization of your company's operations regarding retrieval, sharing, and security. Our scanning services methods are designed to assist your business to reduce its document storage and retrieval expenses while also increasing productivity and efficiency. We know that you need solutions that are flexible and scalable for document management and at PROSCAN® Solutions, we'll work with you to improve your organization's efficiency and growth. 
Benefits of Document Management Solutions
Reduce Physical Storage 
Scanning and managing your documents is a breeze with our document scanning and management solution. This service can help you save thousands of square feet of space while also removing office clutter. To top it off, you'll be able to access files right from your desktop, tablet, or smartphone. 
Find Documents in Seconds 
The days of hunting for paperwork are over. Our document management systems provide you with the information you need in only a few seconds. Our indexing and stand OCR scanning also allows your documents to be searched by file names, allowing users to search for specific terms within them. 
Share Documents Easily 
Overpaying on communication infrastructure can be a thing of the past. Document management has never been easier, more efficient, or more reliable. Employees at many locations can now access the same materials digitally and those files may be exchanged in a matter of minutes with all of your clients and vendors. 
Increase Compliance 
Paper records are susceptible to being stolen or seen by those without authorization. They're also vulnerable to loss and deterioration. Electronic document management allows you to store papers safely while maintaining compliance with state and federal regulations through electronic document management.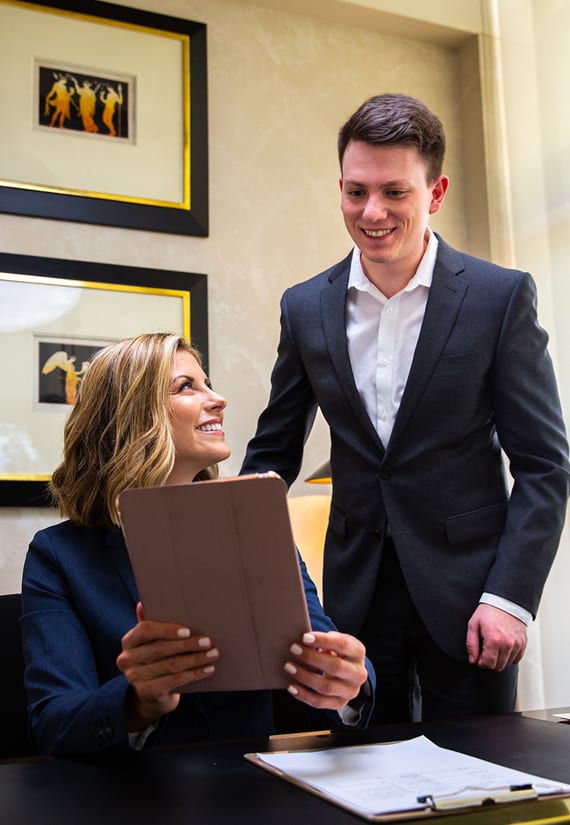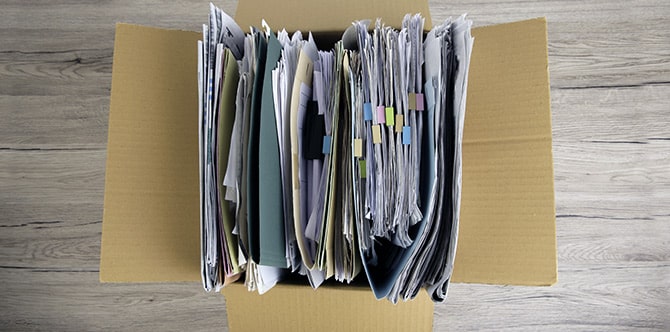 Industries We Serve
Customer files are immediately accessible, allowing for more time during consultations. Additionally, time-consuming and costly paper processes are replaced by digital workflows that are streamlined, efficient, and compliant. 
Secure access to patient files away from the office or during an examination room visit without the need for space-consuming record storage. Automated workflows for insurance claims, pre-authorizations, and referrals free up staff time to focus on patient care. 
Documents may be shared among multiple employees, saving time that would otherwise go toward billable hours. Automated workflows for client intake, discovery, and case management increase efficiency and compliance. 
And more!
Why Choose

PRO

SHRED®

New York
For Scanning
PROSCAN® Solutions is a document scanning and imaging firm that provides everything you need to get your job done correctly the first time. Through our parent company, PROSHRED®, we provide additional document management services including database creation, copy and print services, and secure document destruction. 
Our main goal is to assist companies in reducing costly storage and retrieval expenses while simultaneously improving office productivity and efficiency. PROSCAN® Solutions understands that each company's requirements are different. That's why we offer: 
A knowledgeable team

 

Free, no-obligation consultations

 

Quick, professional, and secure solutions

 

Competitive pricing based on your needs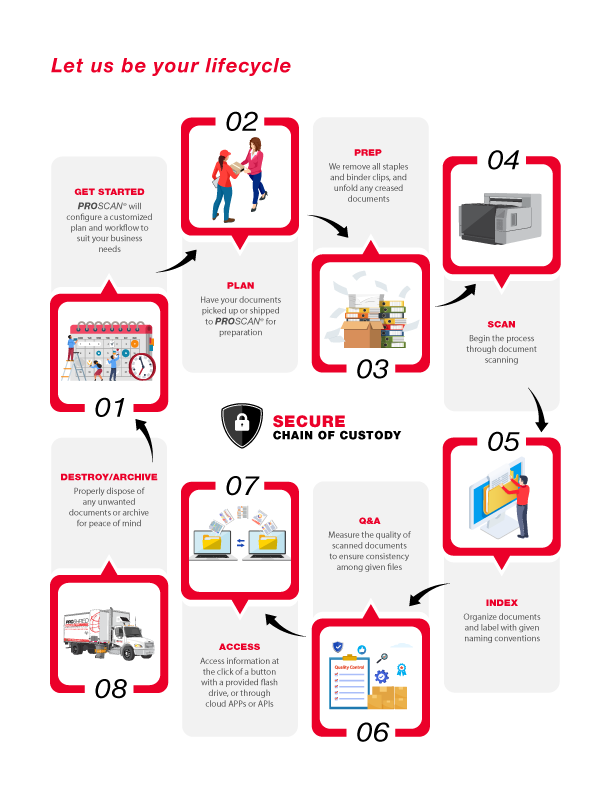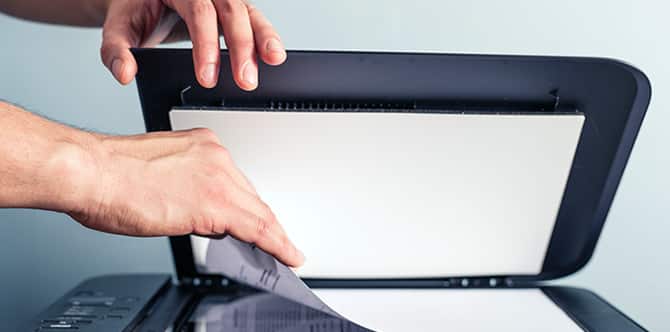 How We Benefit You
Current Technology 
At PROSCAN® Solutions, we are committed to safeguarding your privacy and delivering value along the way. Our staff stays on top of the most recent technology so you can get state-of-the-art document scanning and management solutions. 
Personalized Document Management Solutions
When it comes to customizing a document management system, we consider a number of factors in order to fulfill your company's needs. All documents are handled by our systems, which include capturing, processing, archiving, and searching for them. To gather information from papers, we employ high-speed and high-tech approaches. 
Quality Control 
When you submit your files to us, we run them through our quality control procedures to ensure that they are of the highest possible quality when finished. PROSCAN® Solutions, unlike other document management firms that outsource scanning, scans your material on-site to guarantee accuracy and information security. 
Advanced Software 
As part of your tailored document management system, we offer optical character recognition (OCR) scanning, Smart Search software, and enterprise resource planning (ERP) integration. We also make sure that all of our technology and software are secure to safeguard your information and guarantee its confidentiality.