February 23, 2018
Paper Shredding: Is your Shredding Method Secure Enough?
Paper Shredding Tips to Ensure Security
Apocryphal stories, urban legends and even the occasional spy novel occasionally depict scenes where someone is able, through considerable patience and precision, and at least one montage, to reassemble a shredded document and obtain the Macguffin, super-secret information or industry-changing recipe from it.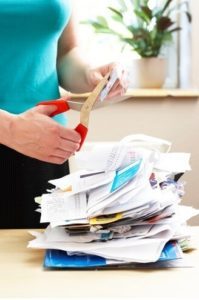 While dramatic, it may or may not be a common threat to the average office worker or individual interested in maintaining the security of their documents with paper shredding. At the same time, there is still a non-zero chance that a carelessly shredded or disposed of document could leave a person or company's identity vulnerable to a sophisticated enough attacker.
If you or your business depends on solid document security, here are some things you should consider.

The Threat


What most people don't realize about identity or information theft is that rarely does whatever is stolen give an attacker direct access to something valuable. Rather it is the combination of that information with what can be publicly gathered about someone or their business that can produce a key that unlocks access to the next "level" so to speak.
The right answers to the right questions, for example, could give an attacker access to a bank account or a credit card account, which might unlock access to the next step, and so on. Defeating a person's identity security, credit information or other confidential data is far more like gathering information through investigation than it is like discovering buried treasure.
It is for this reason that documents must be securely destroyed before disposal with services like paper shredding, by a company with technology dedicated to that purpose.

The Solution


When some people think of paper shredding, they probably think of long parallel strips sliding out of a machine and into a home or office based trash can. Now while that can be a moderately effective way of destroying a document, it is by no means optimal.
A crosscut shredder is a device that destroys documents by not just mutilating them along one axis, but also chopping them into tiny pieces along the other. So instead of one sheet of paper producing a couple dozen long strips, it instead produces a handful of confetti. While it is still possible to reconstruct a document from the remains of a crosscut shredding, it is likely far more difficult and time consuming. Cross-cut shredders are generally slower than strip cut machines, but they can sometimes have higher storage capacity for waste due to the increased compression of the smaller pieces.
Some cross-cut shredders are capable of a level of security called a "micro-cut," which turns paper into the stationery equivalent of vanilla sprinkles for your cupcakes. Professional document destruction companies also have industrial strength shredders that, for lack of a better term, practically vaporize documents and pretty much anything else capable of storing data aside from stone tablets.
If you have a high capacity job, or you need absolute assurance your documents are not going to fall into the wrong hands, a professional disposal company is probably your best bet. If you are only handling document security for a small office or home, a basic cross-cut shredder is likely to meet your needs rather well.
If you are a small business in need of paper shredding services in New York then look no further. At PROSHRED® New York, we are certified company and specialize in mobile or on-site paper shredding and document destruction services. Call us today (914) 275-0404 and let us discuss how we can help your business.