January 5, 2018
Importance of NAID AAA Certification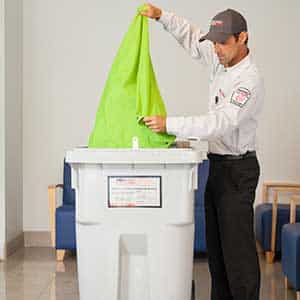 Hi everyone! I know it's been a while, but I am back and ready to give you some more information on shredding.
So, in previous posts I have gone over some of the "shredding lingo", "how to prepare for your one time purge" and, for those of you that have small amounts of material how to bring them into our Warehouse in Kearny Mesa.
Something I have NOT discussed with you is what to look for when you select a shredding company.
This sounds simple all they need is a shredding machine right? Nope, that's not all.
Is Your Shredding Company N.A.I.D. AAA certified?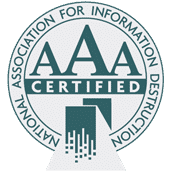 Make sure that the company you hire is N.A.I.D AAA certified.  I cannot stress this enough, N.A.I.D. (National Associate for Information Destruction) offers companies the option to be a member of their organization or go through the auditing process to become "AAA" Certified. Only AAA certified companies have had all their internal policies, processes and procedures verified by a third party N.A.I.D auditor. So make sure the company you select it AAA certified and not just a member.
I get calls all the time asking if we are HIPAA or PCI complaint but not many customers ask me about N.A.I.D. The reason this certification is so important is because N.A.I.D sets the standards for the industry and also supports the requirements of other organizations such as PCI, HIPAA and FACTA. N.A.I.D. covers every part of the security spectrum and should be one of the main reasons you select a company for shredding services.
To ensure that our company remains AAA certified, comprehensive scheduled and unannounced audits are conducted. During the visits, auditors make sure that all protocols are in place, verify that all employees are background checked, drug tested, uniformed and have a picture I.D.'s and that our equipment also meets the standards. Please double check that your shredding company is listed under their website and is AAA certified.