August 6, 2021
How Chicago Businesses Benefit from On-Site Paper Shredding
You may be wondering whether or not on-site paper shredding is the right move for your business. Wouldn't it be better to keep your paper shredding in-house? PROSHRED® Chicago is here to address your questions and concerns regarding on-site paper shredding. If you're interested in learning more, continue reading!
What is On-Site Paper Shredding?
On-site paper shredding refers to the process by which a professional paper shredding service effectively destroys your materials at your location. Paper shredding services on-site are beneficial for business owners and individuals with busy schedules. These services allow you to conveniently shred your unwanted documents without having to make time to take these materials to a third party location, or sacrificing employee time and labor on a menial task. An on-site paper shredding service like PROSHRED® Chicago will come to you, destroying thousands of old documents within minutes via our state-of-the-art shred trucks.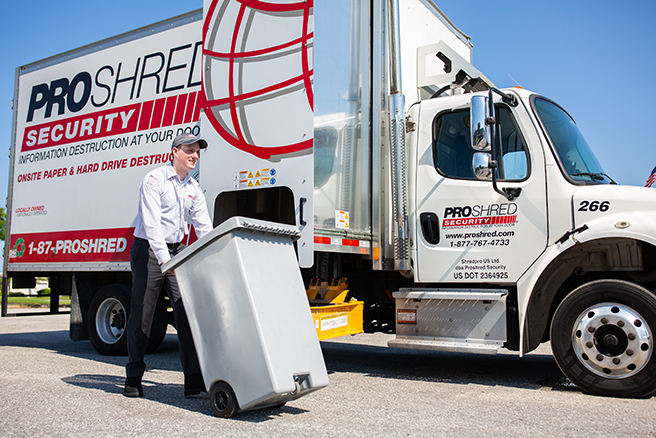 Why Choose On-Site Document Shredding Services?
There are many reasons why you should take advantage of on-site document shredding services. When your business has on-site document shredding on its side, you save time and money while also securing your confidential materials. On-site document destruction is performed by certified technicians who will handle your items with care. After your documents have been shredded, the materials leftover will be unrecoverable, which will effectively keep any information once displayed on these items safe from prying eyes.
When you call on PROSHRED® for Chicago scheduled shredding, you are saving the time it would take for you to shred your items yourself. Those hours you save also spare you from wasted work hours too, and you can use this free time on more productive matters.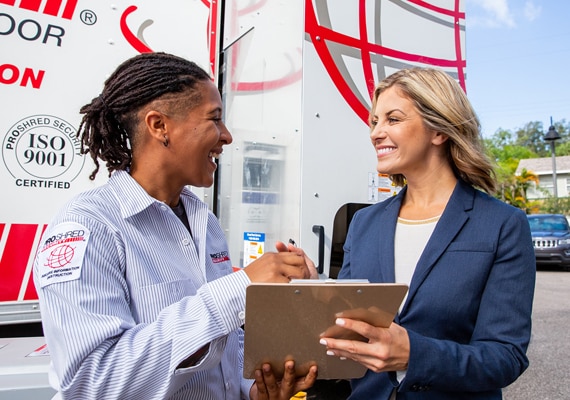 The Benefits of Using an On-Site Paper Shredding Company
There are plenty of pros to using an on-site paper shredding company. When you work with a certified provider like PROSHRED® Chicago, you can rest easy knowing your business or personal data is safe. You'll save so much time and money by hiring an on-site paper shredding service.
On-site paper shredding companies provide the following benefits:
Convenient Service for Various Types of Businesses
Whether you are in the office or working from home, PROSHRED® Chicago has the solutions for your situation. Our residential document shredding includes adjustable programs that fit your needs. Whether you see a large number of printed materials on a daily basis, or you have a light stack of paperwork that you need to dispose of every other week, our team can customize your on-site shred plan to suit your needs.
Shredding Services for Your Schedule
Flexibility is key when it comes to a successful on-site shredding service. PROSHRED® Chicago has a wide range of document destruction solutions that cater to our clients' needs. Our on-going shredding services are perfect for businesses that need to clear out old paperwork on a regular basis. Our one-time shredding services are better suited for larger corporations that are currently storing their old documents in warehouses.
Regardless of what kind of on-site shredding services you need, the bottom line is safety and security. PROSHRED® Chicago ensures that you won't be a victim of identity theft or data breach by destroying your old files via a highly secure and monitored process. Our shredding technicians will keep a close eye on your shredding materials every step of the way, and will make sure that all of these items are unrecoverable by the end of the process.
Additional Data Destruction Services are Available
PROSHRED® Chicago doesn't only shred paper. We offer a wide range of shredding services to better serve our clients. If you have old computers that you need to get rid of, don't forget to call us for on site hard drive destruction. This service will ensure that no one gets their hands on the sensitive data that is stored on your hard drive. On-site hard drive data destruction can be easily taken care of thanks to our mobile shred trucks, and the process takes mere minutes. When you need on-site hard drive shredding, call on us!
If you have company-branded items like old uniforms or employee badges, our team can help you safely dispose of these materials. Our product destruction services can be performed on-site, and are carried out by qualified individuals who will treat these items with care. At the end of the service, we can provide you with a Certificate of Destruction upon request.
No matter your on site shred needs, PROSHRED® Chicago has the experience and equipment that is necessary for a secure and effective shred. Call us today to schedule a service: 1-708-263-4292
Frequently Asked Questions about On Site Paper Shredding
If you are Googling "on site paper shredding near me," you can disregard the search results: PROSHRED® Chicago should be your only choice for local on site shredding services. Our quality equipment and certified staff can handle all of your shred needs: 1-708-263-4292
Finding on site document shredding near you is as easy as picking up the phone and scheduling an appointment with PROSHRED® Chicago. Our shred trucks will come to your location and perform a document destruction service that lasts mere minutes.
It may seem difficult choosing between the various shredding companies near you, as you need to be sure to pick a provider that is flexible, on-time, and has quality equipment and certified technicians. PROSHRED® Chicago meets all of these requirements.