Equipment - Bins and Consoles
PROSHRED® Chicago offers a variety of secure, locked containers for any volume of confidential paperwork. These bins are placed in a central location in your office where you and employees can safely dispose of important documents. When it's time for your scheduled shredding appointment, we will remove the materials without ever physically touching them – dropping them off immediately in our shredding truck with our hands-free system.
Depending on the size of your business and regular disposal habits, the PROSHRED® Chicago team will recommend which equipment is most appropriate for you. Whether it's a single container or many, we'll help your business design the perfect custom security plan.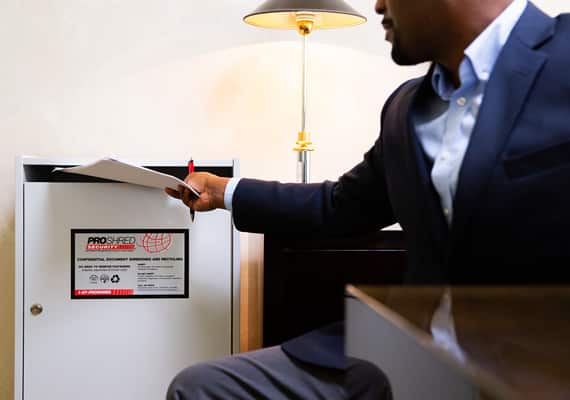 Executive Consoles
When we install an executive console in your office, these boxes are completely free of charge and designed to maximize your business's document security. Here are just some advantages:
No additional cost
High volume container that hold thousands of sheets of paper
Hassle-free installation by PROSHRED Chicago
No need to remove paperclips and staples
Double-turn, deadbolt lock to ensure ultimate security
Our executive consoles are the most comprehensive security containers in the industry. Our standard box measures 36" x 22 ¾" x 15 ¾" to maximize the number of documents it can hold (although larger sizes are available). Our one-way paper feeding system ensures that paper cannot be removed from the bin once it is disposed. Keep your Chicago office safe with a PROSHRED® executive console.
High-Volume Security Bins
For our high-capacity clients in the Chicago area, we always recommend our massive high-volume disposal bins. Available in a 64 or 96-gallon size, these containers can hold hundreds of pounds of paperwork in a secure manner. Our padlock system provides a security feature that helps to prevent document removal by anyone other than an authorized individual. This equipment is perfect for:
Mailrooms
Shipping centers
Warehouses
Copy rooms
Dimensions:
64-gallon: 42" x 26" x 26"
96-gallon: 46" x 28" x 31"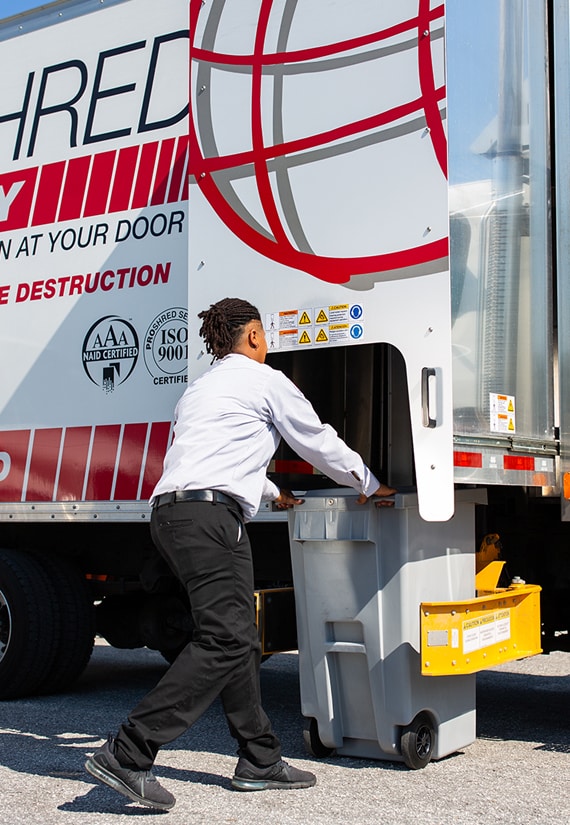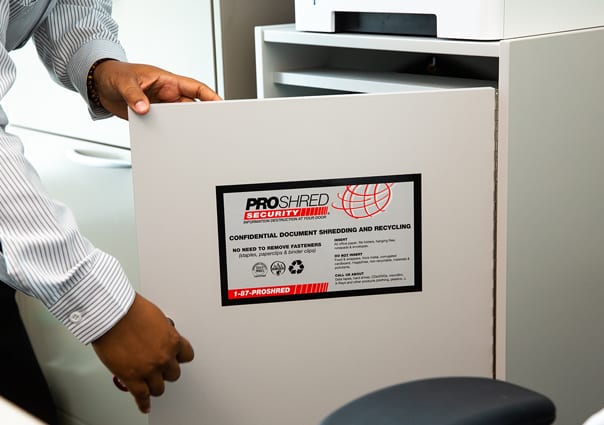 Personal Desk-side Containers (PDCs)
For ultimate convenience in Chicago Shredding Services, we recommend our secure Personal Desk-Side Containers (or PDC's). These containers are never more than an arm's length away from your desk or chair, making important document disposal effortless. These containers are the perfect option for home offices and busy at-home employees in the Chicago area. Some features of these boxes include:
One-way disposal system so documents can't be retrieved without a key
Can hold up to 2,000 pieces of paper
Conveniently fits in drawers, under desks, and a variety other locations
Secure double-lock system to keep your information safe
Dimensions: 13 ¼" x 16 ¾" x 12"